Kyiv, October 21, 2015. Ukraine started withdrawing tanks in the Donetsk sector near Artemivsk (Bakhmut). Artillery systems and mortars are planned to be withdrawn in the nearest time. The OSCE mission is monitoring the process, said spokesman of Administration of the President of Ukraine on ATO-related issues Colonel Andriy Lysenko at a press briefing at Ukraine Crisis Media Center. He also underlined that the OSCE Special Monitoring Mission keeps registering violations of weaponry withdrawal on the part of militants. The Mission's UAV once again registered two militant tanks near Bezimenne and 25 tanks and other military equipment near Sontseve in Mariupol sector. "Ukraine is complying with the Minsk agreements but in case the occupiers initiate provocative actions our army will swiftly return military equipment to the frontline," emphasized Colonel Lysenko.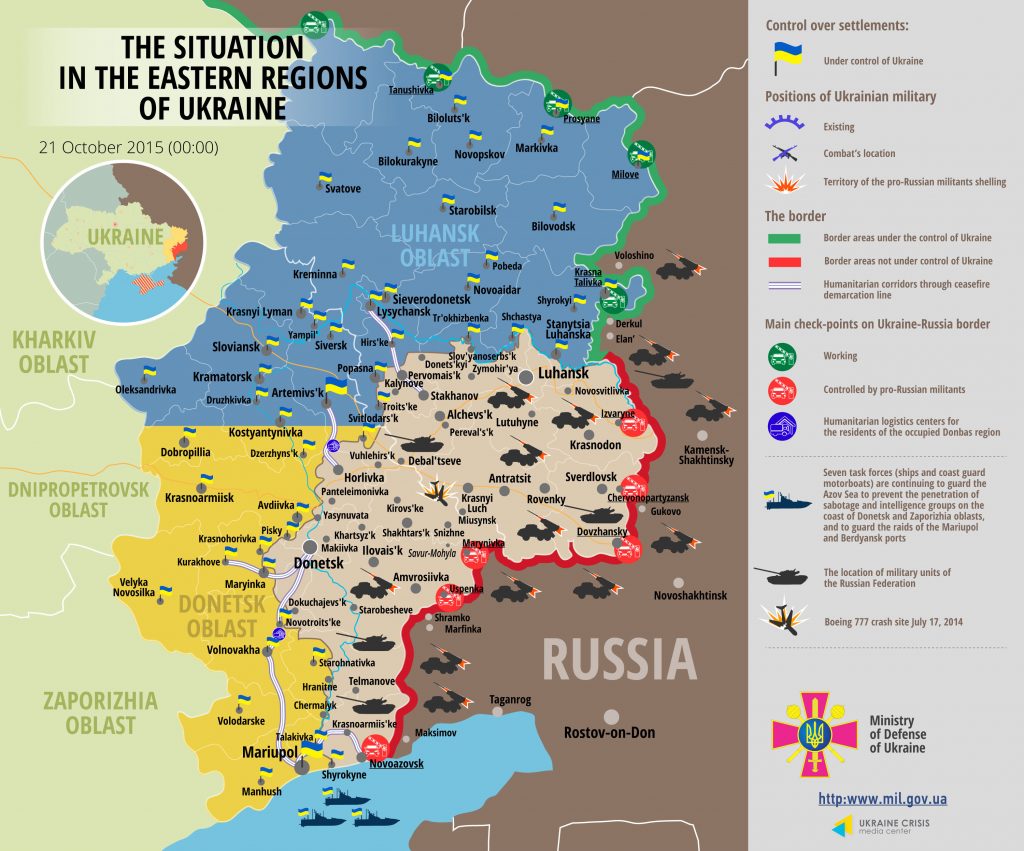 According to the ATO spokesman there were no militant provocations on the delimitation line over the last day. No UAV flights were registered in the ATO zone. One Ukrainian serviceman was wounded near Maryinka as a result of a grenade blast when he was carrying out demining.
Colonel Lysenko also said that Ukrainian sappers undertook engineering evaluations in the Stanytsia Luhanska area and cleared the minefields, neutralizing 250 anti-tank mines and 50 anti-personnel landmines. A group of military engineers neutralized 200 anti-tank mines near Nyzhne and 40 more explosive devices near a power plant in Shchastia. A total of 500 explosive devices were deactivated over the last week.
According to Colonel Lysenko, law enforcement officers detained militants who organized an explosion near Ukraine's Security Service regional office in Odesa three weeks ago. As per their information the militant group was instructed from Russia and occupied Crimea. One of the group, who was planting the explosive, passed special subversive training in a military camp in the Russian Federation. Ukraine's Security Service detained a local resident in Avdiivka – a "DPR" militant informer. "The perpetrator was collecting information on Ukrainian deployments and passing it over to the militants. The detained was also a "part-time" spotter for hostile artillery fire," explained Colonel Lysenko.
He also said that Ukraine's Security Service detained three persons who were planning to establish an anti-Ukrainian "partisan group" in Lysychansk. "The group was headed by a former trooper who was avoiding mobilization to the Ukrainian Armed Forces and was planning to make a career within the "LPR" group. The perpetrators were passing information to militant groups on deployment places of ATO forces," summarized the ATO spokesman.
According to Colonel Lysenko, Ukraine's Security Service in Odesa blocked a militant financing channel. The criminal group managed by Russian special services was laundering money stolen from Ukrainian banks in occupied territories. Two bank accounts with over UAH 200 thousand were blocked.