Kyiv, October 26, 2015. Ukrainian law enforcement officers ensured order at electoral districts at the near-front area. In Donetsk region alone 1,763 police officers enforced order at 604 voting stations. Police performed counter-subversive activities as well as inspections at border crossing checkpoints, railways and bus stations. "All attempts to destabilize the situation were immediately brought under control, resulting in no violations of public order or grave crimes in the course of the day," said Presidential Administration spokesperson on ATO related issues Colonel Andriy Lysenko during a press briefing at Ukraine Crisis Media Center.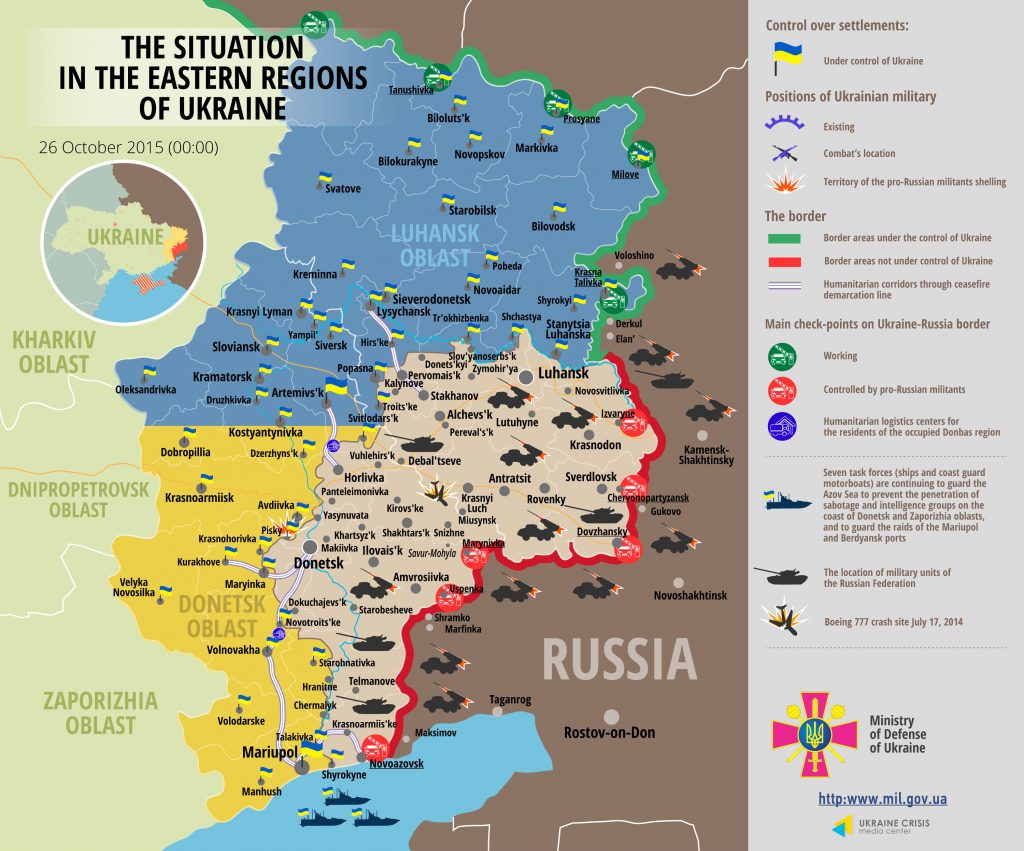 According to the information collected, militants violated the ceasefire on the night of October 24 near Pisky village using small arms, grenade launchers, anti-aircraft mounts and heavy-gauge machine guns. "According to updated information, two Ukrainian troops were wounded in combat," said Col. Lysenko.
Armed provocations took place against the backdrop of Ukrainian troops repairing infrastructure and houses in the east of Ukraine. "Ukrainian military engineers cleared mines the area near Vuhlehirska thermal power station and prepared the area for construction of track machinery unit not far from Kurdiumivka and Mykytivka railway stations," said the spokesperson.
According to the information of the State Border Guard Service, no flights of unmanned aerial vehicles were recorded in the ATO zone yesterday.
Ukrainian border guards registered and let 31 trucks carrying 560 tons of humanitarian aid through Novotroitske checkpoint in Donetsk region. "The humanitarian aid for Donetsk residents from the International Committee of the Red Cross contained foodstuffs, construction materials, hygiene products and other essentials," said Col. Lysenko.
Law enforcement officers found a cache with weapons and ammunition in Severodonetsk in a half-ruined storehouse. A hand grenade launcher, two missiles, a TNT block and about two hundred 5.45 mm cartridges were found in the cache.