Kyiv, October 31, 2015. Firefighters managed to extinguish fire at a military depot in Svatove, Luhansk region. They also liquidated fire in neighboring buildings, said Presidential Administration spokesperson on ATO related issues Colonel Andriy Lysenko at a press briefing at Ukraine Crisis Media Center.
"Military engineers conduct reconnaissance and render ammunition scattered after explosions safe. Volunteers and concerned people are helping the victims," said Col. Lysenko.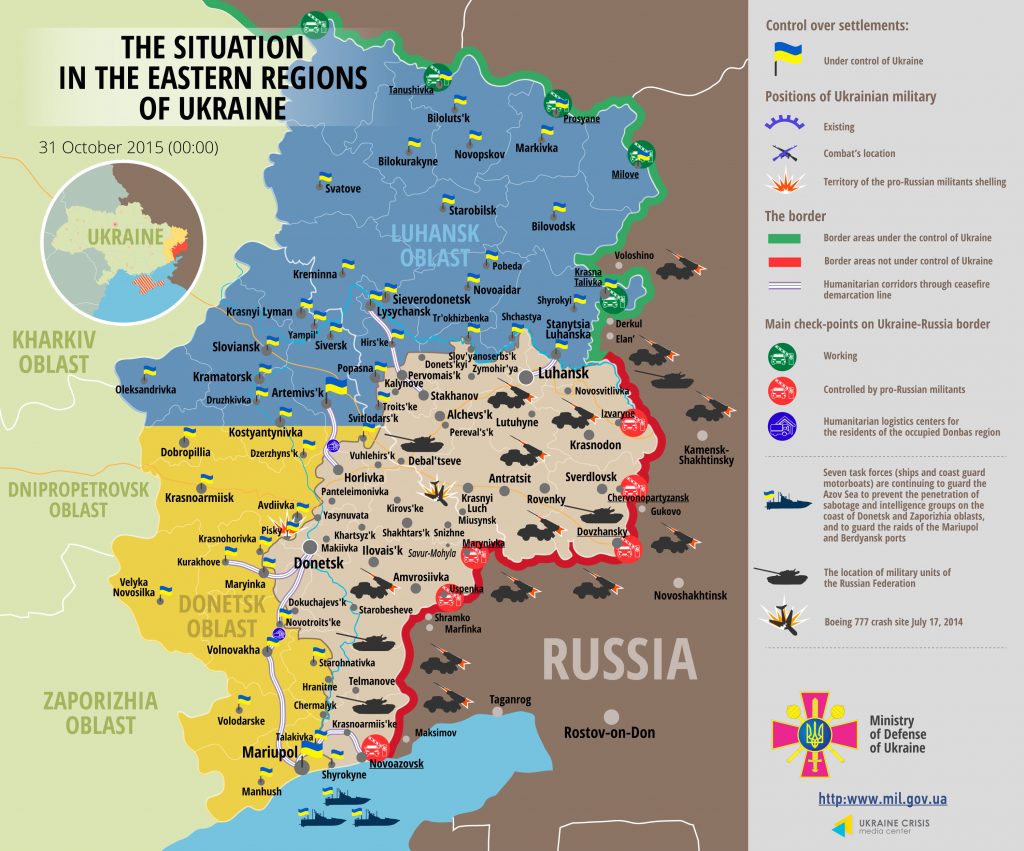 The spokesperson also said militants were shooting at Ukrainian troops' positions near Donetsk airport, using light arms and grenade machine guns. "One Ukrainian serviceman died as a result and one was wounded," emphasized Col. Lysenko. Moreover, the spokesperson said Ukrainian border guards observed flight of one militants' unmanned aerial vehicle near Mariupol.
Another former militant returned to the territory controlled by the Ukrainian authorities as a part of Ukraine's Security Service program of returning citizens voluntarily refusing to fight for the self-proclaimed 'Donetsk People's Republic' (DPR) and 'Luhansk People's Republic' (LPR). "The man explained his decision by disappointment in separatism ideas, negative moral and psychological climate in militants' environment, disastrous economic situation and absence of employment prospect on the occupied territory," said Col. Lysenko.
According to Col. Lysenko, officers of Ukraine's Security Service and military prosecution caught border guards taking bribes for illegal movement of goods across the frontline in the act. Criminals were found to have collected almost one million hryvnias. Moreover, military counter-intelligence officers detained an Armed Forces serviceman for fraud.  "The soldier said he was a colonel and a brigade commander while talking to volunteers. The fraudster was telling them invented storied on presumably wounded troops who need funds for treatment and transportation to hospital by plane. The criminal raised 52 thousand hryvnias of volunteers' funds to his personal bank card in October," said the spokesperson.
U.S. Army Chief of Staff, four-star general Mark Milley came to Ukraine with working visit. He inspected troops of 173th airborne brigade of the U.S. Army participating in Fearless Guardian-2015 training. "Mark Milley was satisfied with performance of his subjects and Ukrainian National Guards and said he would report to his command that cooperation with Ukraine in the sphere of defense is to be continued and strengthened," said Col. Lysenko.
While speaking of the progress of mine clearance, Col. Lysenko said that mainly works are conducted on principal roads and adjacent roads leading to inhabited localities, as well as in administrative buildings and objects of infrastructure. He also said that owing to the pause in fighting in the ATO zone, military engineers managed to render safe over 15,000 items of ordnance in the past month. Local inhabitants are often helping troops to locate the explosives.