Kyiv, November 2, 2015. The OSCE monitors start checking withdrawn artillery of the caliber under 100mm in the Donetsk sector against earlier submitted lists, said Colonel Andriy Lysenko, spokesman of Administration of the President of Ukraine on ATO-related issues at a press briefing at Ukraine Crisis Media Center. "We remind that the Ukrainian side has completely withdrawn the artillery of the caliber in question to the agreed 15-km distance from the contact line. The verification of artillery systems will last for two more days," explained Colonel Lysenko. Ukrainian troops will start withdrawing mortars of the caliber under 120 mm in Donetsk region on November 5. It is planned to finalize the withdrawal on November 8.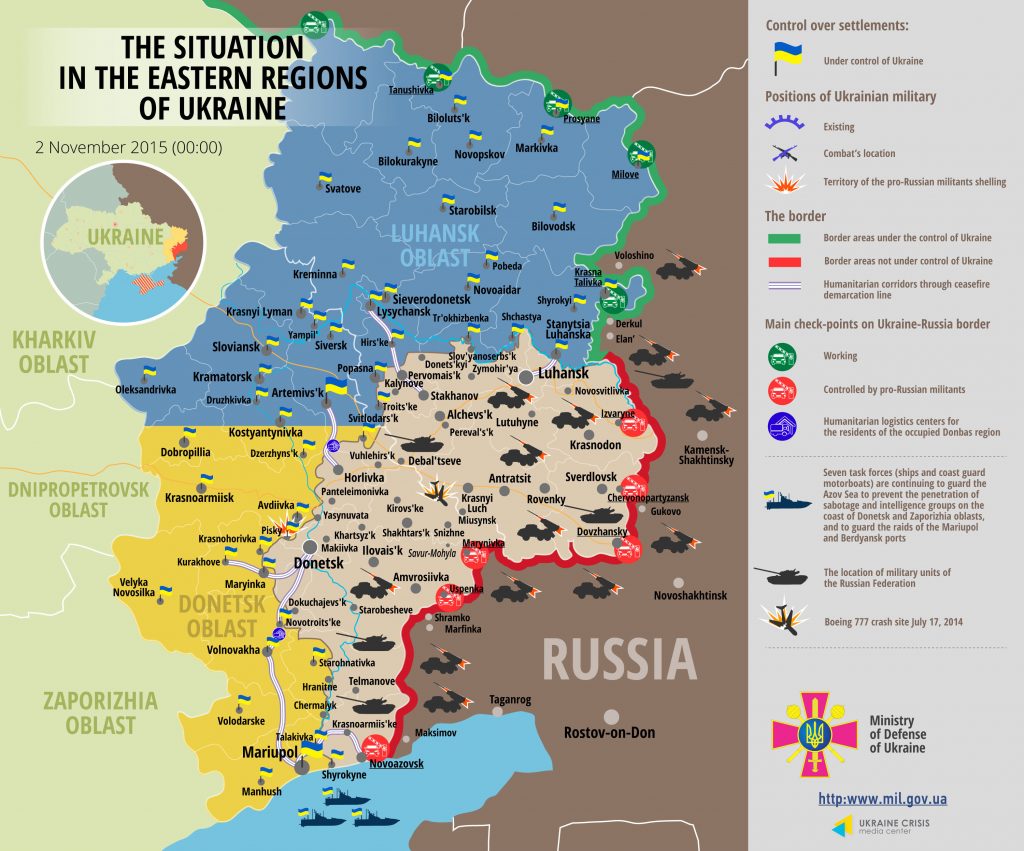 Yesterday militants violated ceasefire in Pisky, Donetsk region. "Militants were firing upon our positions from machine guns and grenade launchers for half an hour. Two Ukrainian servicemen were wounded in action," added the ATO spokesman.
Water, power and gas supply in the residential area of Svatove (Luhansk region) has been completely restored. No active seats of fire were registered at the field depot of the Ukrainian Armed Forces over last night. "Two military fire extinguishing tanks were put on alert. Three field kitchens as well as three heating tents keep operating. Over 820 persons have already turned for help," said Colonel Lysenko.
Ukraine's Security Service staff together with law enforcement staff seized two RPG-26 grenade launchers, six ammunition pieces to RPG-7 and boxes with ammunition near control checkpoint Novotroyitske. "On October 31-1 citizens of Ukraine in possession of illegal weapons were encouraged to give up them to law enforcement without being held liable for it. In Kramatorsk a local resident voluntarily brought to police station a grenade and around 350 ammunition pieces of various calibers that he found in a damaged private house," noted Colonel Lysenko. According to the law the person was freed from criminal liability.
In the end of November six units of the Ukrainian Armed Forces will start a joint training course with the U.S. military instructors in the framework of the Fearless Guardian program. Additionally Ukrainian servicemen will resume participation in shifts of the European Union multinational combat tactical group "Hellbrock". Participation of two Ukrainian officers is scheduled in the Lithuanian contingent of the EU combat tactical group headed by the UK. The shift is to take place in the second half of 2016. "The steps in question will help integrate the Ukrainian Armed Forces into the transatlantic military training even more. Thus according to Ukraine's new Military Doctrine its Armed Forces need to achieve full compatibility with armies of NATO member states," explained Colonel Lysenko.
A truck with humanitarian cargo provided by the charity organizations has crossed through Novotroyitske control checkpoint. "The vehicle was transporting over six tons of food for the residents of occupied territories," elaborated the ATO spokesman.