Kyiv, November 4, 2015. Militants intensified attacks on the contact line in the ATO zone yesterday. "The enemy was firing for 20 minutes from small arms in the area of Luhansk heat power plant station located in Shchastia. Militants fired from a grenade launcher near Tryokhizbenka. In both cases fire was conducted from the opposite side of the Siversky Donets river," said spokesman of Administration of the President of Ukraine on ATO-related issues Colonel Andriy Lysenko at a press briefing at Ukraine Crisis Media Center.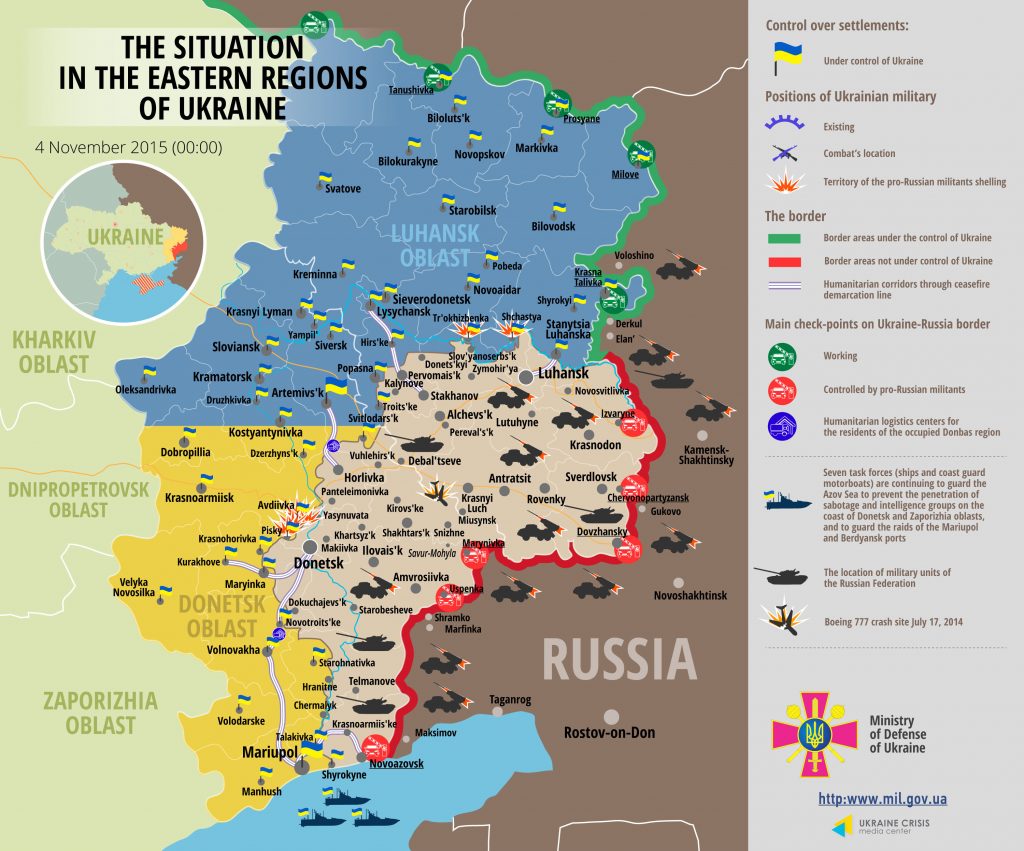 According to Colonel Lysenko the combat epicentre in the Donetsk sector yesterday was on the western outskirts of Donetsk between Avdiivka, Opytne and Pisky. Militants used small arms and grenade launchers. Snipers were firing upon the Ukrainian positions near Avdiivka. Colonel Lysenko also added that a series of provocative attacks towards Ukrainian positions were registered yesterday. "Ukrainian troops incurred no casualties over the last day, five servicemen were wounded in action," he emphasized. At the same time it was calm in the Mariupol sector. "We are not responding to these provocations and do not give a chance to the enemy to blame the Ukrainian side of violating the Minsk agreements. But if the need to use weapons arises there is no order prohibiting their use in case our troops face a threat to their lives," emphasized Colonel Lysenko.
The ATO spokesman also said that Heorhiyivka control checkpoint located near Kurakhove, Donetsk region restarted its work yesterday. "The control point will operate from 9am till 5pm daily. Three trucks with humanitarian aid from a charity fund already moved through the control point yesterday," said Colonel Lysenko and reminded that it was closed down in June 2015 when the combat for Maryinka took place.
Ukrainian law enforcement staff seized four antitank mines and 16 detonators for them, eight F-1 and RGD-5 grenades with fuses as well as about 100 rounds of ammunition to the anti-aircraft mount in the area of Pobeda, Luhansk region. "Ukraine's Security Service in cooperation with law enforcement staff discovered two anti-tank grenades, an RGD-5 grenade and 5,45-mm ammunition rounds in a private house in Pshenychne, Luhansk region. Ten F-1 grenades were seized from a half-ruined house on outskirts of Lysychansk," added Colonel Lysenko.
Colonel Lysenko also said that the President of Ukraine Petro Poroshenko signed a decree that awards 210 servicemen of the Ukrainian Armed Forces, the Interior Ministry and the Border Guard Service who took part in combat actions in the ATO zone. "The awarded servicemen include the heroes of the combat outside Maryinka on June 3-4, 2015 and the artillerists of the antitank division defended Ukraine during the combat for Debaltseve. Sixteen military medics are also among those decorated. Their work saved the lives of hundreds of soldiers," noted Colonel Lysenko.