Kyiv, November 25, 2015. Russia-backed militants intensified their attacks in ATO zone yesterday. "Adversary keeps using heavy weapons and is deploying considerable forces on the contact line. Hostile provocations are registered along the entire frontline daily," said spokesperson Presidential Administration spokesperson on ATO related issues Colonel Andriy Lysenko at a press briefing at Ukraine Crisis Media Center. Thus, a short-lasting combat engagement took place in the Luhansk sector east of Stanytsia Luhanska close to Syze town by the state border. Armed provocations were also registered in the neighboring village Bolotene as well as near Tryokhizbenka and Orikhove towns. At the administrative borderline between Luhansk and Donetsk regions adversary fired several times upon the Ukrainian positions near Troyitske.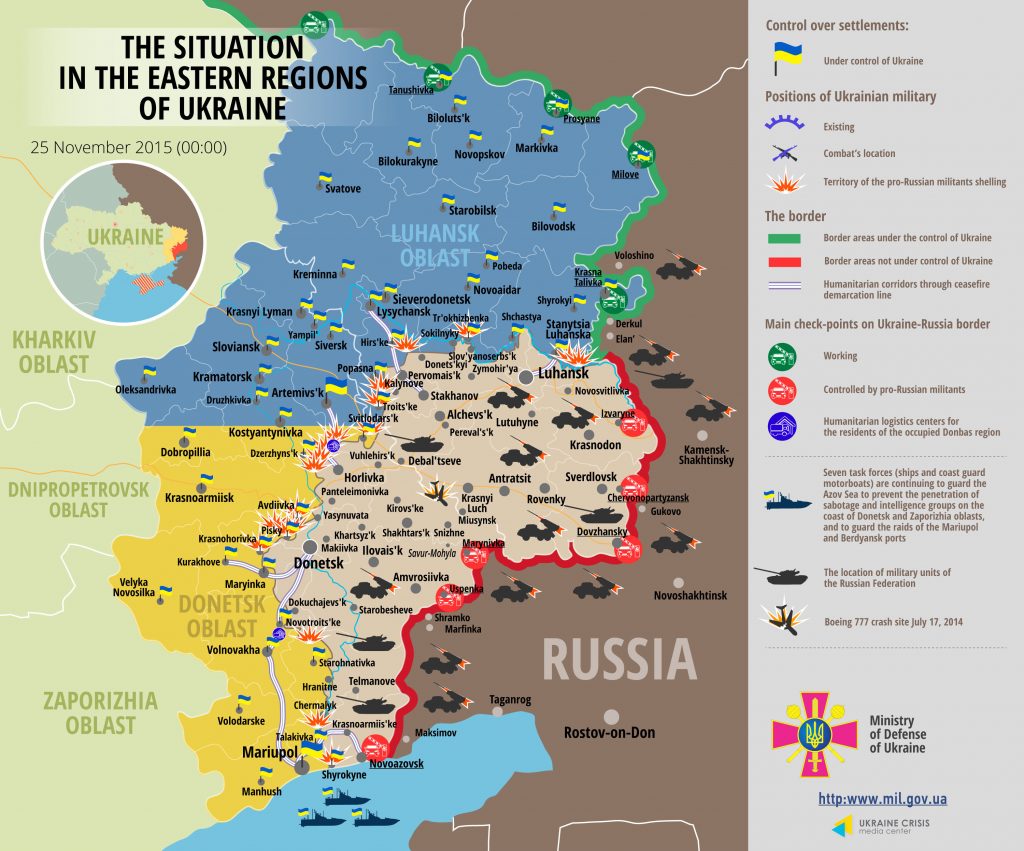 Colonel Lysenko said that the situation in the Donetsk sector at the Svitlodarsk salient and on the northern outskirts of Horlivka is turbulent but predictable. He noted that the most complicated situation stands on the western outskirts of Donetsk between Avdiivka and Maryinka. "Militants who have occupied Spartak and Staromykhailivka as well as the area of the Donetsk airport are advancing towards Ukrainian positions in small groups and are opening fire. Such skirmishes usually last for up to one hour," added Colonel Lysenko.
According to the ATO spokesman in the Mariupol sector adversary violated ceasefire regime near Bohdanivka, Pavlopil and Shyrokyne using small arms and grenade launchers. ATO forces had to return fire in a number of incidents. One Ukrainian serviceman was killed in action and eight were wounded in action over the last day.
Ukrainian military sappers continue de-mining the infrastructure in the east. "In November alone the sappers discovered and neutralized over 540 explosive pieces including home-made explosives, antitank and anti-personnel mines," said Colonel Lysenko.
He also said that yesterday Ukraine's Security Service detained a militant nicknamed "Belaz" and two militant informers one of whom was passing to militants the information on the movement routes, number and weapons of the Ukrainian troops, another one was artillery spotter. Meanwhile a district court in Kharkiv sentenced the perpetrator who was trying to blast the train carrying ammunition on Kyiv-Kharkiv way following the personal order of Igor "Bes" Bezler. The court sentenced the militant to five and a half years in prison.
Additionally a military intelligence unit discovered a cache with ammunition at the Luhansk heat power plant station located in Shchastia. "A 125-mm tank ammunition piece, seven 120-mm and 12 82-mm mortar ammunition pieces, eight RPG-22 Netto hand-held grenade launchers, seven boxes with 5,45-mm ammunition rounds as well as a large number of 7,62-mm rounds were seized from the cache," elaborated Colonel Lysenko. Two more weapons caches were discovered by Ukraine's Security Service and police. Seven mortar mines, an antitank mine, armor-piercing and high-explosive rounds, a half kilogram of gunpowder and a home-made pistol were discovered stored by a resident of Solovyivka village in Donetsk region. Law enforcement staff discovered another cache in Kherson region, they seized F-1 and RGD-5 grenades and a large number of rounds from it.