Kyiv, December 3, 2015. Over the last day combat actions in ATO zone were conducted only in the Donetsk sector namely near Horlivka – in Zaitseve, Mayorsk, in the area that makes part of Dzerzhynsk city council and by the Donetsk airport. Militants used small arms and grenade launchers; one attack with the use of an infantry fighting vehicle was registered. At the same time in Krasnohorivka and Maryinka it was quiet for the first time in several weeks. "Ukrainian troops incurred no casualties over the last day, three servicemen were wounded in action," said Colonel Oleksandr Motuzyanyk, spokesman of Presidential Administration on ATO-related issues at a press briefing at Ukraine Crisis Media Center.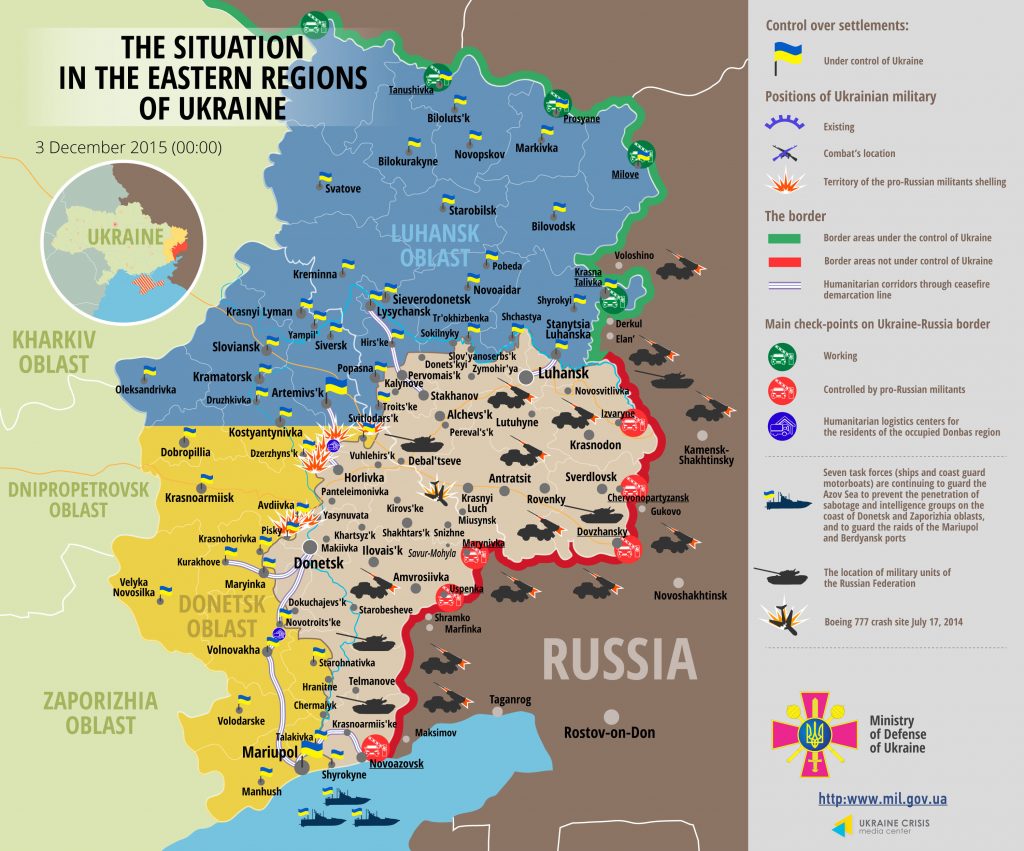 According to the information by the Main Intelligence Directorate of Ukraine's Defense Ministry that Colonel Motuzyanyk cited military discipline had worsened in the so-called "Luhansk People's Republic" ( "LPR") militant groups. "The recent incident when drunk militants mortared own positions is being investigated by the Russia's Federal Security Service commission," noted the ATO spokesman. "Moreover dissatisfaction mounts among militants as the difference in payment to active duty servicemen of the Russian Federation and mercenaries-volunteers is considerable. The latter sometimes get paid five times less than Russian soldiers."
In Hirske, Luhansk region, the National Guard servicemen detained two men suspected of cooperation with militants. "One of the detained is an Alchevsk local. It was discovered that he was heading to Lysychansk trying to omit Ukrainian checkpoints. Another man had a registration stamp of the Russian city of Saratov in his Ukrainian passport," said Colonel Motuzyanyk. Law enforcement staff also seized three grenades for automatic grenade launchers and around 200 rounds of ammunition for automatic weapons from a resident of Avdiivka who had allegedly found them in a trench shelter on the outskirts of the town. Additionally in Donetsk region three caches with weapons were discovered: one near Novomykhailivka containing 15 rounds of ammunition for a mounted grenade launcher, one in Tsukuryne with two 152-mm blast fragmentation warheads and one more in an abandoned garage in Avdiivka where three 200-gm TNT blocks were stored. Colonel Motuzyanyk reminded that law enforcement staff seized 24 pieces of firearms, about 7,5 thousand ammunition pieces including 207 grenades and about 6,5 kg of explosives in Donetsk region in November.