Kyiv, December 7, 2015. Situation in eastern Ukraine has escalated: 52 militant attacks upon Ukrainian positions were registered over the last day, 15 of them included the use of mortars. Attacks with the use of armored vehicles were also registered. "Most intense combat actions take place on western outskirts of Donetsk both during the day time and at night. Highest number of militant provocations was registered in Pisky," said Colonel Adnriy Lysenko, spokesman of Presidential Administration on ATO-related issues at a press briefing at Ukraine Crisis Media Center. Long-lasting militant attacks were also registered in Avdiivka and Opytne, two militant provocations with the use of an infantry fighting vehicle BMP-1 as well as mortar attacks – in Krasnohorivka. There was an exchange of fire between Russia-backed militants and ATO forces in Maryinka that lasted an hour and a half and involved the use of small arms and grenade launchers of various types. Long-lasting militant attacks were registered in Avdiivka and Opytne yesterday. "Same as before militants keep considerable forces deployed to the frontline and are firing from residential blocks of Donetsk, Spartak and Staromykhailivka," noted Colonel Lysenko.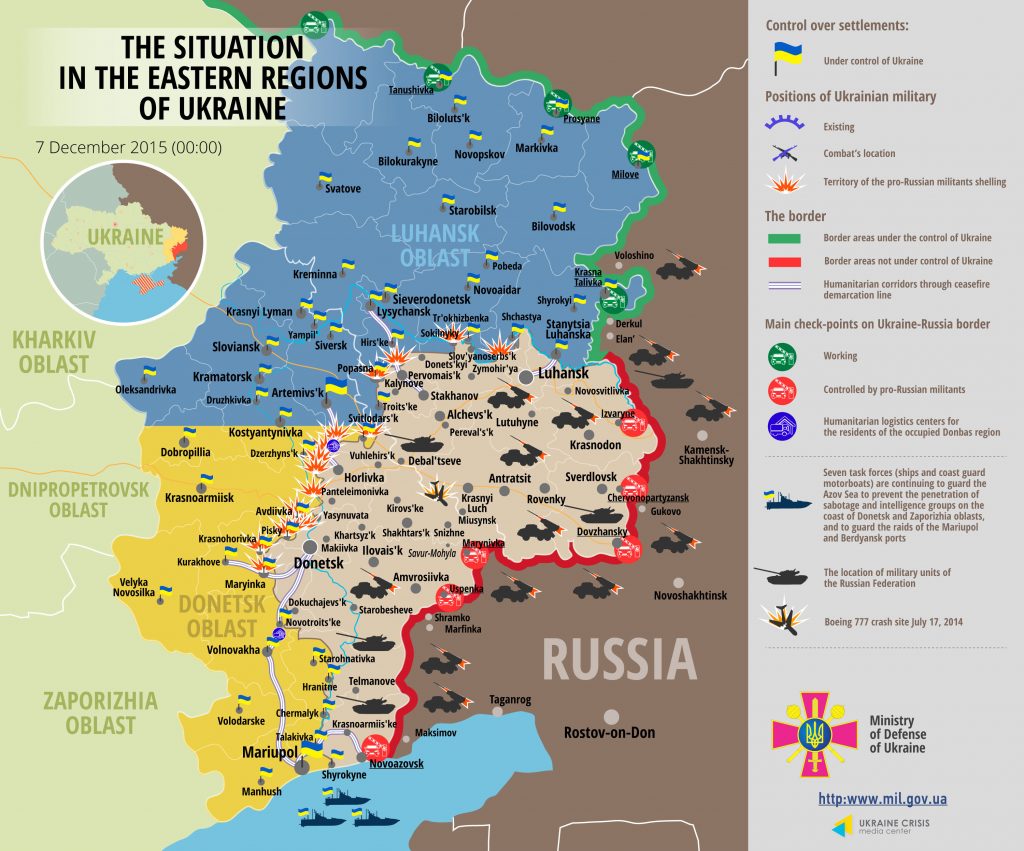 Moreover, a high number of provocations was registered near Horlivka in the Donetsk sector. Militants were conducting targeted mortar attacks upon ATO forces in Novhorodske and Verkhnyotorestske. "Occupants used a 120-mm mortar at least once firing from it for about an hour," noted the ATO spokesman. Militants were using small arms on the northern outskirts of Horlivka, in Zaitseve and Mayorsk. Two hostile provocations were registered near Luhanske in proximity to Svitlodarsk.
In the Luhansk sector yesterday combat actions were conducted only in the area of Slovyanoserbsk where militants fired upon the positions of ATO forces from 82-mm mortars near Zhovte and Sokilnyky as well as upon the frontline Ukrainian positions on the outskirts of Zolote and Popasna. No combat actions took place in the Mariupol sector.
According to intelligence reports Russia-backed militants continue smuggling property of state-owned companies from the temporary occupied areas. "Occupants are thus dismantling metal constructions of Makiivka and Donetsk metallurgic plants as well as of the Khartsyzsk pipe plant. Militants are smuggling equipment from the plants to Russia," explained the ATO spokesman.
Main Intelligence Directorate of Ukraine's Defense Ministry reports that there were clashes between various militant groups in Horlivka – between the so-called "army corps" and the "police of the "Donetsk People's Republic". "Vehicle of the Horlivka "policemen" became the pretext for clashes," elaborated Colonel Lysenko.
Colonel Lysenko also said that servicemen of the Ukrainian Armed Forces will have a salary increase starting from the beginning of the next year. "Salaries of servicemen on contract service will be increased to UAH 7 000, of platoon commanders – to UAH 9 000, of company commanders – to UAH 10 000, of battalion commanders – to UAH 12 000 and of brigade commanders – to UAH 14 000," noted Colonel Lysenko.