Kyiv, December 18, 2015. One militant provocation was registered in the Luhansk sector of the ATO zone. It took place near Tryokhizbenka. Militants used a grenade launcher. A tense situation exists in the Donetsk sector near Luhanske. "A mortar attack, militant sniper fire and a combat engagement between ATO forces and the adversary were registered in the area over the last day," said spokesman of Administration of the President of Ukraine on ATO-related issues Colonel Andriy Lysenko at a press briefing at Ukraine Crisis Media Center. He said militant groups also instigated a series of provocations west of Vuhlehirsk water reservoir – the attack lasted for about two and a half hours in Zaitseve. Heavy weapons were not used.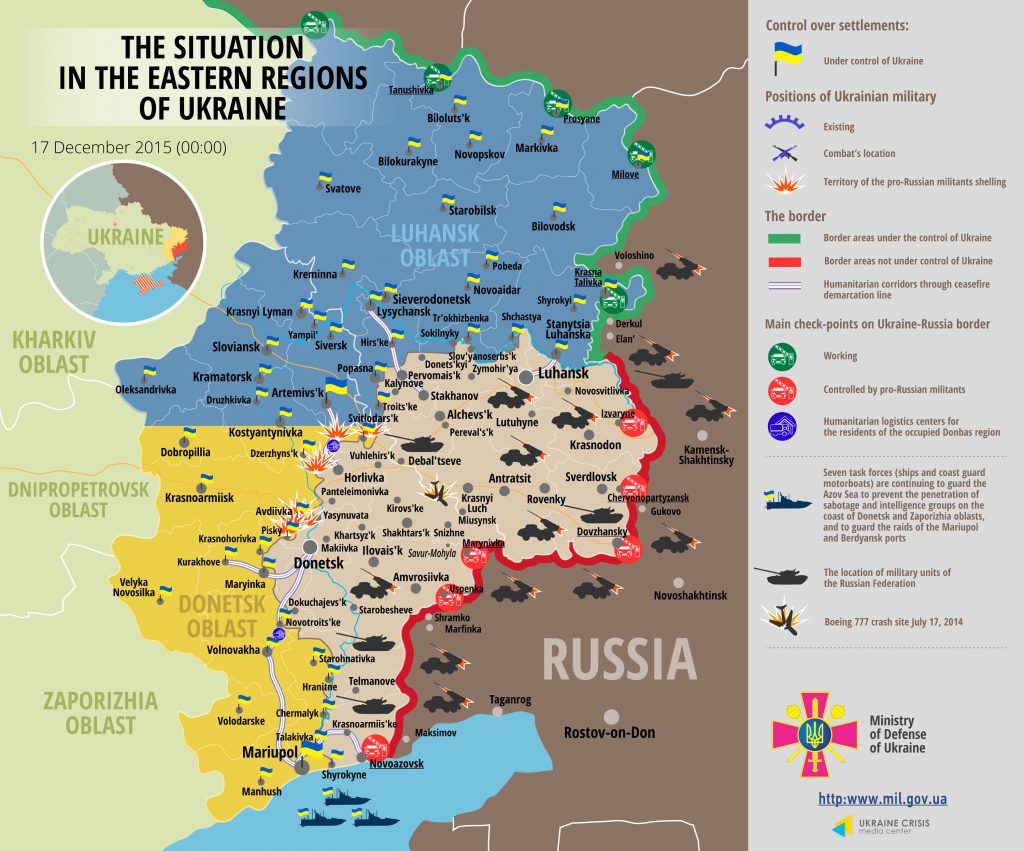 "Militant attacks upon Ukrainian frontline positions continue near Novhorodske. Yesterday a sniper was active there, the adversary undertook two mortar attacks and was actively using small arms and grenade launchers," said Colonel Lysenko. Militants also violated the ceasefire further to the south near Novoselivka. They were firing from Ozeryanivka. "Hostile heavy military equipment, tanks in particular were discovered there recently," reminded the ATO spokesperson. He said the situation in the area of the Donetsk airport remains unchanged. The biggest number of militant attacks upon ATO forces was registered in Pisky. Militants also shelled Avdiivka with grenade launchers. In the Mariupol sector a turbulent situation was witnessed near Krasnohorivka and Maryinka: Ukrainian positions were hit with 82-mm mortars. "Several short-lasting but targeted attacks upon the positions of ATO forces were also registered. They were made with small arms and grenade launchers," added Colonel Lysenko.
Ukrainian troops incurred no casualties over the last day, four servicemen were wounded in action.
According to intelligence information provided by Colonel Lysenko, Russian mercenaries – residents of the Russian territories in the Northern Caucasus continue coming to Donbas. He added that "the Kremlin also plans to involve Muslim fighters of the Donbas war into combat actions in Syria to reinforce the Assad regime, as the Russian contingent is regularly suffering losses there."
The President of the Russian Federation admitted presence of Russian troops in eastern Ukraine speaking at a press conference. He said his military servicemen in Donbas are resolving "certain issues". The ATO spokesman reported that the President of Ukraine Petro Poroshenko had passed the information in question as well as other information to NATO partners during his visit to the NATO HQ in Brussels.
A pilot project of the State Border Guard Service foresees that residents of eastern Ukraine are to be hired for service at checkpoints. Colonel Lysenko said 49 young and patriotic residents of Luhansk and Donetsk regions were selected. They claimed willing to fulfill tasks of the border agency in eastern Ukraine. "They were trained over two months to conduct surveillance activities, improved their military skills as well as practiced other skills to successfully be on duty. The border guard officers will soon head to the detachments in the east to be on service," summarized the ATO spokesman.