Kyiv, December 19, 2015. Over the past 24 hours, militants fired 59 times at Ukrainian military positions and civilian settlements in the ATO zone. The number of shelling attacks on ATO positions has increased. Yesterday, in Luhansk sector, militants fired several unguided rockets from Grad-Partisan portable rocket launchers at Ukrainian positions near Troitske on the administrative boundary with Donetsk region. "It was established that the fire was conducted from a nearby village of Kalynove that is controlled by insurgents," said Colonel Andriy Lysenko, Presidential Administration spokesperson on ATO related issues during a press briefing at Ukraine Crisis Media Center. The presence of this type of weaponry once again confirms Russian sponsorship of militants with weapons, because Grad launchers of Partisan type have never been used by the Ukrainian Armed Forces. Moreover, according to Ukrainian Defence intelligence, enterprises in temporarily occupied territory in Donetsk region have already started to produce this kind of weapon." According to the intelligence, the first batch of launchers produced in local facilities recently came to so-called "3rd Separate Motorized Brigade" (located in Horlivka). The launcher's firing range is from two to ten kilometers, and its small size greatly complicates the work of SMM OSCE and JCMC (Joint Center for Monitoring and Coordination).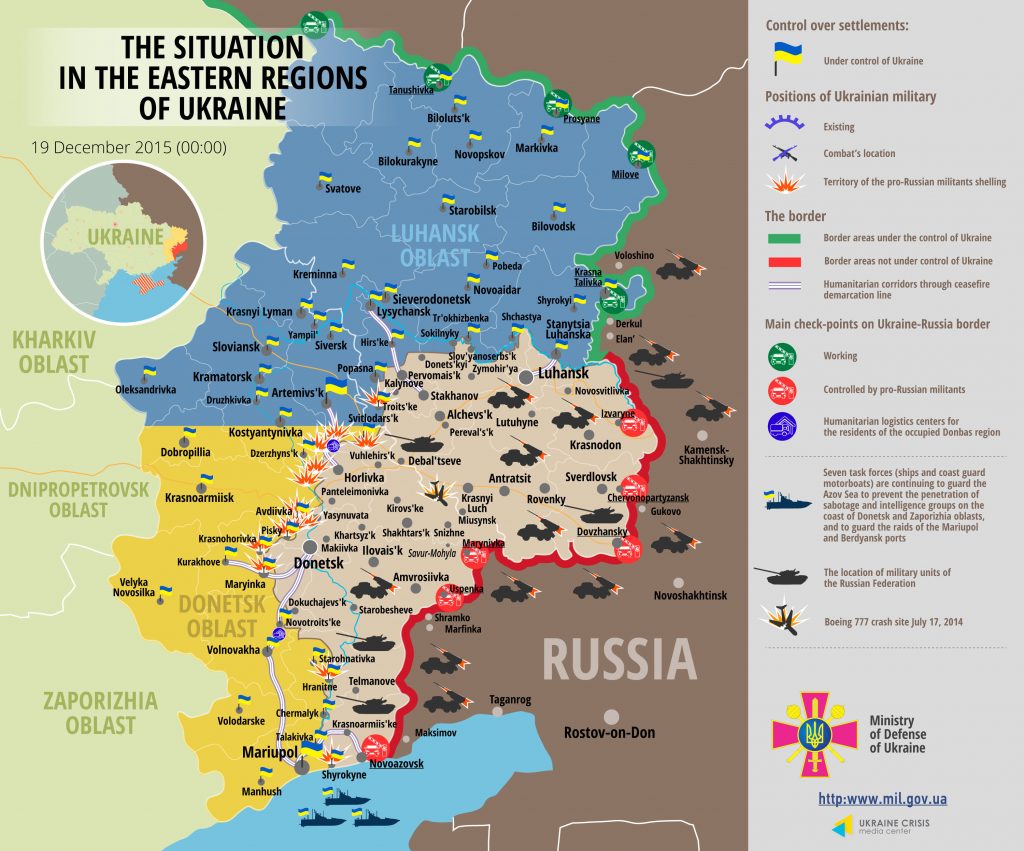 In Donetsk sector, the situation remains tense, with the exception of Svitlodarsk arch area, where militants did not open fire yesterday. To the north and west of Horlivka, militants opened fire throughout the last 24 hours. They fired from small arms, hand-held grenade launchers and mortars. A sniper also operated. "Yesterday before sunset, the enemy carried out a half-hour of shelling from 82 mm mortars at Ukrainian fortifications near Zaitseve. After taking aim, the enemy again opened fire in the area at seven in the evening and actively fired from mortars for more than three and a half hours. Consequently, four Ukrainian servicemen were wounded," said Col. Lysenko. Militants continue to fire at Ukrainian forefront near Novhorodske. They use small arms, grenade launchers. Yesterday, militants opened fire from IFV (Infantry fighting vehicle). "A single hostile provocation was recorded near Novoselivka. Fire, as before, was conducted from Ozeryanivka in Horlivka City Council," said Col. Lysenko.
Near Donetsk airport, in Pisky area, militant snipers worked yesterday.  Militants did not use heavy weapons near the airport. In Mariupol sector, 15 attacks towards Ukrainian positions were recorded, most of them were aimed. ATO fortifications near Krasnohorivka, Maryinka and Shyrokyne were subjected to shelling. Heavy arms were not used in this sector. "For the past day Ukrainian Armed Forces suffered no lethal casualties, five military were wounded," said Col. Lysenko. Yesterday, militants fired at a school and residential buildings. The bombardment was carried out from ZU-23-2 anti-aircraft installation and IFV-1. No one was hurt.
According to the Defence intelligence, mobilization activities continue on temporarily occupied territories. Men get notices from so-called "DNR military commissariats" to specify credentials. "In Bezimenne the occupation administration launched a collection point for insurgents who joined the so-called "9th Individual Motorized Infantry Regiment" in Donetsk and Makiyivka," said Col. Lysenko.
The Security Service of Ukraine together with the Armed Forces detained an insurgent gunner with the rank of "lieutenant". The detainee had a Kalashnikov rifle with a rifle-attached grenade launcher and a night vision device. "The insurgent admitted that he twice traveled to Russia, where he underwent specialized artillery training under Russian officers' supervision at the firing range near Rostov-on-Don. We offer you a video with the detainee's testimony," said Col. Lysenko. In Mariupol, a group of SBU, Ukrainian Armed Forces Military Police, NGU and police detained a group of 17 people in camouflage uniforms without any documents of any Ukrainian military unit. Law enforcement officers seized military uniforms, tactical equipment (body armor, handling systems), protective helmets, four Kalashnikovs, two PKT machine guns, 12 grenade launchers, 126 ammunition rounds for hand antitank grenade launchers, seven anti-personnel mines, nine anti-tank mines, 23 grenades, 160 ammunition for a rifle-attached grenade launcher, 54 boxes with 7.62 and 5.45 mm ammunition, 37 shells of various calibers, two boxes of high-explosive shells, 600 large-caliber ammunition, MVCH-62 explosive, 47 powder charges, two cumulative charges with total weight of 45 kg and nine smoke bombs.