Kyiv, December 25, 2015. "Main militants' forces abandoned Kominternove and their military equipment was withdrawn from the settlement too. It happened after another OSCE visit at their request and owing to the efforts of Ukrainian diplomacy," said Colonel Andriy Lysenko, spokesperson of Presidential Administration on ATO-related issues at a press briefing at Ukraine Crisis Media Center. According to the recent intelligence, there are some plain-clothed militants remaining in the settlement. "ATO forces occupy advantageous position and dispose of sufficient forces and means to respond to any hostile action," added Col. Lysenko.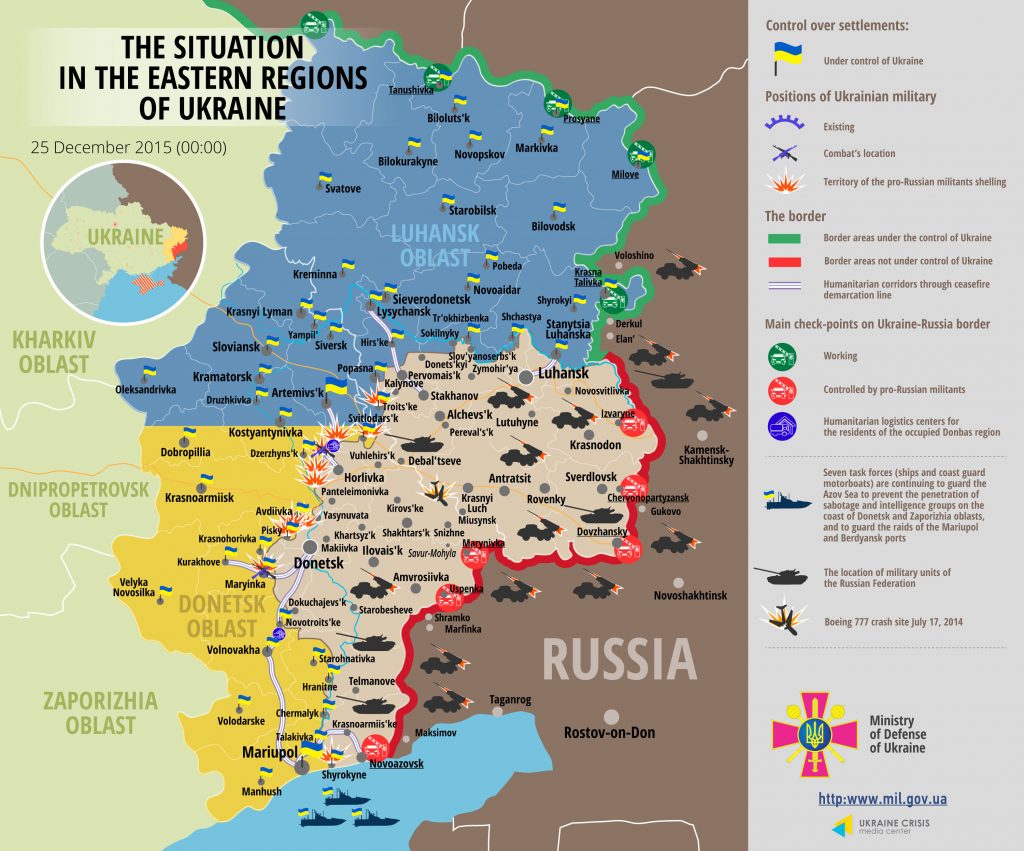 No combat activity took place in the ATO zone in Luhansk sector yesterday. A firefight between ATO troops and Russia-backed militants happened in the Donetsk sector near Maiorsk, north outskirts of Horlivka. "Militants attacked our positions, supported by 82-mm mortar launchers, but were forced to retreat," informed Col. Lysenko. Combat activity is low in the vicinity of Svitlodar, north of Troitske and Luhanske. Militants used small arms several times. "The majority of militants' attacks were recorded north of Novhorodske yesterday, numbering 14 incidents. Insurgents' snipers are actively working, but heavy armour is not used," said Col. Lysenko. He added that the number of provocation in the vicinity of Donetsk airport reduced. Nevertheless, militants continue using small arms and grenade launchers, and there is random sniping fire.
"A firefight of ATO forces with the enemy took place in the Mariupol sector near Mariinka last night. Militants incurred losses and were made to retreat, said the spokesperson. Moreover, militants used small arms and mortar launchers. Several grenade rounds were recorded in Shyrokyne, and a flight of insurgents' unmanned aerial vehicle was observed in the vicinity of Mariupol.
International Red Cross Committee sent a batch of humanitarian aid for the inhabitants of temporarily occupied territories: 100 tons of foodstuffs and stationery and 88 tons of fuel briquettes. "13 trucks proceeded through Novotroitske and Zaitseve crossing checkpoints," said the spokesperson.
Tactical medicine training took place in the Ukraine's National Guard training center. Rescue workers were trained on administering field medical care by NATO standards. "Having completed the training and passing exams on the acquired theoretical knowledge, trainees received certificates authorizing them to conducts tactical medicine training for attendees admitted to the training center," added Col. Lysenko.
Ukrainian law enforcement authorities detained a vehicle near Druzhkivka with a driver who planned to deliver almost 300 thousand UAH to militants, and an illegal freight of foodstuffs was captures near Novoaidar settlement in Luhansk region.