Kyiv, January 3, 2016. The past day in the ATO zone was calmer than the previous ones. No cases of armistice violation were recorded in the Luhansk and Mariupol sectors, meanwhile the situation was turbulent in the Donetsk sector. "Militants instigated several minor provocations at the Svitlodarks bulge, in various areas from Troitske to Luhanske, using only small arms, machine guns in particular. The situation remained calm on the north outskirts of Horlivka yesterday. On the contrary, hostile snipers were active in Novhorodske: three incidents were recorded yesterday," said the spokesperson of the Presidential Administration on ATO-related issues Colonel OleksandrMotuzyanyk at a press briefing at Ukraine Crisis Media Center. Moreover, a series of Russia-backed militants provocations, in particular snipers' work, was observed east and south of Avdiivka, near Opytne – on the opposite side of Donetsk ring road – and in Pisky. Ukrainian Armed Forces incurred no losses in combat and no Ukrainian troops were wounded.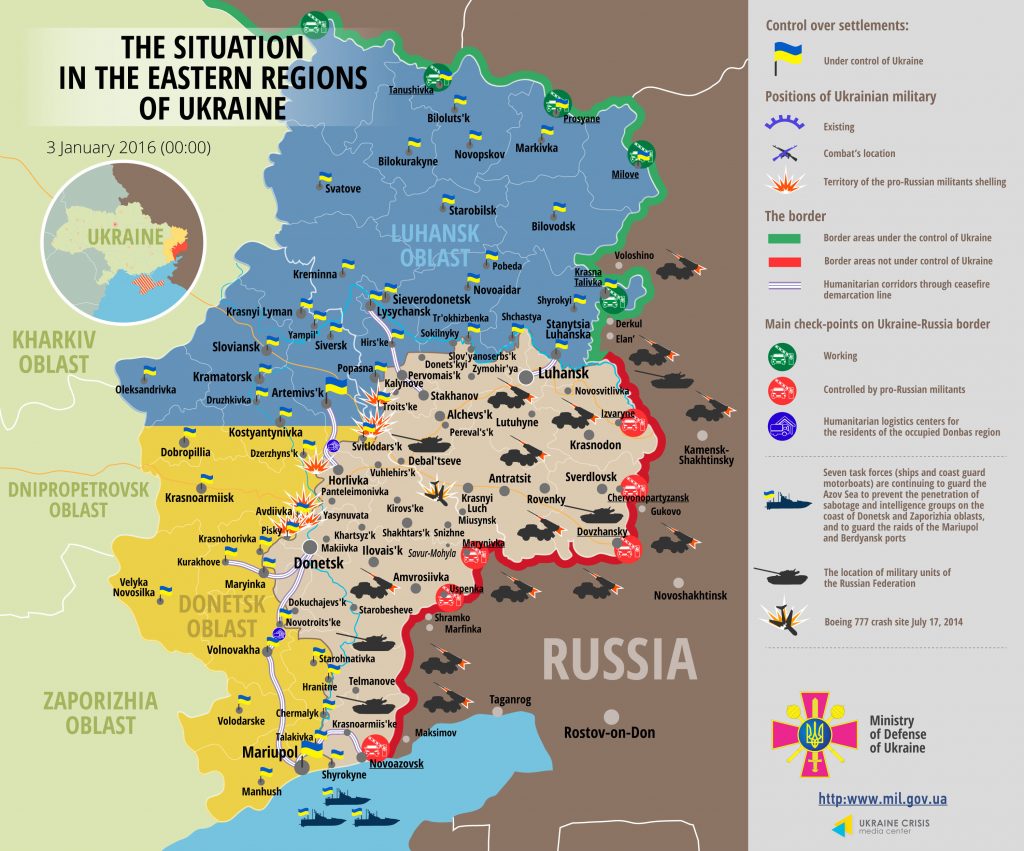 Ukrainian military engineers found and rendered safe a Russian cluster mortar projectile. "This Russian anti-tank mortar projectile fires remotely, so it poses a threat both for military and civil vehicles," said the spokesperson. He added that Ukrainian Armed Forces do not use anti-tank cluster mortar projectiles.
According to recent intelligence, militants are going through personnel purges. "A big council with participation of Russian Federal Security Service curators took place at criminal organization 'Ministry of state security of the so-called "Donetsk People's Republic" on December 10-11, 2015. It passed a decree on launching a large-scale operation. Moreover, unknown special forces arrived to Dokuchaievsk, presumably to discipline 'Sparta' ad 'Somali' militant gangs, said the spokesperson. A list of 'unreliable' units of militants of the self-proclaimed 'Luhansk People's Republic' ('LPR') includes '11th separate motorized rifle regiment Prizrak',  '6th separate motorized rifle regiment' and '17th area defense battalion'. Chief of the self-proclaimed '3rd separate infantry battalion Cheburashka' has been dismissed due to the conflict with newly-appointed chief of self-proclaimed '9th separate infantry regiment' with nom de guerre 'Utes', his immediate superior. The conflict resulted in an unsuccessful attempted assassination of 'Veselyi' on December 31, 2015," said Col.  Motuzyanyk. He added that two people riding in the chieftain's car died in the incident, but he survived. This is the same scheme used for liquidation of chiefs of Luhansk militants, Mozgovyi and Driomov. The spokesperson said that the militant with nom de guerre 'Veselyi' belonged to inner circle of Zakharchenko, the chief of he self-proclaimed 'Donetsk People's Republic' ('DPR') and was among active initiators of riots in Donetsk region in spring 2014. According to the intelligence, a decision on elimination of 'Veselyi' was made by a commander of the self-proclaimed '1st army corps of DPR', who is a regular Russian officer. "Thus, occupational administration headed by marionette separatists, has been entirely suspended from warfare on the occupied territory," concluded Col. Motuzyanyk.