Kyiv, January 15, 2016. The situation in the east of Ukraine remained strenuous yesterday. "The enemy continues systematically violating the armistice, mostly in the Donetsk sector. Moreover, militants randomly use heavy armor, 82-mm mortar launcher," said Colonel Andriy Lysenko, spokesperson of Presidential Administration on ATO-related issues at a press briefing at Ukraine Crisis Media Center.
Colonel Lysenko also said that Ukrainian Armed Forces incurred no losses in combat yesterday, and two troops were wounded. Low and medium intensity combat activity continues in the Donetsk sector, along the entire frontline from the Svitlodarsk bulge to the Donetsk airport. "The situation was the most difficult near Novhorodske, where militants used 82-mm mortar launchers twice. A hostile sniper was working there too," said the spokesman.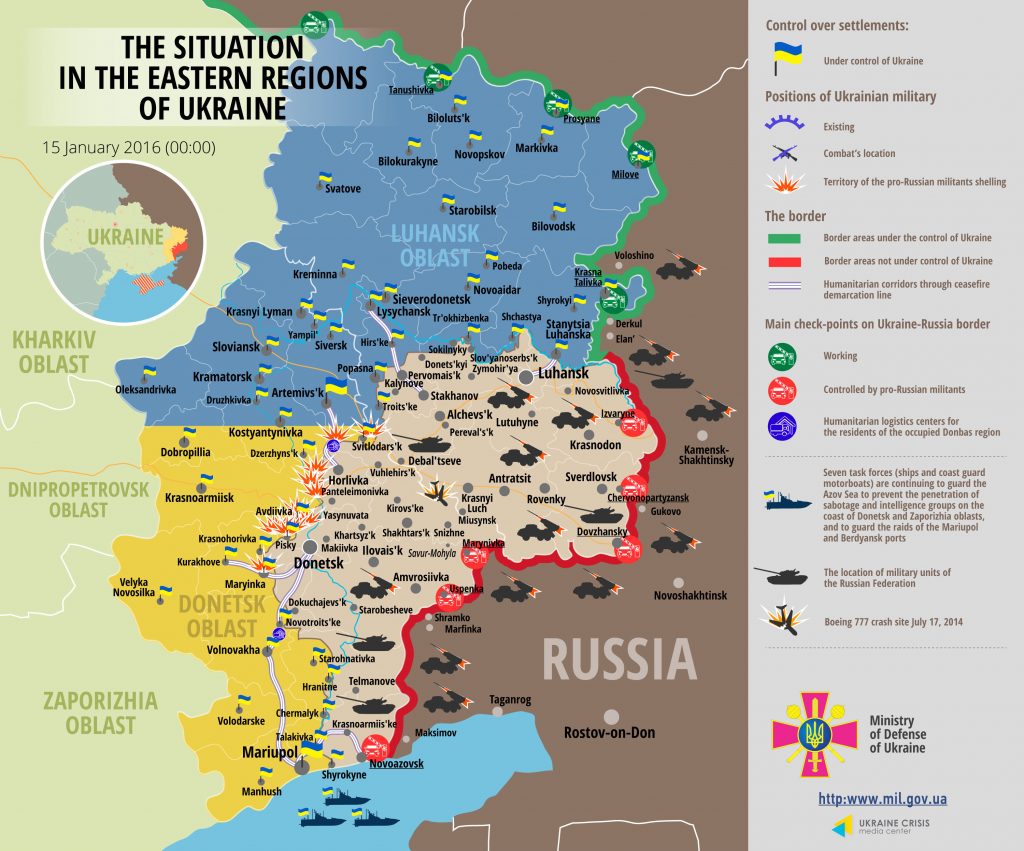 Militants repeatedly violated the ceasefire in the Mariupol sector near Mariinka. "In particular, hostile snipers were very active in this sector. There were three cases of sniping fire there yesterday. Moreover, militants violated the armistice at the forward defense lines south of Talakivka – Lebedynske line (near Vodiane). Following aimed fire ATO forces opened in response, the hostile shelling stopped," said Colonel Lysenko. No combat activity took place in the Luhansk sector.
Moreover, two flights of militants' unmanned aerial vehicles were observed in the ATO yesterday. "It happened in Luhansk region near Shchastia and in Donetsk region near Novomykhailivka village," explained Colonel Lysenko.
ATO forces conducted a large-scale special operation on countering subversion in Popasna. "Five militants were detained following checkup. Moreover, special forces found a weapons cache, seizing 11 TNT blocks, two anti-tank grenade launchers, three hand grenades and two anti-personnel mines," informed the spokesman.
Law enforcements found a number of weapons caches. "Ukraine's Security Service officers together with police seized five assault rifles, a Kalashnikov machine gun, a GP-25 grenade launcher, a shot-gun and a Russia-made bulletproof jacket from a cache near Mariupol," said Colonel Lysenko. Moreover, a RGD-5 grenade was found inside a vehicle in Mariupol town. Two grenades with fuses were found in a basement in Krasnoarmiysk, and 30 cartridges to Kalashnikov assault rifle were seized from a local inhabitant in another district of the town. "Six weapons caches containing arms and ammunition were found in woods near the administrative border of Dnipropetrovsk and Donetsk regions. 26 kg of plastid, 20 kg of TNT, 14 sticky mines, nine grenade launchers, two Kalashnikov assault rifles, four Makarov guns and over one thousand cartridges of various caliber," informed the spokesman.
Representative office of UN High Commissioner for refugees supplied 345.5 tons of construction materials and medical equipment to the inhabitants of temporarily occupied territories of Donetsk region. "17 trucks carrying humanitarian aid proceeded through Novotroitske checkpoint to the occupied territory," said the spokesman. Another charity organization gave four tons of meat for civilians from Donetsk.