Kyiv, January 18, 2016. The situation in the ATO zone in the east of Ukraine became more difficult yesterday. "Russia-backed militants repeatedly used heavy weapons prohibited by the Minsk agreements during the day, namely 82-mm mortar launchers and armor. ATO forces were made to respond with fire to stop the hostile provocations," informed Colonel Andriy Lysenko, spokesperson of Presidential Administration on ATO-related issues at a press briefing at Ukraine Crisis Media Center.
Ukrainian Armed forces incurred no losses in combat yesterday. One serviceman was wounded. "Moreover, two Ukrainian troops were wounded as a result of making contact with an explosive item," said Col. Lysenko.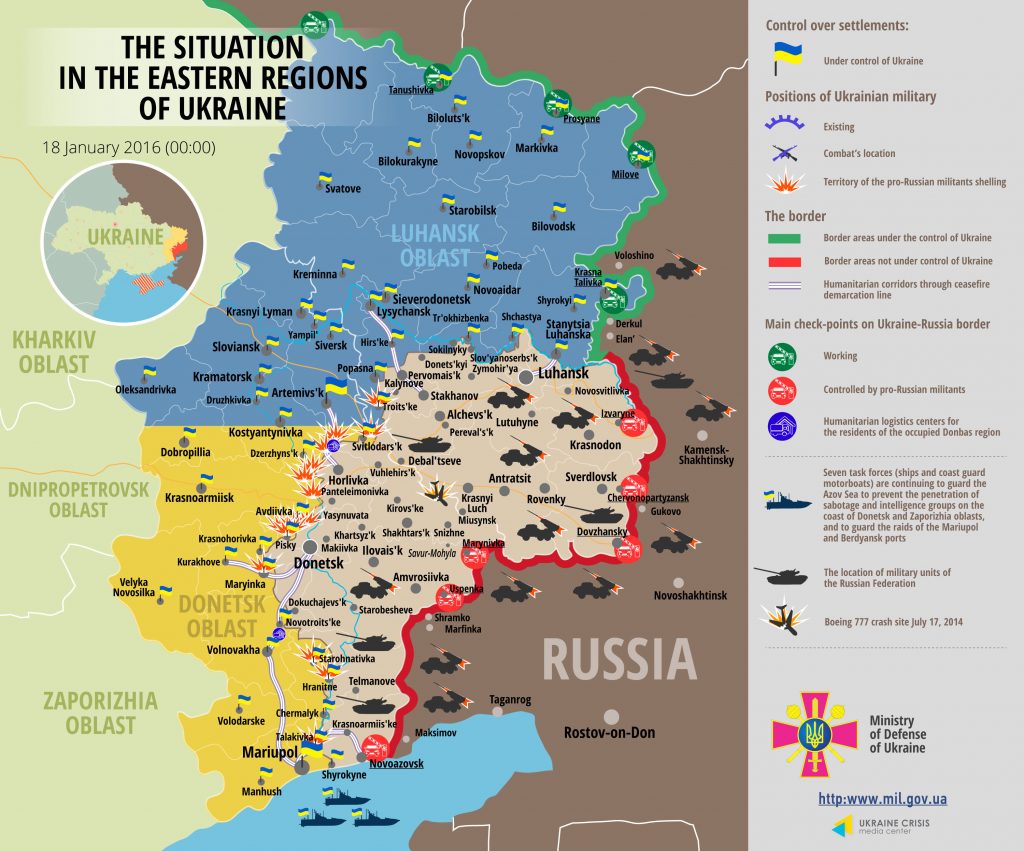 No combat activity took place in the Luhansk direction. Nevertheless, militants actively instigated provocations in the Donetsk sector along the entire contact line. "Our positions near Luhanske village were attacked twice from armored personnel carrier (APC). A mortar attacks took place in Zaitseve. The situation was very difficult in Novhorodske yesterday, where Russia-backed militants also used APCs and 82-mm mortar launchers," said Col. Lysenko. Moreover, militants regularly instigate provocations using small arms and grenade launchers. "Attacks with fire took place both during the day and at night," explained the spokesman.
The situation in the vicinity of Donetsk airport remains unchanged. In the Mariupol sector militants twice shot at Ukrainian positions near Starohnativka from APC. Moreover, provocations were recorded south of Talakivka-Lebedynske defense line. "The enemy launched twenty 82-mm mines at our positions, further shooting from grenade launchers and machine guns. Militants violated the ceasefire in Mariinka and Hranitne," said Col. Lysenko. Moreover, a flight of militants' unmanned aerial vehicle was observed over the Azov Sea water area. Col. Lysenko also provided new details of shelling of OSCE SMM patrol in Mariinka.
"This episode has been identified to be a part of specially designated militants' provocation. Insurgents planned to turn arrival of Alexander Hug, Deputy Chief Monitor of the OSCE Special Monitoring Mission to their advantage. Russia-backed militant groups were shooting at particular time in order to provoke ATO forces to respond with fire, accusing Ukraine of violating Minsk Agreements at the presence of OSCE representative," informed the spokesman. According to Col. Lysenko, it has been found that the OSCE vehicle was shelled from a sniping rifle. Moreover, he said that militants did not provide the mission with full access to Kominternove village.
A group of officers on civil-military cooperation continues working in the ATO zone. Jointly with volunteers the officers gave humanitarian aid to the boarding school in Shchastia village as well as to troops at the contact line. "These were foodstuffs, books, warm clothes, equipment and medicine," said the spokesman.
Col. Lysenko also informed of detention of a commercial structure owner, who planned to misappropriate property of Pokryshkin Flight Center in Zaporizhzhia. "The smart dealer planned to dismount and sell 9 000 air field slabs as well as over 150 aircrafts at the beginning of 2015. The businessman forged documents for this deal. Moreover, criminal proceedings were opened on a judge who made an illegal decision on the airport property," said Col. Lysenko.