Kyiv, January 22, 2016. Situation in eastern Ukraine escalated yesterday. "Adversary has drastically intensified attacks upon our positions in the Donetsk and Mariupol sectors, using heavy weapons in a non-systematic way including mortars and infantry fighting vehicles. Big part of attacks were targeted, that's why ATO forces returned fire," said Colonel Andriy Lysenko, spokesman of Presidential Administration on ATO-related issues at a press briefing at Ukraine Crisis Media Center.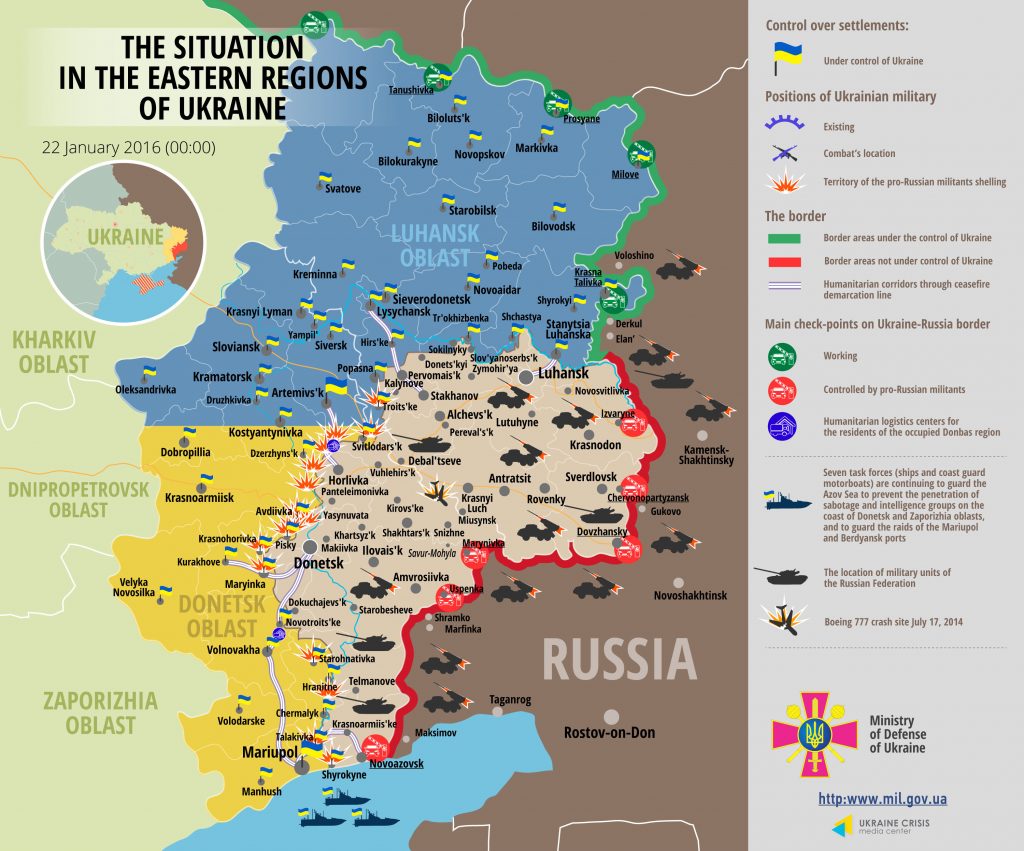 In the Mariupol sector militants were firing almost incessantly upon the positions of ATO forces east of Krasnohorivka and Maryinka. "Militant groups were not using heavy weapons, enemy snipers fired several times," noted Colonel Lysenko. ATO forces had to return fire, afterwards militants stepped back to their previous positions. "Further to the south, near Starohnativka, adversary used a 120-mm mortar. Five mines were fired. East of Talakivka enemy also used heavy weapons – an 82-mm mortar and an antitank missile system," said Colonel Lysenko.
In the Donetsk sector militants were violating ceasefire along the entire contact line. "Adversary used an infantry fighting vehicle twice south-east of Novhorodske. Largest number of hostile attacks was registered in the area of the Donetsk airport yesterday, in Pisky in particular," said the ATO spokesman. At the same time it was quiet in the Luhansk sector.
Ukrainian troops incurred no casualties over the last day, one serviceman was wounded in action. "One more serviceman was wounded after he hit an explosive device," noted the ATO spokesman.
Main Intelligence Directorate of Ukraine's Defense Ministry said that Russia's Security Service (FSB) stepped-up border control at the Russian-Ukrainian border in Rostov region, Russia. "It is explained by increase of militant attempts to flee to Russia," noted Colonel Lysenko.
Ukraine's Security Service together with the State Border Guard Service and the State Fiscal Service prevented an attempt to smuggle the equipment for cable networks to the temporary occupied territory. Law enforcement staff also discovered two weapons caches – in Teple village, Luhansk region and near Bohdanivka village, Donetsk region. Three RPG-22 grenade launchers, 11 ammunition pieces for the RPG-7 grenade launcher and two boxes of VOG-17 grenades were discovered in the first cache. RPG-18 grenade launcher, 20 grenades, nine fuzes and over 700 rounds of ammunition for the Kalashnikov rifle were found in the second cache. Security Service staff also discovered that a resident of Kyiv was in possession of a large stock of weapons. "Staff of Ukraine's Security Service together with police and the Prosecutor's Office seized 44 pistols, UZI submachine gun, spare parts to rifled bore weapons and a large number of cold weapons," said the ATO spokesman. "At Zaitseve checkpoint, Donetsk region, border guards seized UAH 240 thousand from a car driver who was trying to smuggle it across the contact line," added Colonel Lysenko.
Colonel Lysenko also said that two more former militants used the return program of the Security Service of Ukraine "They are waiting for you at home", Kramatorsk city court ruled to free them of criminal liability.
"Yesterday Ukraine was commemorating the heroic act of Donetsk international airport defenders," reminded Colonel Lysenko. Military orchestras performed at the airports of Kyiv, Dnipropetrovsk, Kharkiv, Odesa, Zaporizhzhia and Lviv to commemorate the last defenders of the Donetsk airport [known as Cyborgs – UCMC].
Update on ATO spokesperson's statement on January 22, 2016
The Presidential Administration spokesperson on ATO-related issues informs about Ukrainian servicemen who were killed and wounded in action on a daily basis.
On January 20, six Ukrainian servicemen were wounded in action, while one soldier was wounded in action on the next day, January 21.
President of Ukraine Petro Poroshenko commented on military action in eastern Ukraine during his visit to Switzerland in an interview to Bloomberg: "Yesterday [January 20], my country lost three soldiers, today [January 21] two soldiers were killed, which is unacceptable."
The President noted of casualties in Ukrainian Armed Forces that occurred not in the course of military action over January 20-21. Ukraine paid a high price for the Russian aggression. The country values every single soldier. President emphasized that Russia must fulfill its part of Minsk accords in order to restore peace in Donbas and save human lives.