Kyiv, January 25, 2016. Ukrainian Armed Forces incurred no casualties in combat in the ATO zone yesterday. Pisky and Opytne settlements and Donetsk airport area still remained flashpoints in the Donetsk sector. "Militants use no heavy armor, but are bothering ATO troops with fire from small weapons and grenade launchers. Moreover, pro-Russian troops shot at our positions yesterday south of Luhanske and on the outskirts of Horlivka," informed Colonel Andriy Lysenko, spokesman of Presidential Administration on ATO-related issues at a press briefing at Ukraine Crisis Media Center. According to the Chief Intelligence Directorate of the Ministry of Defense of Ukraine, Russia continues supplying militants. "Special trains carrying military weaponry, combustible and lubrication materials and ammunition for militants arrived at Ilovaisk and Khartsyzk railway station. Moreover, reconnoiters reported on Russian motor convoy with ammunition illegally crossing Ukrainian-Russian state border near Dmytrivka village in Donetsk region," said Col. Lysenko.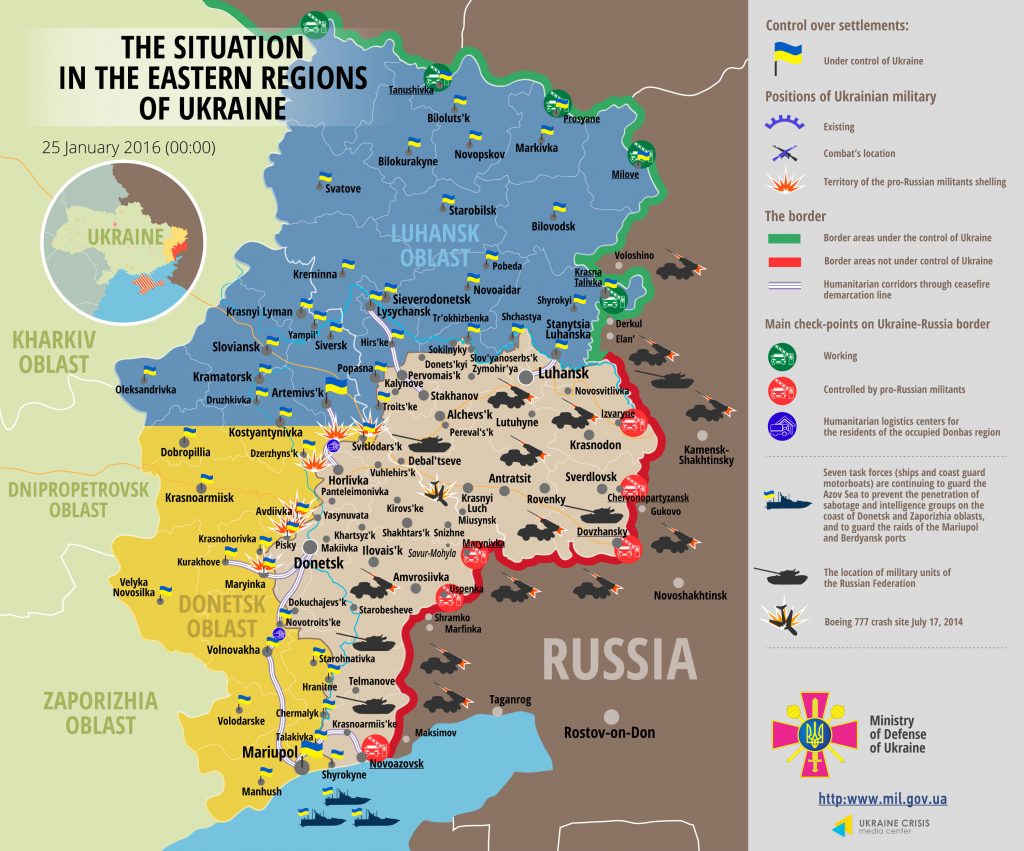 Russia-backed militant groups violated the ceasefire in the Mariupol sector only in Mariinka. "Militants used ZU-23-2 anti-aircraft mount and grenade launchers to shot at our troops," said the spokesman. Five episodes of snipers' activity were recorded along the entire frontline from Svitlodarsk to Mariinka. Ukrainian border guards observed flights of three militants' unmanned aerial vehicles near Mariupol, Sartana and over the Azov Sea water area.
Members of civil and military cooperation team continue working to restore gas supply in Mariinka-Krasnohorivka section. "Works at the site of 2000 meters have been finished. We are in for the most difficult part 900 meters long, located at the frontline," informed Col. Lysenko. He also said militants repeatedly opened fire, shooting at repair crew, "observing the armistice only during OSCE patrols' visits".
Law enforcements detained a resident of Dnipropetrovsk who was actively sharing materials discrediting ATO troops and supporting pro-Russian militants' activity in social media. He also transferred information regarding public sentiments in Dnipropetrovsk to his spymasters.
Col. Lysenko also reminded that the first anniversary of Mariupol tragedy was commemorated yesterday. On that day ago 31 civilians died and 117 were wounded as a result of militants' shelling the town residential quarters from Grad multiple launcher rocket systems. "A year ago the enemy dealt a stroke, trying to wreak the chaos in the capital of the Azov area. Nevertheless, Mariupol residents displayed unity and defeated the occupants' plans," said Col. Lysenko.