Kyiv, January 26, 2016. Most turbulent situation across the ATO zone over the last day was standing in the Donetsk sector. "Low-intensity combat actions continue along the entire contact line. Hostile snipers are active in particular at the Svitlodarsk salient and in the Donetsk airport. Ukrainian positions in Pisky came under a tank attack," said Colonel Oleksandr Motuzyanyk, spokesman of Presidential Administration on ATO-related issues at a press briefing at Ukraine Crisis Media Center.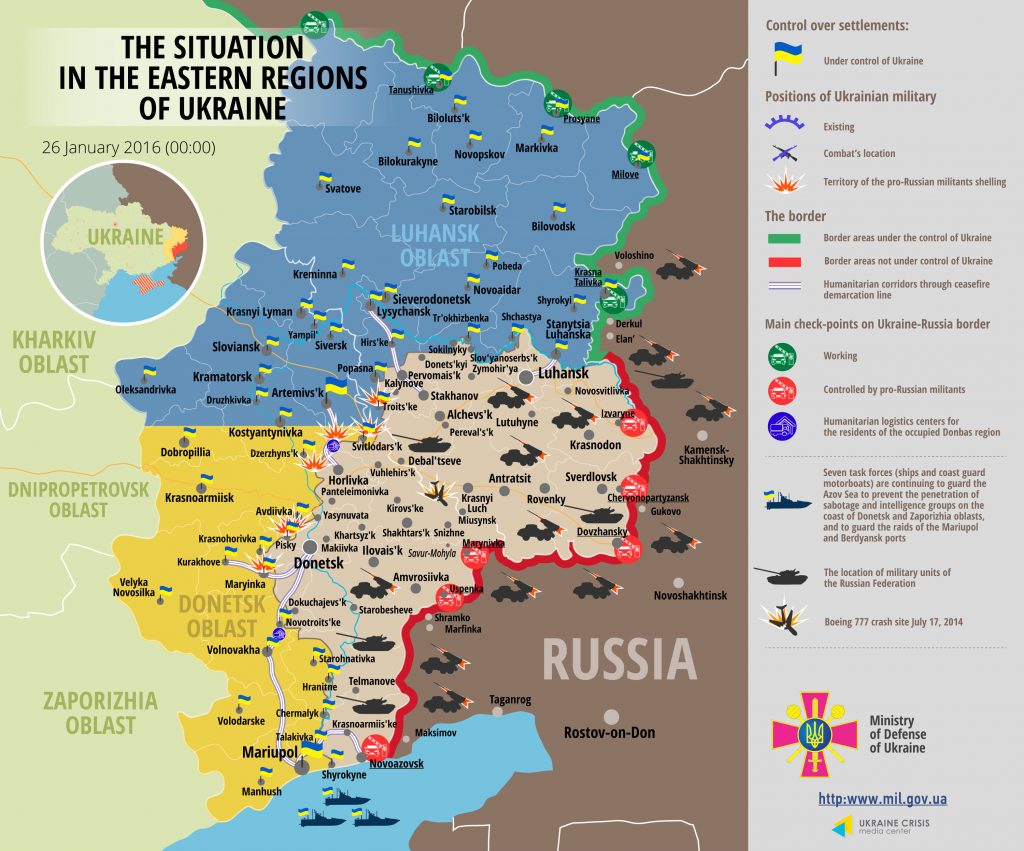 In the Mariupol sector militants violated ceasefire only in Maryinka. "Militant groups did not use heavy weapons, however two sniper attacks took place," noted the ATO spokesman. No ceasefire violations were registered in the Luhansk sector. Ukrainian troops incurred no casualties over the last day, one serviceman was wounded in action in Pisky.
Ukrainian law enforcement staff discovered a series of caches with ammunition and weapons. One of the caches was discovered near Kramatorsk. "MON-50 antipersonnel mines, 7,62-mm and 5,45-mm rounds of ammunition, cases and fuses for F-1 grenades and two TNT blocks were seized from the cache. Several days ago a trip wire with an RGD-5 grenade was discovered. The grenade was successfully neutralized," said Colonel Motuzyanyk. A cache was discovered in a garage area in Maryinka. Six ammunition pieces for a hand-held grenade-launcher, a mine with an uninitiated detonator, two F-1 grenades, an RGD-5 grenade with fuses and five fuses to grenade launchers were found in the cache.
Another arsenal was found in Mariupol. "A sports bag was discovered in an abandoned house, military uniforms with "Russia" insignia were discovered as well as two gas-masks, three F-1 grenades, Makarov pistol with ammunition rounds, car number plates, three smoke grenades and about 240 ammunition rounds. An RPG-26 grenade launcher in combat readiness was hidden under the bag in the ground," said Colonel Motuzyanyk. Another cache was discovered near Petrivka village, Donetsk region. Four MON-50 antipersonnel mines, 7,62-mm and 5,45-mm rounds of ammunition, cases and a fuse for an F-1 grenade as well as two TNT blocks were seized from the cache. Weapons were also discovered in an off-roader at the checkpoint in the area of the Mariupol airport. "Hand-held antitank grenade launcher and over a thousand 7,62-mm ammunition rounds were seized from the vehicle. The driver was heading to Chonhar, Kherson region," said the ATO spokesman.
Colonel Motuzyanyk also said that Donetsk region residents received a consignment of humanitarian aid – almost two and a half tons of baby food. The truck crossed through Zaitseve control checkpoint.