Kyiv, January 28, 2016. Forty attacks by militant groups were registered in ATO zone over the last day. Ukrainian troops incurred no casualties over the last day, no servicemen were wounded in action, said spokesman of Presidential Administration on ATO-related issues Colonel Oleksandr Motuzyanyk at a press briefing at Ukraine Crisis Media Center. In the Luhansk sector militants violated ceasefire south of Tryokhizbenka by using small arms. In the Donetsk sector low-intensity combat actions continue all along the contact line. Militants were mostly using small arms and grenade launchers. "At the same time occupants used an 82-mm mortar in Troyitske and fired upon Ukrainian positions in Pisky from an infantry fighting vehicle. Seven targeted attacks by hostile snipers were registered in the area of the Donetsk airport," noted Colonel Motuzyanyk. In the Mariupol sector militant group members were simultaneously firing upon Ukrainian positions in several parts of the frontline. Thus militant snipers were actively firing in Maryinka. "Adversary used an antitank missile system in Hranitne and an 82-mm mortar in Talakivka," noted the ATO spokesman.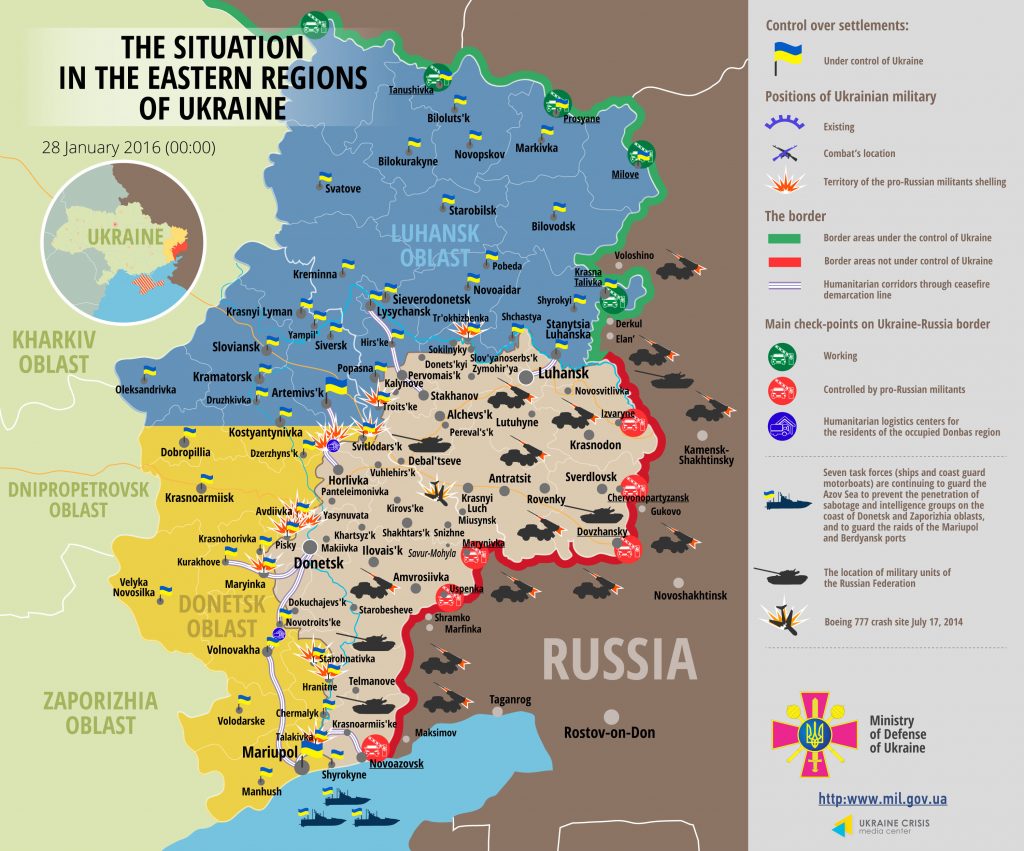 According to Colonel Motuzyanyk Ukraine has recently obtained another proof that militants are in possession of portable "Grad-P" rocket launchers. "Ukrainian patriots who are constantly conducting subversive acts against militant groups in the enemy's rear have recently seized another "Grad-P" system from militants and passed it to ATO forces. Experts note that the weapon has been in use, it is visible based on external weapon check," he said.
Ukraine's Security Service keeps detaining militant accomplices. "One of them was member of the so-called "Luhansk People's Republic" ("LPR") militant group and was standing guard with weapons at a checkpoint in Krasnodon district of Luhansk region. He was searching for and persecuting Ukrainian patriots. When ATO forces advanced the militant fled to Luhansk, disenchanted over some time he returned back to the Ukraine-controlled territory where he was detained," said the ATO spokesman. Lysychansk policemen detained a former member of "Pryzrak" militant group. "Right after Lysychansk was liberated in the end of July 2014 Ukrainian law enforcement staff searched the suspect's house and seized two grenades, over 100 ammunition rounds as well as evidence proving his involvement with militant groups. It was later confirmed that the man was standing guard at checkpoints near Lysychansk," elaborated the ATO spokesman. Policemen of Luhansk region detained the militant in question.
Ukraine's Security Service also detained an informer of the so-called "Donetsk People's Republic" ("DPR") militant group who was supplying  his leaders with intelligence information on movement of the Ukraine army troops and military equipment in Volnovakha district of Donetsk region. Security Service staff discovered another weapons cache in ATO zone. "The cache was protected with a trip wire and a grenade; four MON-50 antipersonnel mines, two F-1 grenades, 200g of TNT and 5,45-mm ammunition rounds were discovered inside," said Colonel Motuzyanyk.