Kyiv, February 1, 2016. The situation in the ATO zone remained tense yesterday. "Russia – backed militants continue shooting intensely at ATO troops' positions, using heavy armor as well. The outskirts of Horlivka and Donetsk became the epicenter of combat," informed the spokesman of Presidential Administration for ATO related issues Colonel Andriy Lysenko at a press briefing at Ukraine Crisis Media Center
Militants used a 120-mm mortar launcher near Stanytsia Luhanska in the Luhansk sector. The situation in the Donetsk sector continues escalating. "ATO  troops' strongholds east of Novhorodske became the epicenter of combat yesterday.  Pro-Russian militants were shooting there the entire day, often using mortar launchers and armor," informed Col. Lysenko.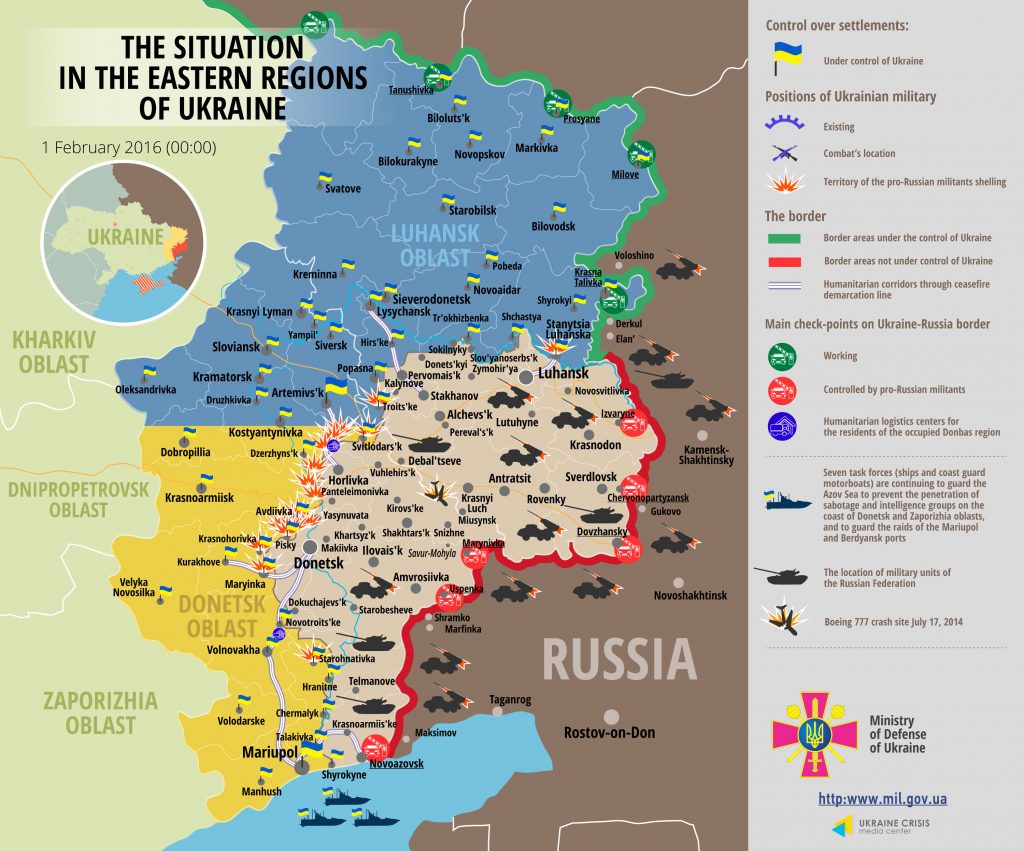 Shelling was less intense in the vicinity of Donetsk airport.  No heavy armor was used there. "Militants repeatedly shot at Ukrainian positions from 82-mm and 120-mm mortar launchers as well as an armored personnel carrier.  ATO troops responded with fire," said Col. Lysenko.  Moreover, according to the  spokesman, it was the first time after a long break that militants attacked Ukrainian positions on the second line of defense north of Horlivka with mortar fire. The situation remained comparatively calm only at the Svitlodarsk bulge, where only several militants' provocations involving use of light arms were recorded.
The situation was difficult in the Mariupol sector. "Russia – backed militants repeatedly shot from mortar launchers at Ukrainian positions near Krasnohorivka. A series of militants' aimed attacks from assault rifles equipped with under barrel grenade launchers took place in Maryinka . An attack with mortar fire took place in Starohnativka," said the spokesman.
Ukrainian Armed Forces incurred no casualties in combat yesterday.  Nevertheless, two local residents were injured, having tripped a militants' mine near Lenin sketch settlement in Donetsk region. "25 civilians died in 2015 as a result of tripping militants' mine,  triggers and other explosive items in 2015 in Donetsk region. Four of them were children," emphasized Col. Lysenko.
According to the Main Intelligence Directorate of the Ministry of Internal of Ukraine,at present preparation of large-scale militants' drilling with participation of 40 tanks, 70 armored combet vehicles and six Grad multiple rockets launcher systems takes place in the vicinity of Torez. "Such actions may be the evidence of the readiness to escalate the conflict. According to the intelligence, commission of the Center of Citizen Military Forces of South Command of the Armed Forces of the Russian Federation exert direct control over the preparation, " added Col. Lysenko.
Law enforcement detained a former militant who used to fight for insurgents in Kramatorsk. "The criminal joined pro-Russian militants in June 2014. He participated in combat activity in the Donetsk sector. Nevertheless, he fled the ranks of the Militant after the ATO troops advance," informed the spokesman.
Col. Lysenko also said that officers of the group of civil and military cooperation delivered recent Ukrainianprinted press to the inhabitants of the front area.