Kyiv, February 2016. Situation in the ATO zone keeps escalating especially in the Donetsk sector – active combat actions are ongoing along the entire contact line. "Yesterday the adversary fired 81 times upon Ukrainian positions, it is a record high number since the end of August 2015. Enemy used heavy weapons 12 times," said Colonel Andriy Lysenko, spokesman of Presidential Administration on ATO-related issues at a press briefing at Ukraine Crisis Media Center. One Ukrainian serviceman was killed in action over the last day; three servicemen were wounded in action. "The most complicated situation is observed in Zaitseve and Mayorsk where 160 mortar mines were fired upon Ukrainian positions yesterday. Occupants are firing from small arms and grenade launchers both in the dark and during day time," said Colonel Lysenko adding that under such circumstances the decision to close down "Zaitseve" control checkpoint turned to be timely.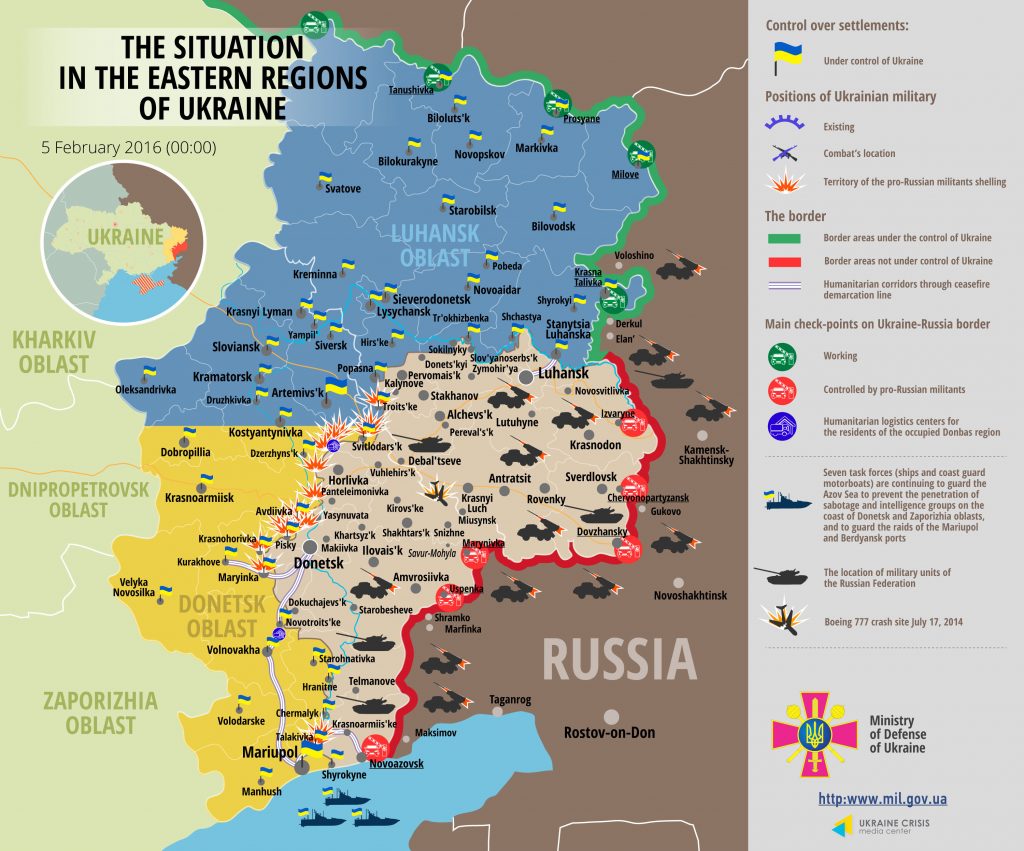 Turbulent situation also stands in the Mariupol sector. "The enemy fired from grenade launchers several times from the direction of Trudivski town directing fire towards Maryinka. A civilian was seriously wounded," said the ATO spokesman. Militants also fired three times upon the positions of ATO forces on the defense line Hnutove-Talakivka. "Yesterday in the evening Ukrainian border guards detected a hostile subversive group of five using a thermal imagery device. The group was in try to get to the Ukrainian positions near Pishevyk village. Thanks to the coordinated actions by border guards and military, subversives had to step back to the east," noted Colonel Lysenko. At the same time not a single provocation by militant groups was registered in the Luhansk sector.
Ukraine's Security Service detained a man at "Novoaydar" control checkpoint who was carrying digital pictures of Ukrainian army combat positions and checkpoint as well as of the control checkpoint. "According to the preliminary information the perpetrator intended to pass the photos to the enemy," noted the ATO spokesman. Law enforcement staff detained a local in Kramatorsk, he was taking part in setting up a militant checkpoint near Karachun hill when the conflict in the east started. Another man was detained at a checkpoint near Bakhmut. "The detained said he had just served his term in Horlivka penal colony. He confessed that he was working for militants and was standing guard at enemy checkpoint," said Colonel Lysenko.
Colonel Lysenko also noted that nine trucks with humanitarian aid crossed through "Maryinka" control checkpoint yesterday. The aid is destined for residents of the occupied territory and was facilitated by a foreign charity organization.