Kyiv, February 22, 2016.  According to the Main Intelligence Directorate of the Ministry of Defense of Ukraine, ATO forces destroyed a subversive reconnaissance group consisting of Russian troops in the Mariupol sector. "Three Russian troops died and five were injured. Intelligence published military titles and names of the dead occupants: sergeant Leonid Nikitin, private Igor Sidorov and private Vasiliy Petrachenkov," informed Colonel Andriy Lysenko, spokesman of Presidential Administration on ATO-related issues at a press briefing at Ukraine Crisis Media Center.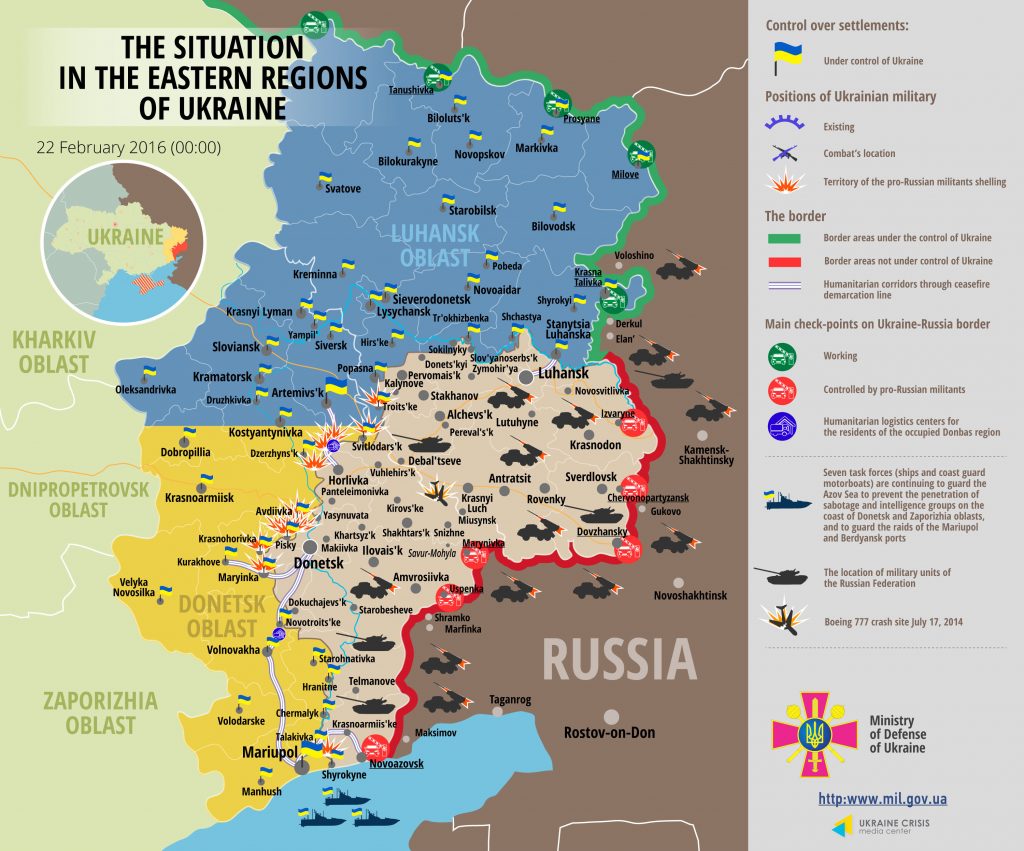 Moreover, according to recent intelligence, Russia-backed militant groups are preparing to conduct amphibious landing operation. "On February 12, 2016 the chief of the self-proclaimed "Donetsk People's Republic" ("DPR") Zakharchenko signed a so-called 'decree' renaming the so-called 9th motorized rifle regimen (home base – Novoazovsk) into the 9th special motorized rifle marine regimen," informed Col. Lysenko, saying, that the unit is being issued marine uniform – black berets, sailor shorts and chevrons. "These measures are connected with arrival of the 810th separate marine brigade subdivisions (home base – the occupied city of Sevastopol) to Novoazovsk," added the spokesman.
The armistice held in the Luhansk sector yesterday. On the contrary, the situation was difficult along the entire frontline from Troitske to Donetsk airport in the Donetsk sector. "Occupants were shelling regularly, not showing increased activity in any area. Militants used heavy armor twice, shooting from 82-mm mortar launchers near Krasnhorivka," said Col. Lysenko.
In the Mariupol sector front strongholds of Ukrainian troops west of Maryinka remain the epicenter of combat. "More than ten attacks involving use of small arms and grenade launchers took place there. Moreover, militants' snipers were active in the area," informed the spokesman. He added that one militants' provocation was instigated near Vodiane settlement.
Ukrainian Armed Forces incurred no losses in combat yesterday, two troops were wounded. "Eleven Ukrainian troops were injured near Maryinka yesterday as a result of explosive device mishandling," informed Col. Lysenko.
Law enforcements detained a man in Kostiantynivskyi district of Donetsk region. He was a member of the so-called "Republican guard of Donetsk People's Republic" and was keeping sentry at a checkpoint near Pisky. "The man was heavily injured later, and his subdivision was inactivated," said Col. Lysenko. A citizen of Hungary suspected of cooperation with Russia-backed militant groups was detained at Zaitseve checkpoint. "Communist party symbols were seized from the detainee. Moreover, he was identified to be an artillerist," explained the spokesman. Ukraine's Security Service officers detained a radio station employee in Pavlohrad, Dnipropetrovsk region, who was spreading anti-Ukrainian propaganda in social media. "Russia-backed militants recruited him in 2015," informed Col. Lysenko.
A weapons cache was found near Dnipropetrovsk. "Five RPG-26 grenade launchers, eight grenades with fuses, large quantity of 5.45 armor piercing ammunition and a TNT block were seized. The cache was set in a ruined building and equipped with a false trip wire," said the spokesman.