Kyiv, March 4, 2016. Militants' provocations were instigated along the entire frontline in the ATO zone yesterday. The armistice held only in the Luhansk sector. Svitlodarsk bulge, Horlivka agglomerate and Donetsk airport remained the flashpoint in the Donetsk sector. "Apart from using Grad multiple rocket launcher systems near Kransnohorivka in the morning, militants were shooting from 82-mm mortar launchers near Opytne. Insurgents open fire both during the day and at nighttime. The number of attacks and density of fire drastically increases after the sunset. In total, 46 militants' attacks were registered in the Donetsk sector in the past 24 hours," said Colonel Andriy Lysenko, spokesman of Presidential Administration on ATO-related issues at a press briefing at Ukraine Crisis Media Center.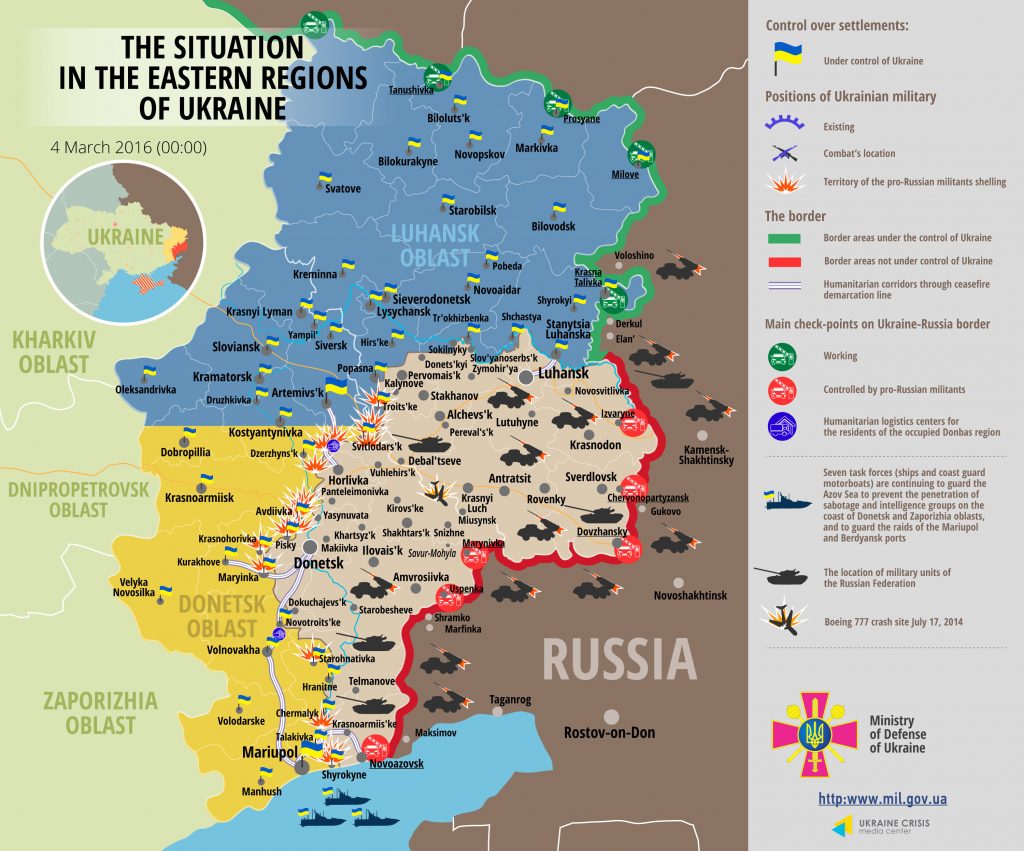 "11 militants' attack at our positions were registered in the Mariupol sector" informed Col. Lysenko. Militants used 82-mm mortar launchers twice, Ukrainian troops responded with fire once. Ukrainian Armed Forces incurred no losses in combat yesterday, three troops were wounded.
Col. Lysenko reminded that a journalist Mariya Varfolomeeva was released from captivity of self-proclaimed "Lunahsk People's Republic" ("LPR"). "She spent there 419 days. Militants' chiefs did not include her in prisoners exchange lists under the pretext of "spying charges", he said.
A dangerous cargo was found in a vehicle in Bakhmutiv district, Donetsk region. "TNT blocks, four fuses for grenades and almost 200 cartridges for automatic weapons were found during examination of a vehicle at a checkpoint on Kyiv-Kharkiv-Dovzhanskyi road," informed Col. Lysenko. A weapons cache was found in an unfinished building. "Law enforcements seized two RPG-22 grenade launchers, F-1 and RGD-5 grenades and a large number of cartridges. There was a clear highlighter inscription "Donetsk People's Republic" ("DPR") on grenade launchers," said the spokesman. He said that the total of 47 under barrel grenades, one grenade shell, three hand grenades, three TNT blocks and over 900 cartridges of various calibers were confiscated during personal inspections at checkpoints in Donetsk region in the last 24 hours.
Col. Lysenko informed that Canadian instructors finished training of the second group of Ukrainian military instructors. In the nearest future these 20 students will participate in training conducted for Ukrainian troops. "Moreover, instructors from the USA and Lithuania from Joint Multinational Training Command are also training our soldiers," said the spokesman.