Kyiv, March 11, 2016. Ukrainian Armed Forces incurred no casualties in combat in the ATO zone yesterday. In the Donetsk sector 31 militants' attacks were registered. Moreover, two armed clashes militants' subversive reconnaissance groups took place. "Avdiivka and the outskirts remain the epicenter of the combat. Russia-backed militants used mortar launchers seven times, as well as armored vehicles – APC-2 and a tank. ATO forces successfully repelled attack of militants' subversive reconnaissance group consisting of approximately 10 militants," said Colonel Andriy Lysenko, Presidential Administration spokesperson on ATO related issues, at a briefing at Ukraine Crisis Media Center. Another armed clash took place near Troitske village at the Svitlodarsk bulge resulting in militants' subversive reconnaissance group's retreat. Col. Lysenko added that mortar shelling also took place in Luhanske and Pervomaiske, and militants' snipers became more active in Zaitseve.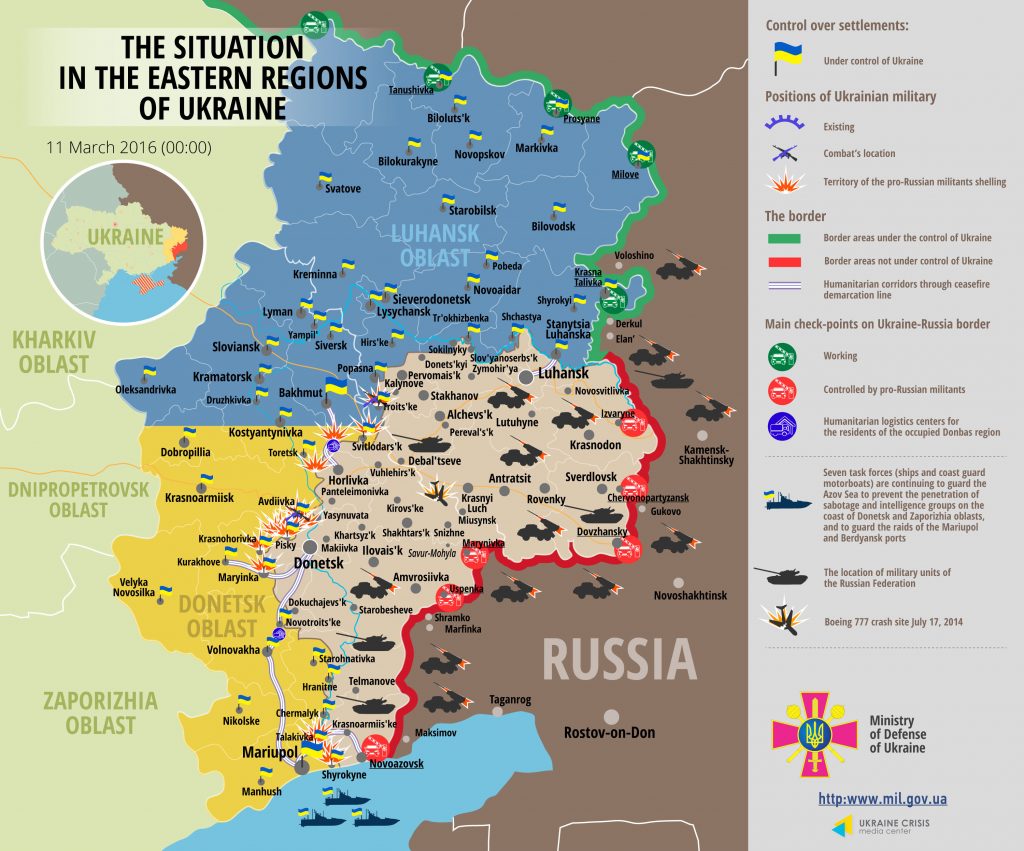 According to Col. Lysenko, militants conducted two attacks using mortar launchers near Hnutove and Shyrokyne. In Mariinka militants' snipers were shooting in the direction of Mariinka checkpoint. Militants' provocations were recorded in other sectors as well, in particular in Krasnohorivka and Talakivka. "In total, 14 hostile attacks were recorded in the Mariupol sector in the last 24 hours," summarized Col. Lysenko. The armistice held in the Luhansk sector.
According to the External Intelligence Service, servicemen from Crimean command of the Armed Forces of Ukraine who betrayed their oath and went over to serve in the Russian army faced severe problems. "For instance, command of the aviation regiment of the Armed Forces of the Russian Federation based in Novofedorivka village of Saky district in Crimea plans to give military ranks to only 25% of the former Ukrainian troops (about 500 people). It was promised to transfer some officers of North Caucasus," said Col. Lysenko. Moreover, the management of Sevastopol military medical center in Crimean region cut their staff; mainly they dismissed the former officers of Ukrainian Armed Forces, and decreased the number of beds fivefold. "These facts prove that Russia does not trust former Ukrainian troops who stayed in Crimea. No one wants traitors, so they often have to agree to risky undertakings, for instance, go to fight in Syria," said the spokesman.
Col. Lysenko said that another militant, originating from Slavuta in Khmelnytskyi region, jointed the program of the Security Service of Ukraine "You are waited for at home". He was illegally working in Russia at a construction site. "In August 2015 he lost documents and came to Russian law enforcements to renew the documents. Russian special services threatened to imprison the man, recruited him and sent to fight in Donbas," said Col. Lysenko. Having picked his moment, the man abandoned militants' positions and cross the frontline carrying weapons.
The spokesman also said that Ukrainian officers from Joint Center for Military Civil Cooperation and Kyiv volunteers gave a wheelchair to Danylo Dubinin, an internally displaces person. He lost his old wheelchair in a shelling when their family's house was completely destroyed.