Kyiv, March 23, 2016. One Ukrainian serviceman was killed in action over the last day, while 10 servicemen were wounded in action. The most tense situation is in the Donetsk sector where militants attacked ATO forces 37 times over the last day. "Intense combat actions continue near Avdiivka. Yesterday massive attacks upon Ukrainian positions in this part of the frontline started at about 7pm. The enemy was actively using heavy weapons including mortars, tanks and 122-mm howitzers. Following massive artillery fire the enemy started an attack that lasted about three hours," said Colonel Andriy Lysenko, spokesman of Administration of the President of Ukraine on ATO-related issues at a press briefing at Ukraine Crisis Media Center. He noted that Ukrainian troops returned fire, stopping the militants' advance. "The adversary was firing from two sectors at the same time: from the south – Spartak and from the east – Yasynuvata," added ATO spokesman. Other hotspots in the Donetsk sector were Zaitseve where militants were firing from small arms and grenade launchers and Donetsk airport where militant groups were using mortars.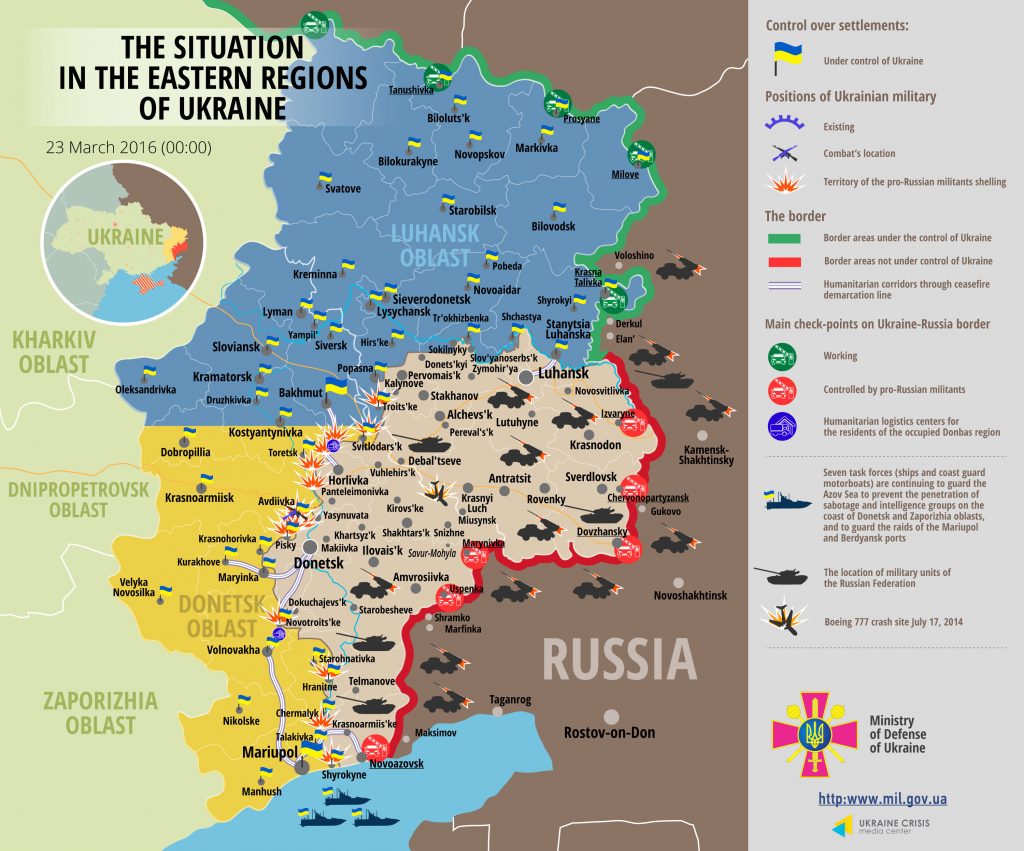 In the Mariupol sector Russia-backed militant groups violated the ceasefire six times. Militants launched two mortar attacks in Pavlopil. "A series of hostile provocations took place in other parts of the frontline including Novotroyitske, Hranitne and Shyrokyne," said Colonel Lysenko. In the Luhansk sector it was quiet.
Colonel Lysenko said that one more former militant availed of the Security Service's program "They're waiting for you at home". The man joined militant groups in 2015. "He was assigned weapons, guarded deployment spots of militant groups, was equipping firing positions and implementing other assignments by the militants. A lack of discipline, constant alcohol abuse, frequent fighting, and pillage by commanders motivated the man to return home," noted the ATO spokesman. Another weapons cache was discovered in the area close to the frontline on the outskirts of Sloviansk. Security Service staff seized six RPG-26 grenade-launchers and four thousand 7.62-mm ammunition rounds.
Colonel Lysenko also said that a truck with humanitarian aid from the International Committee of the Red Cross crossed into the occupied territories through Novotroyitske checkpoint. It was carrying over 7.5 tons of medical equipment and construction materials.
The ATO spokesman reported that yesterday the President awarded ATO veterans for their combat achievements. "Honored servicemen include Lieutenant-Colonel Dmytro Kashchenko of the 93rd brigade who took part in combat actions in Pisky, Major Oleh Balyas of the 80th airborne assault brigade who defended Luhansk airport, Lieutenant-Colonel Ihor Zosymenko of the 11th brigade of the army aviation whose efforts helped evacuate 70 wounded from the battlefield," said Colonel Lysenko.