Kyiv, March 28, 2016. One Ukrainian serviceman died in combat in the ATO zone yesterday and seven were wounded. Militants conducted 39 attacks at ATO troops' positions in the Donetsk sector, one in three involved the use of mortar launchers. The most intense fighting took place near Avdiivka. "Militants tried to seize our stronghold, but ATO troops successfully repelled the attack. Moreover, multiple mortar attacks took place in this area: at least 130 mortar shells were launched at our positions. Militants are mostly shooting from the south (Yasynuvata and Yakovlivka), but the situation south of Avdiivka (Spartak village) is restless too," informed Colonel Andriy Lysenko, Presidential Administration spokesperson on ATO related issues, at a briefing at Ukraine Crisis Media Center. According to him, militants conducted a series of mortar attacks in Zaitseve and near Kodema village. The situation was also difficult at the Svitlodarsk bulge and in the vicinity of the Donetsk airport.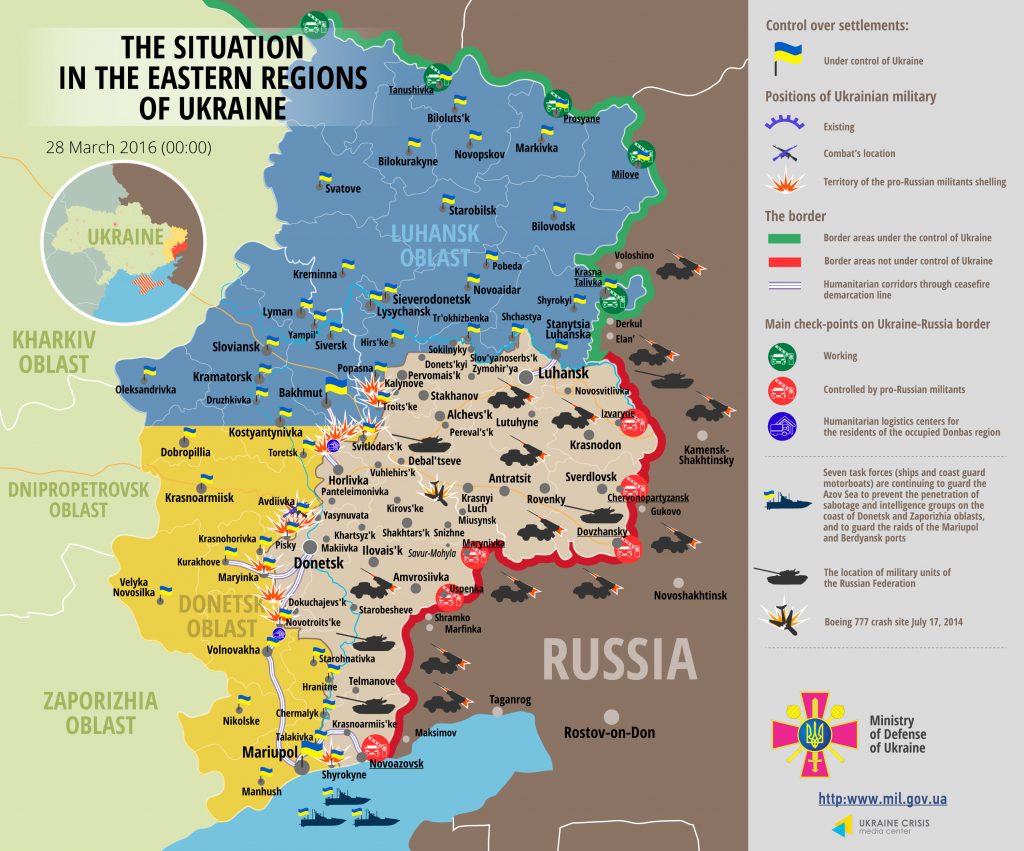 In the Luhansk sector Russia-backed militant groups instigated an armed provocation in Popasna district near Novozvanivka village. Insurgents used 120-mm mortar launcher in the Mariupol sector near Novotroitske. "Moreover, pro-Russian militants violated the ceasefire in Mariinka, Taramchuk and Shyrokyne. In total, five hostile attacks took place in the Mariupol sector yesterday," said the spokesman. "According to the Chief Intelligence Directorate, command of so-called "1st and 2nd army corps of the Russian occupation army" are planning large-scale provocative attacks at frontline strongholds of ATO troops under the pretense of field firing exercise," stated Col. Lysenko. "It is planned to instigate provocations in the period of March 29 – April 4". The spokesman reminded that the Decision of Trilateral contact group prohibits any military exercise in immediate battle area. Moreover, according to recent intelligence, "two Russian troops from mortar battery of so-called "9th separate marine assault motorized rifle regiment" of the self-proclaimed "Donetsk People's Republic" ("DPR") (home base – Novoazovsk) deserted yesterday. They suffered from non-authorized treatment from the mortar battery commander, lieutenant of the Armed Forces of the Russian Federation Konstantin Litvinov". Col. Lysenko informed that "while keeping watch at a signal station, senior lieutenant of the Armed Forces of the Russian Federation Sergei Puliantsev blew himself up with a grenade" in the same subdivision yesterday. The incident resulted in the officer's death.
According to Col. Lysenko, five Russian troops acting as members of militants' subversive reconnaissance groups were wounded in recent combat near Kominternove and Shyrokyne.
Law enforcements detained a militant of the Russia-backed militant group 'Prizrak', a part of the self-proclaimed "Luhansk People's Republic" ("LPR"), in Luhansk region. "The detained actively participated in combat during October 2014 – March 2015. The criminal is suspected of murdering three Ukrainian troops near Debaltseve in February previous year," informed Col. Lysenko. Another former militant joined the program of the Security Service of Ukraine 'You are waited for at home' and was discharged from liability.