Kyiv, April 13, 2016. Representatives of the self-proclaimed "Luhansk People's Republic" ("LPR") and "Donetsk People's Republic" ("DPR") took a UN mission representative, Ukrainian citizen with diplomatic immunity, hostage and keep him in a cellar in Donetsk. "Members of Russia-backed militant group are denying access to representatives of international humanitarian missions through artificial reasons. Ukrainian diplomats are exerting efforts to liberate him," said Colonel Andriy Lysenko, spokesman of Presidential Administration on ATO-related issues at a press briefing at Ukraine Crisis Media Center.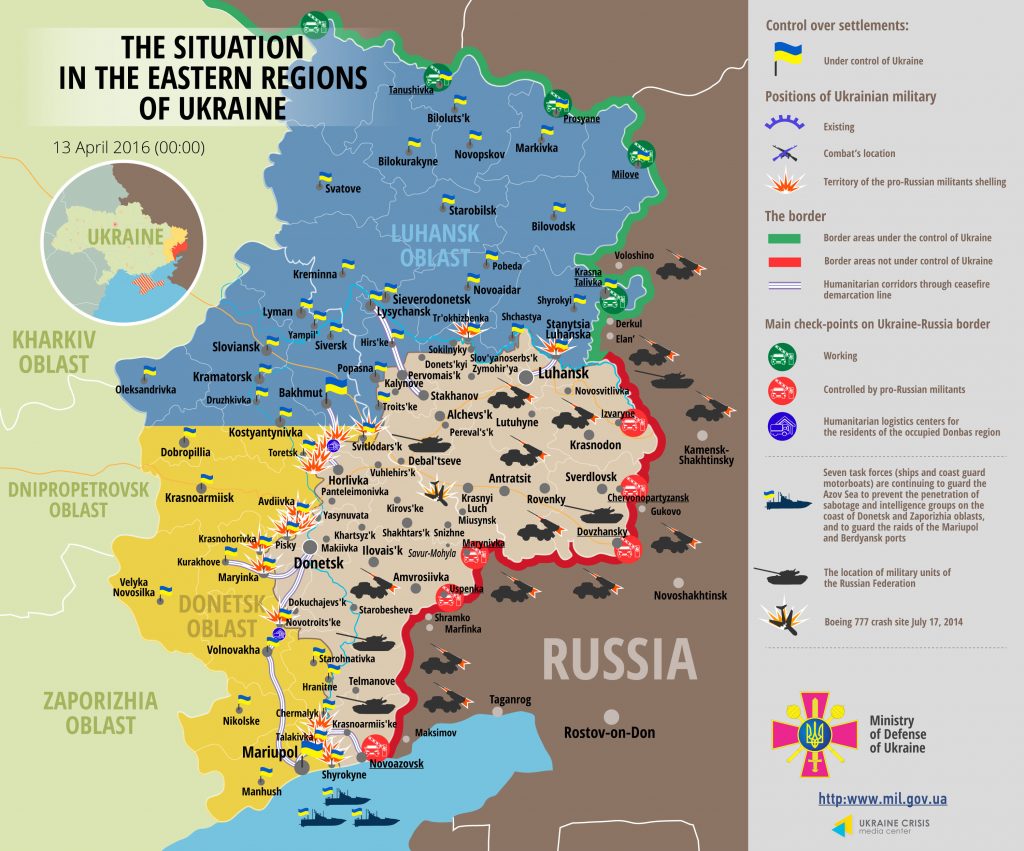 Ukrainian Armed Forces incurred no losses in combat in the past 24 hours, eight troops were wounded: three were wounded in shelling and five more were blown up by a land mine at armored personnel carrier. "The situation is the most restless in the Donetsk sector. "In total, 53 hostile attacks took place in the Donetsk sector, 40 percent of them involved use of heavy armor," informed Col. Lysenko. Luhanske, Zaitseve, Maiorsk and Avdiivka remain the main flashpoints. "Hostile attacks lasting for several hours became usual for the Avdiivka industrial zone. Militants' bullets and shells reach residential quarters as well. A secondary school was damaged in Avdiivka in the result of such an artillery barrage. Luckily, no one was injured," said the spokesman.
The situation in the Mariupol sector escalated the number of attacks there reached 29, most of them in Mariinka, Novotroitske and Shyrokyne. "In addition to a series of mortar assaults, the adversary is actively using armored personnel vehicles and snipers," said Col. Lysenko.
Militants violated the armistice in the Luhansk sector two times near Stanytsia Luhanska and three times near Triokhizbenka. In almost all the cases ATO troops were forced to respond with fire. According to the Chief Intelligence Department of the Ministry of Defense of Ukraine, an echelon with combustible and lubrication materials for Russia-backed militant groups arrived at militants-controlled Krasnodon. "Echelon carrying about 200 tons of ammunition came to Debaltseve; 12 tanks and 18 combat armored vehicles entered Ilovaisk," said Col. Lysenko.
Law enforcement officers found two weapons caches at the near-front area. The first one on the outskirts of Krasnoarmiysk in Donetsk region contained three grenade launchers, two missiles for them, seven grenades, almost one kilogram of TNT and large number of cartridges of various calibers. National Guard officers found boxes with shells for anti-aircraft mount, Kalashnikov assault rifle and a box with grenades in the second cache near Hrodivka village in Krasnoiarmiysk district, Donetsk region. Col. Lysenko also informed that two trucks carrying 20 tons of household detergents from the International Red Cross Committee proceeded yesterday through Novotroitske checkpoint to the uncontrolled territory.