Slight increase in number of attacks reported over the last day. Ukrainian troops incur no casualties. Four weapons caches discovered in ATO zone.
Kyiv, May 12, 2016. Ukrainian troops incurred no lethal casualties in ATO zone over the last day, no servicemen were wounded in action. "Adversary restarted using heavy weapons – mortars in particular. Three such incidents took place over the last day, a total of 20 mines were fired upon Ukrainian positions," said Colonel Oleksandr Motuzyanyk, spokesman of Presidential Administration on ATO-related issues at a press-briefing at Ukraine Crisis Media Center.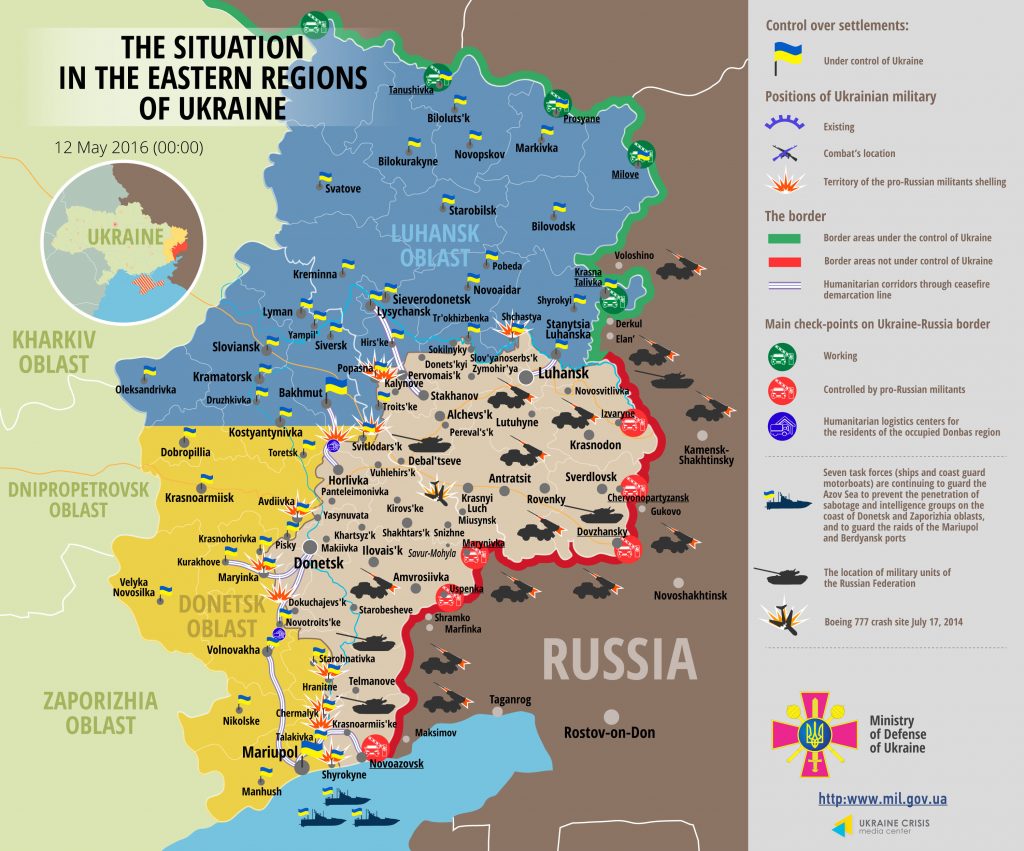 In the Mariupol sector militants made eight attacks along the contact line between Maryinka and Shyrokyne. "Thus in Berezove where the enemy used mortars ATO forces had to return fire," noted Colonel Motuzyanyk. In the Donetsk sector militant groups violated ceasefire four times: in Luhanske and Zaitseve, made one mortar attack in Avdiivka. In the Luhansk sector militants violated ceasefire three times: in Shchastia and in Popasna area.
According to the Main Intelligence Directorate of Ukraine's Defense Ministry militants of the so-called "5th separate motor rifle brigade of the 1st army corps of DPR" incurred losses yesterday: one militant was killed in action and one was wounded. "Militants of the so-called '9th separate assault navy regiment of the 1st army corps of 'DPR' in Novoazovsk tried to apply the lynch law to the Russian serviceman on active duty Ayur Galanov who brought the occupants old ammunition rounds of low quality," noted ATO spokesman. Moreover two militants from a unit deployed to Debaltseve tried to desert but they were detained by the newcomers – soldiers of the Russian Federation National Guard.
Ukrainian servicemen discovered a Russian-produced damaged T-72 tank in Volnovakha district of Donetsk region. "Prohibited PMN antipersonnel mines "Black Widow" and "Lepestok were also discovered in proximity to the tank," noted Colonel Motuzyanyk.
Law enforcement staff discovered four caches with weapons in ATO zone. Kalashnikov rifle with 300 rounds of ammunition for it, two grenades for RPG-7 grenade launcher, MON-50 antipersonnel mine, F-1 and RGN grenades as well as eight grenades for under-barrel grenade launchers were seized from a cache near Toretsk. A cache with a Kalashnikov rifle and a grenade was discovered in Sloviansk. Grenade launchers of various types, 16 RGD-5 and F-1 grenades as well as a large number of ammunition rounds were discovered in Semyhirja, Donetsk region. A RPG-26 grenade launcher and blasting caps were discovered in another cache in Luhansk region. Illegal weapons were also discovered in Zaporizhzhia. "While searching an apartment policemen discovered a rifle with an optical sight and a device for silent launch, ammunition, 10 knives and a stiletto knife. It was discovered that the perpetrator tried to trade not only weapons but drugs as well," said Colonel Motuzyanyk.