Combined Russian-and-militant forces increase density of fire. Mortars are used in most incidents. Six Ukrainian servicemen wounded, no fatalities.
Kyiv, May 21, 2016. Russia-backed militants made three attacks in the Luhansk sector of the ATO zone – namely near Tryokhizbenka and Novozvanivka. In the Donetsk sector active combat actions took place north of Horlivka as well as in Avdiivka and Opytne. Mortars were in use in most cases. "Density of the hostile fire has considerably increased – yesterday a total of 230 mines were launched by militant groups. Seven hostile attacks took place in the Donetsk sector," said Colonel Andriy Lysenko, spokesman of Presidential Administration at a press-briefing at Ukraine Crisis Media Center. He reported 10 attacks all along the frontline in the Mariupol sector, three of them were mortar attacks. Most tense situation was in Novotroyitske, Taramchuk and Pavlopil. Colonel Lysenko said no Ukrainian troops incurred lethal casualties, six servicemen were wounded in action. "All these losses are combat ones that ATO forces suffered in the Donetsk sector," he explained.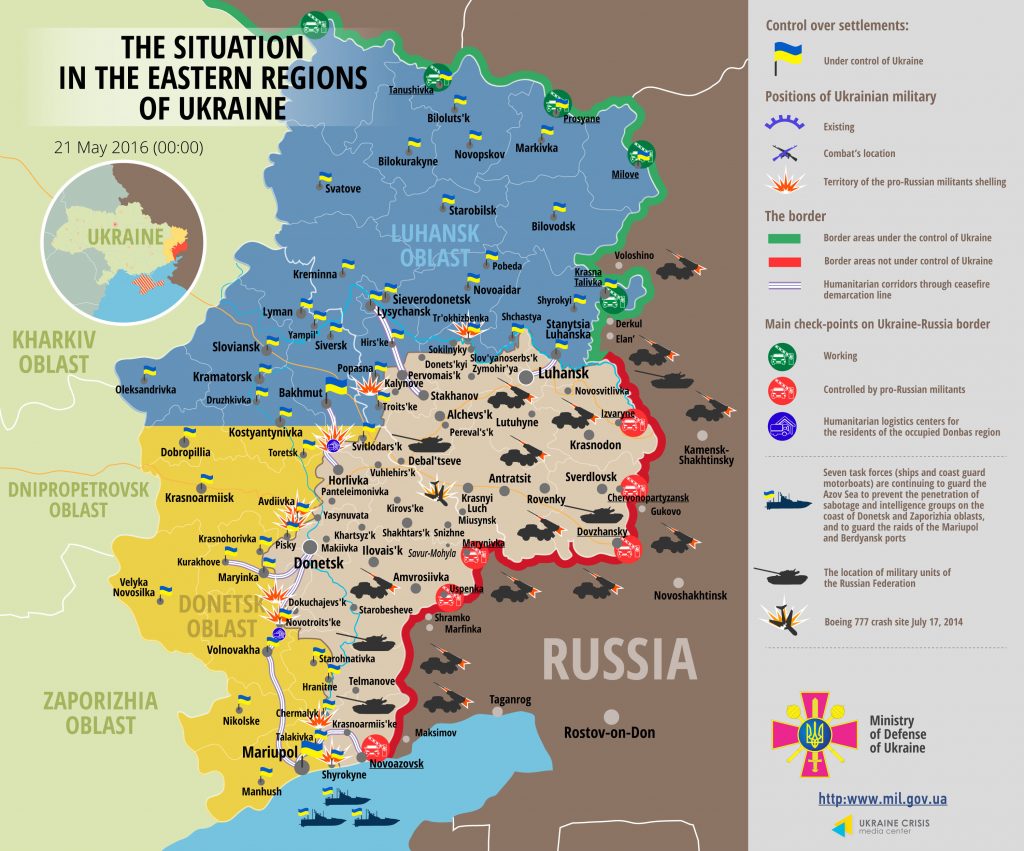 Border Guard service registered seven reconnaissance flights of militant unmanned aerial vehicles in ATO zone yesterday.
Main Intelligence Directorate of Ukraine's Defense Ministry published fresh information on the losses of militant groups. "Thus, one fighter of the so-called '7th separate motor-rifle brigade' was killed in action and four more were wounded in action. Three fighters of the so-called '11th separate motor-rifle regiment' were wounded in action near Avdiivka's industrial area. One fighter of the so-called '9th separate assault marine regiment' was killed in action and three more were wounded in action near Sakhanka," said the ATO spokesman. He added that remains of 21 Russian servicemen were taken through "Marynivka" border crossing point to Russia yesterday.
According to Colonel Lysenko Ukraine's Security Service (SBU) neutralized a militant subversive group in ATO zone. "Occupants were getting in the rear of Ukrainian positions firing or trying to take the servicemen captive. Adversary was drawn into an ambush with the use of a dummy of Javelin anti-tank system. One militant was killed, three more were wounded," elaborated Colonel Lysenko. Counter-intelligence of Ukraine's Security Service in cooperation with the State Emergency Service uncovered a proxy group of Russia's FSB Federal Security Service that was conducting reconnaissance and subversive activities in northern areas of Luhansk region. The ATO spokesman said the group was composed of three persons: district-level head of the State Emergency Service, local smuggler and former district-level deputy chief of the communist party, now illegal, who is currently hiding in Russia. "The perpetrators were taking orders from Russian intelligence, were informing the enemy on movement of the Ukrainian Armed Forces, deployment places, work of checkpoints as well as on state border protection arrangements," said Colonel Lysenko.
He added that two militants made use of the "They are waiting for you at home" program offered by Ukraine's Security Service. One is Lysychansk resident who fled from his accomplices from Prizrak militant group due to their violence he was subject to.