Militants fire around Donetsk airport area upon arrival of high UN official, ceasefire holds in the neighboring Luhansk region. Intelligence reports of new military supplies for the militants arriving from Russia.
Kyiv, June 2, 2016. Russia-backed militant groups conducted 34 attacks and one firefight in the Mariupol sector of the ATO zone in the last 24 hours. "A firefight between ATO forces and the enemy near Mariinka continued about two hours. Enemy was shooting from mortar launchers in Krasnohorivka, Vodiane and Shyrokyne. In general, the situation is restless along the entire frontline," informed spokesman of the Presidential Administration on ATO related issues Colonel Oleksandr Motuzyanyk at a press briefing at Ukraine Crisis Media Center.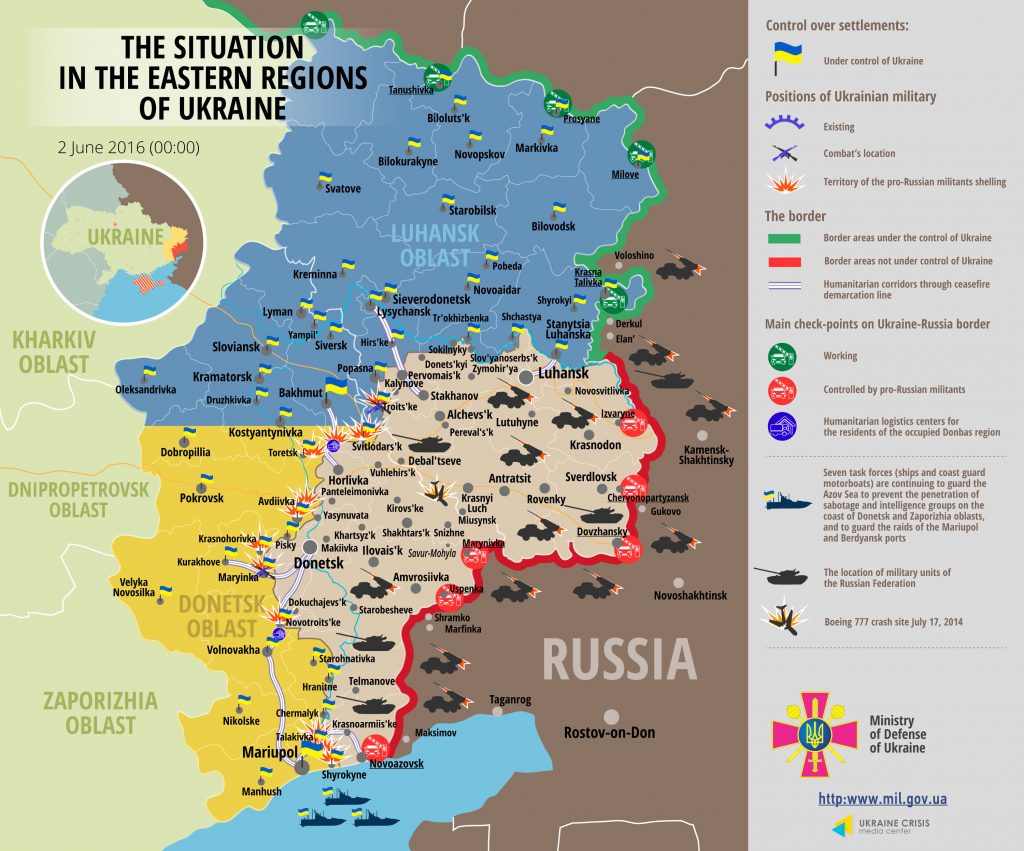 Militants shelled ATO troops' positions 15 times in the Donetsk sector. "A series of hostile mortar attacks took place in Novoselivka Druha, Avdiivka and Krasnohorivka. Over 60 mortar shells were launched at our positions. Moreover, ATO troops successfully defeated an attack of hostile subversive reconnaissance group (up to 10 militants) at night at the Svitlodarsk bulge, in Troitske village," informed the spokesman. Russia-backed militant groups also violated the armistice in Luhanske and in the vicinity of Horlivka agglomerate. The ceasefire held in the Donetsk airport. "Militants did not open fire, presumably having regard to the visit of Ivan Simonovic, UN Assistant Secretary-General for Human Rights," added Col. Motuzyanyk.
The armistice held in the Luhansk sector yesterday. Col. Motuzyanyk also informed that two flights of militants' unmanned aerial vehicles were registered in the ATO zone – over Avdiivka and Taramchuk.
Ukrainian Armed Forces incurred no losses in the past 24 hours, two troops were wounded. "It happened in the area of Troitske – Svitlodarsk bulge – Zaitseve," said the spokesman. According to Ukrainian intelligence services, militants lost two fighters killed and three wounded from so-called "3rd separate motorized rifle brigade" (Horlivka) and "100th separate motorized rifle brigade" (Donetsk). Moreover, the Main Intelligence Directorate of the Ministry of Defense of Ukraine received additional information on losses incurred by so-called "9th separate marine assault motorized rifle regiment" (Novoazovsk) on May 31. Commander of so-called "2dn motorized rifle battalion died on the same day, and two officers of the battalion's lower command level were heavily wounded," added Col. Motuzyanyk. He also said that 17 militants from this subdivision made requests on being transferred to Syria due to the fact that wages in Donbas are regularly withheld.
Ukrainian intelligence also informs that 33 railway tanks carrying combustible and lubrication materials for militants (1650 tons) arrived at Rovenky base from Russia. 10 Russian tanks and seven "Grad" multiple rocket launcher systems came to the terrorists-controlled areas of Luhansk region through Dovzhanskyi checkpoint.
Ukrainian law enforcements detained two militants from "Vostok" Russia-backed militant group yesterday. "One of them turned out to be an AT guided missile gunner and was hiding in Mariupol after he returned from the occupied territory. Another one was detained in Krasnohorivka where he came to take a holiday, after a year's service for occupants. The detainee was escorting combat cargos and repairing militants' transport," said the spokesman. He also informed that Kreminna district court in Luhansk region sentenced two militants to 18 months in prison. They were keeping the watch at a checkpoint near Kirovske and checking vehicles and documents.
An explosion at railway near Verkhniotoretske was prevented in Donetsk region. "Law enforcement officers jointly with servicemen found 400 grams of plastid with a blasting fuse near railway line during patrolling round," explained Col. Motuzyanyk. Moreover, law enforcements seized illegal weapons and ammunition smuggled from the ATO area by a Vinnytsia resident – RPG-18 grenade launcher, 400 grams of TNT, 200 grams of plastid, propelling charges for mortar shells and over 1000 7.62 cartridges.