Combined Russian-militant forces continue attacks with the use of Minsk-banned weapons. Combat intensity stands high particularly in the Donetsk and Mariupol sectors. Militants moved heavy weapons closer to the contact line and are actively conducting aerial reconnaissance.
Kyiv, June 4, 2016. Militants made massive artillery attack with the use of 122-mm systems near Pisky, Donetsk region. The attack lasted for one hour, said spokesman of Administration of the President of Ukraine on ATO-related issues Colonel Andriy Lysenko. Russia-backed militants continue attacks upon Ukrainian positions in all sectors. "Ukrainian troops incurred no lethal casualties over the last day, five servicemen were wounded in action," reported Colonel Lysenko.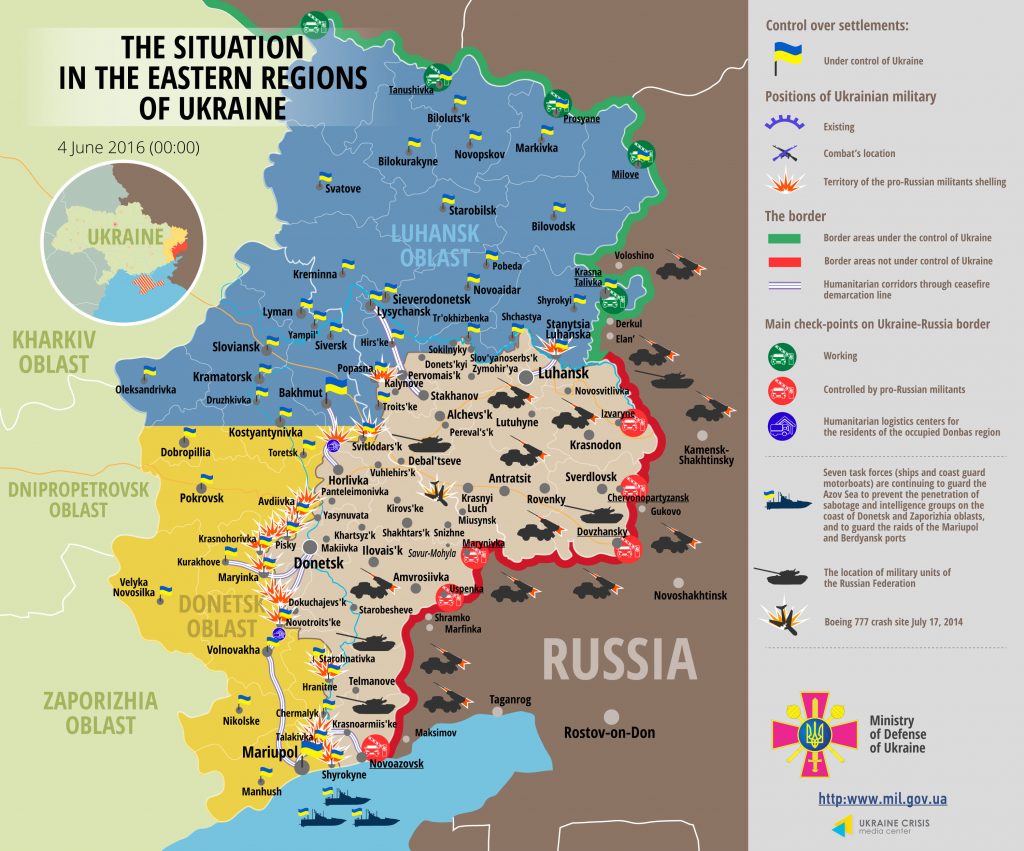 In the Luhansk sector militants used weapons mounted on armored vehicles as well as grenade launchers and large-caliber machine guns near Stanytsia Luhanska. One more armed provocation took place near Novooleksandrivka.
In the Donetsk sector militant groups were actively using mortars banned by Minsk agreements. "Attacks with the use of 82-mm and 120-mm mortars took place in the area of Avdiivka, Opytne, Novoselivka Druha, Pisky and Nevelske. Occupants fired a total of 46 mines. A civilian – local resident was wounded as a result of a hostile attack upon Avdiivka. He was taken to hospital with gunshot wound and is being rendered medical assistance," said ATO spokesman. Armed militant provocations with the use of small arms, grenade launchers and large-caliber machine-guns were registered in the area of Zaitseve and Luhanske.
New details were released as to the OSCE's unmanned aerial vehicle (UAV) downed near Korsun (south of Horlivka) on June 1. "Control over the UAV was lost after the tail section was damaged, supposedly as a result of a militant attack. Before the UAV collapsed it registered an Osa surface-to-air missile system that is a direct violation of Minsk agreements by militants," noted Colonel Lysenko.
Mariupol sector saw the highest number of militant provocations over the last day: 31 attacks. "Most tense situation was observed near Maryinka where militant groups used 82-mm mortars and launched two attacks with the use of 122-mm artillery in the dark time of the day," said ATO spokesman. Mortars were actively in use in the area of Krasnohorivka, Pavlopil and Hnutove. Militants fired a total of 121 mines. "Militants also hit residential areas of Maryinka and Krasnohorivka, as a result houses of civilians were damaged. The mode in which the attacks are made confirms the information earlier released by Ukrainian military intelligence stating that militants had moved the banned heavy weaponry closer to the contact line in blatant violation of Minsk agreements," noted Colonel Lysenko.
According to the Main Intelligence Directorate of Ukraine's Defense Ministry militants were actively conducting aerial reconnaissance with the use of UAVs. Two of them were launched from the territory of Russia. "Two more unmanned aerial vehicles were spying in the Donetsk sector above the villages of Yasnobrodivka and Yelyzavetivka. This area is the close rear of ATO forces," added ATO spokesman.
Two militant fighters were killed in action over the last day, wounded in action include one militant fighter of the so-called "3rd motor-rifle brigade" deployed to Horlivka and two militant fighters of the so-called "9th separate assault motor-rifle naval regiment" deployed to Novoazovsk.
In the Luhansk sector Ukraine's Security Service detained another informer of Luhansk militants. "From summer 2015 the perpetrator was passing to militants by phone the information on the number, movement and deployment sites of Ukrainian troops in Stanytsia-Luhanska area," explained ATO spokesman. Policemen detained a spy of Donetsk militants in Krasnohorivka. From September 2015 the detained was passing to militants information of strategic importance marking on the map of Maryinka area sites and movement routes of Ukrainian military vehicles, deployment sites and checkpoints of Ukrainian Armed Forces.