Militants continue firing at the positions of Ukraine along the contact line. Situation is most tense around Mariupol in Donetsk region. Ukrainian Armed Forces suffer casualties.
Kyiv, June 15, 2016. Two armed provocations on the part of militants were registered in the Luhansk sector near Triokhizbenka and Nyzhnioteple settlements. The situation in the Donetsk sector was the most restless in Avdiivka industrial area and in the vicinity of Horlivka. Militants attacked Ukrainian troops' position, Putylivska coal mine, using artillery. Militants were actively using 82-mm and 120-mm mortar launchers near the coal mine, Avdiivka, Pisky and Nevelske village. Russia-backed militant groups shelled widely from north to west near Horlivka, informed spokesman of Presidential Administration on ATO related issues Colonel Andriy Lysenko at a press briefing at Ukraine Crisis Media Center. "For instance, occupants were shooting from mortar launchers near Zaitseve, Novhorodske, Troitske and Verkhniotoretske. Moreover, militants used grenade launchers, large machine guns and small arms. More attacks involving use of armored personnel carriers (APC), anti-aircraft mounts and two sniping attacks were registered near Zaitseve," he said.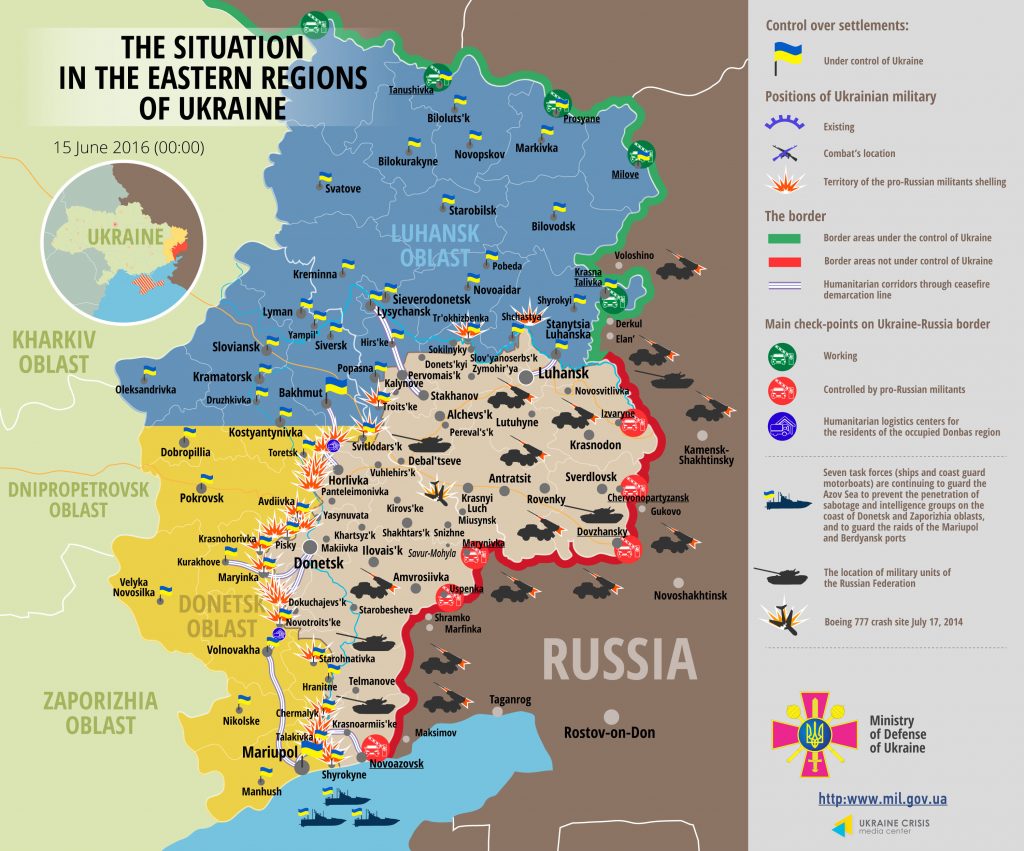 According to the spokesman, number of attacks increased in the Mariupol sector. "The most intense fighting took place near Pavlopil village where militants shot once from artillery, several times from mortar launchers and used grenade launchers," explained Col. Lysenko. Two more Ukrainian servicemen died while defeating militants' attempted assault. Seven troops more were wounded near Zaitseve, Pavlopil and Mariinka. Col. Lysenko said that fighting continues in the vicinity of Mariinka where militants shot from mortar launchers and grenade launchers. Moreover, snipers shot twice. Mortar launchers were also used near Novotroitske and Taramchuk. The situation was restless near Chermalyk village where Russia-backed militant groups were shooting from an anti-aircraft mounts and machine guns. "Five residential buildings were damaged in shelling. A 13-year-old girl was in one of them and suffered light bodily injuries," added Col. Lysenko. Several hostile provocations involving use of small arms were registered near Slavne village.
Militants shot twice from a tank near Krasnohorivka. A woman was injured today in hostile shelling and five apartments in a residential building were damaged.
According to the spokesman, three militants were wounded the day before. Intelligence identified their names: Ihor Dudariev (using the name Yevtushenko before 2006), Ihor Malytskyi and Mykola Stepanov. According to the intelligence, 21 militants were killed on June 10-13 in the vicinity of Avdiivka and 15 were wounded. Moreover, militants lost two T-64 tanks, two self-propelled artillery mounts, an APC, three mortar launchers and five Ural trucks with communication equipment belonging to so-called "11th separate regiment" in Makiivka and "100th separate motorized rifle brigade" located in Donetsk.
"11 militants died near Mariinka on June 10-13 and 21 more were wounded. The enemy lost three T-64 tanks, two 122-mm self-propelled artillery mounts, five 120-mm mortar launchers, as well as two APCs and an Ural truck," said the spokesman. According to him, six militants died in the vicinity of Novotroitske and none were wounded in the last three days. Moreover, ATO troops destroyed a militants' self-propelled artillery mount, two 120mm mortar launchers and as APC. According to the intelligence, Russia moved 12 tanks with combustible and lubrication materials through Izvaryne checkpoint to Luhansk yesterday.