Kyiv, June 25, 2016. President of Ukraine signed the Decree on demobilization of servicemen mobilized during the 5th round of mobilization. He did it during his working visit to ATO zone. "The President handed state awards to Ukrainian servicemen at the stronghold "Republic Bridge", which is 800 meters away from Donetsk airport. The President inspected several strongholds and communicated with Ukrainian defenders", reported Col. Andriy Lysenko, Presidential Administration spokesperson on ATO related issues, at a briefing at Ukraine Crisis Media Center.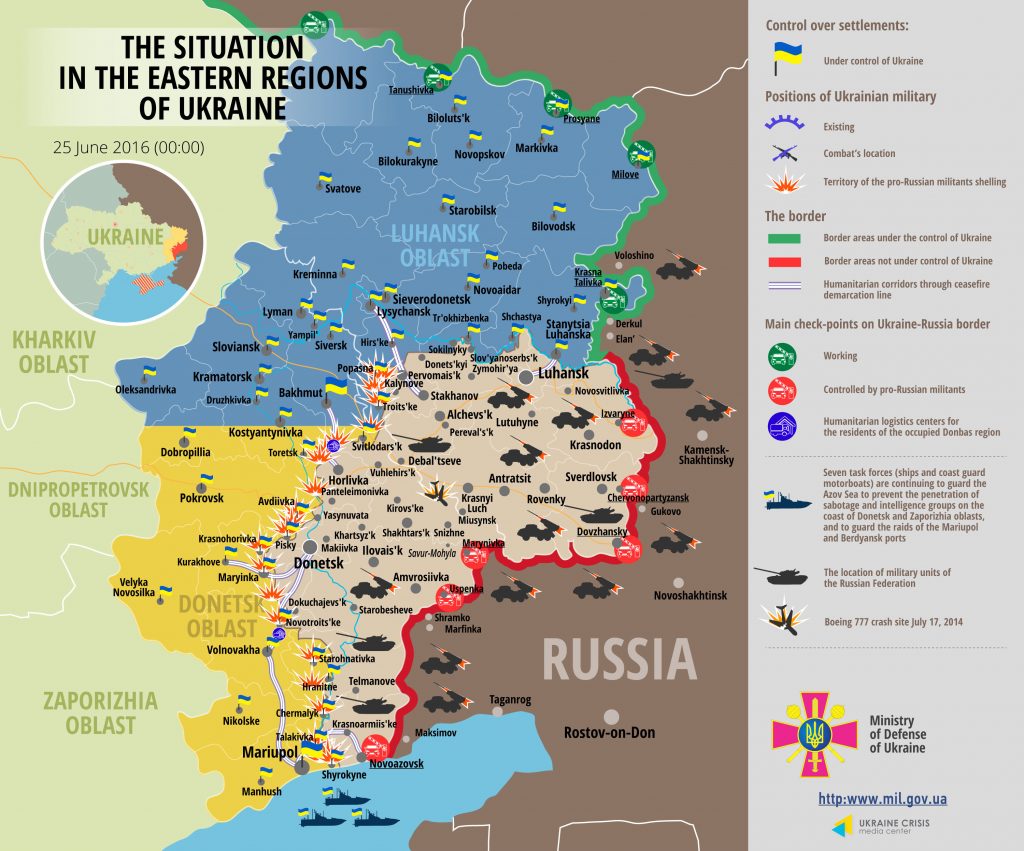 Yesterday, Russia-supported militants fired 61 times on ATO positions, heavy weapons were used in more than a third of cases. None of Ukrainian military was killed; two were wounded in Avdiivka and Opytne sector. In Donetsk sector, militants fired 24 times, 11 of them – with the use of heavy weapons. Militants fired more than 130 mines and 26 rounds on Ukrainian positions. In Zaitseve, Mayorsk and Avdiyivka there were mortar fires, and in Pisky illegal armed groups opened fire from cannon artillery.
In Luhansk sector, militants fired 9 times yesterday, five of them – with the use of mortars and armored vehicles. According to the ATO headquarters, illegal armed groups fired 50 mines on Ukrainian positions. Military operations were carried out only around Popasna. In Mariupol sector, militants fired 28 times, 10 of them – with the use of heavy weapons. They fired more than 130 mines on Ukrainian positions. "The enemy continues heavy shelling of Ukrainian positions on all fronts, using snipers, mortars and infantry fighting vehicles. Militants were especially active close to Maryinka and Talakivka", detailed Col. Lysenko.
According to Col. Lysenko, three militants of the so-called "6th regiment", "11th regiment", and "100th brigade", were killed and three wounded yesterday. In addition, 26 bodies of Russian servicemen were taken from Donetsk hospital morgue in the direction of Rostov the day before yesterday. "Besides, Ukrainian police withdrew some explosives, which a woman from Bakhmut tried to sell. In particular, she had 10 TNT blocks, 7 fuses and 2 grenades F-1," concluded Col. Lysenko.