Kyiv, June 26, 2016. Yesterday the ceasefire was violated the most in Donetsk sector, where militants fired 25 times on Ukrainian military positions, 15 of them – with the use of heavy weapons. Active hostilities were conducted along the entire contact line. There were skirmishes between the ATO forces and militants near Horlivka, in Novoselivka Druga and Avdiivka industrial zone. Some of them lasted nearly 2 hours. "The enemy three times used cannon artillery (self-propelled artillery mounts "Gvozdika") near Zaytseve and Avdiivka. Militants fired more than 120 rounds on our positions. Besides, they opened fire with mortars more than ten times. Above 170 mines were launched. According to the Ukrainian intelligence, the fire was delivered by the so-called "separate artillery brigade" and "11th regiment," informed Col. Oleksandr Motuzyanyk, Presidential Administration spokesperson on ATO related issues, at a press briefing at Ukraine Crisis Media Center. He added that a night attack conducted by militants in Pivnichne (Toretsk Municipality) caused damage to three houses and a gas pipe.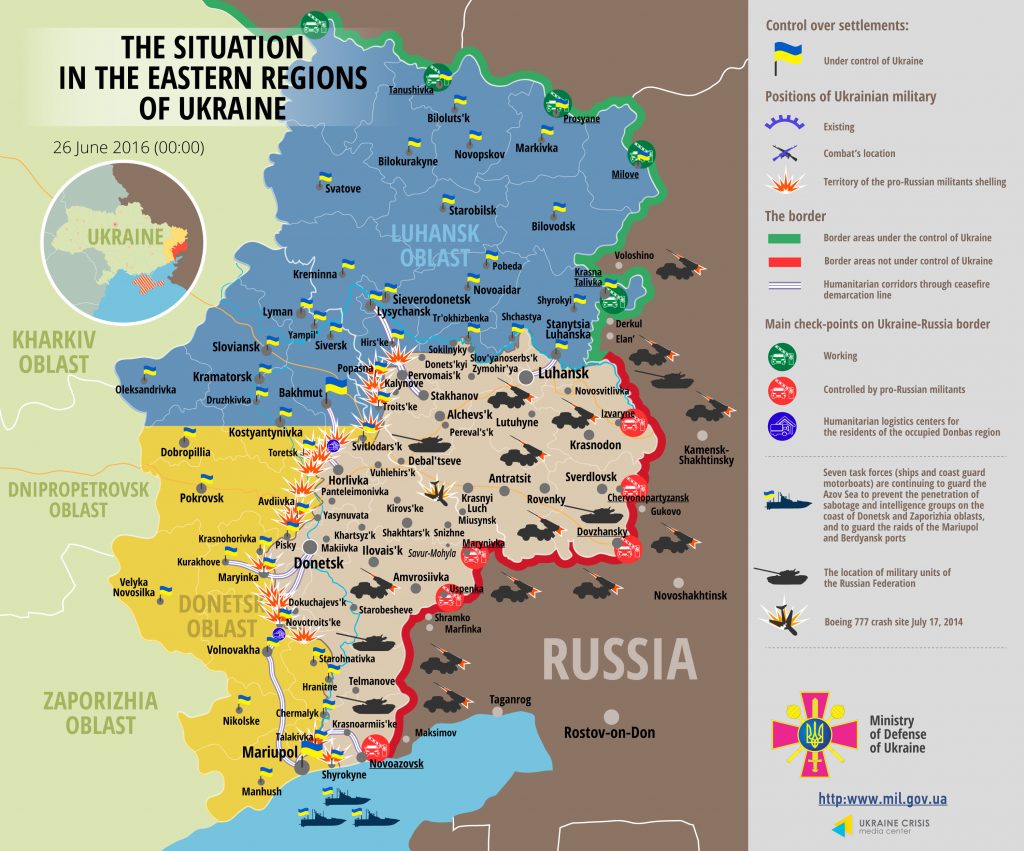 In Luhansk sector, militants fired six times on ATO positions in Popasna district. All the attacks took place between midnight and 5 a.m. "The enemy expanded hostilities; our positions were fired twice near Zolote. Illegal armed groups held a powerful mortar attack near Novozvanivka. They launched 28 mines onto our positions during 10 minutes," informed the ATO spokesperson. He added that yesterday two fights of enemy drones were recorded near the village of Krasny Derkul (Stanytsya Luhanska region), on the Ukrainian-Russian border,  30 km from the front line.
In Mariupol sector, militants fired 19 times on various positions along the contact line; two times – with the use of heavy weapons. "The most restless day was near Maryinka and Dokuchayevsk. Conflict escalation by militants prompts Ukrainian forces to shoot back," informed Colonel Motuzyanyk.
Over the past day of hostilities no Ukrainian military was killed, three servicemen were wounded.
Ukraine's Security Service (SBU) officers found a cache of weapons in Maryinka district of Donetsk region. They seized 18 grenade launchers RPG-22, 50 grenades RGD-5, 33 grenades F-1 with fuses, anti-personnel mine MON-90, 2 cumulative grenades and about 7,500 rounds of ammunition of different caliber. "According to the SBU, the owners were going to smuggle weapons and ammunition out of the ATO area," added Colonel Motuzyanyk.
According to the Defence Intelligence of Ukraine, "3rd separate motorized rifle brigade" of militants that is stationed in Horlivka has problems with lack of personnel "because of the low salary (8000 rubles) and because of suspended issue of food rations to families of militants." The Intelligence Service also reports that the command of the so-called "2nd separate motorized rifle brigade" established a clandestine market of alcoholic beverages in the temporarily occupied areas of Luhansk region. "The criminal scheme involves the criminal world representatives from the Russian city of Tambov and servicemen from the 16th separate special purpose brigade of the RF Armed Forces who are staying in the occupied areas of Luhansk region now," noted Oleksandr Motuzyanyk.