Militants intensify shelling Ukrainian positions, prolonging both time of individual and number as a whole of attacks. Many wounded on Ukraine side.
Kyiv, June 30, 2016. Militants intensified shelling in the Luhansk sector in the ATO zone yesterday. Russia-backed militant groups shelled Ukrainian positions near Staryi Aidar twice. Moreover, they were active after 3:00 p.m. near Novozvanivka and Novooleksandrivka in the Popasna district. "The adversaries started massive attack at the ATO troops' positions using mortar launchers and artillery – Gvozdika self-propelled artillery mount. The occupants stopped shooting only in eight hours. In total, 17 hostile attacks took place in the Luhansk sector yesterday, 11 of them involved use of mortar launchers and artillery," informed the spokesman of the Presidential Administration on ATO related issues Colonel Andriy Lysenko at a press briefing at Ukraine Crisis Media Center.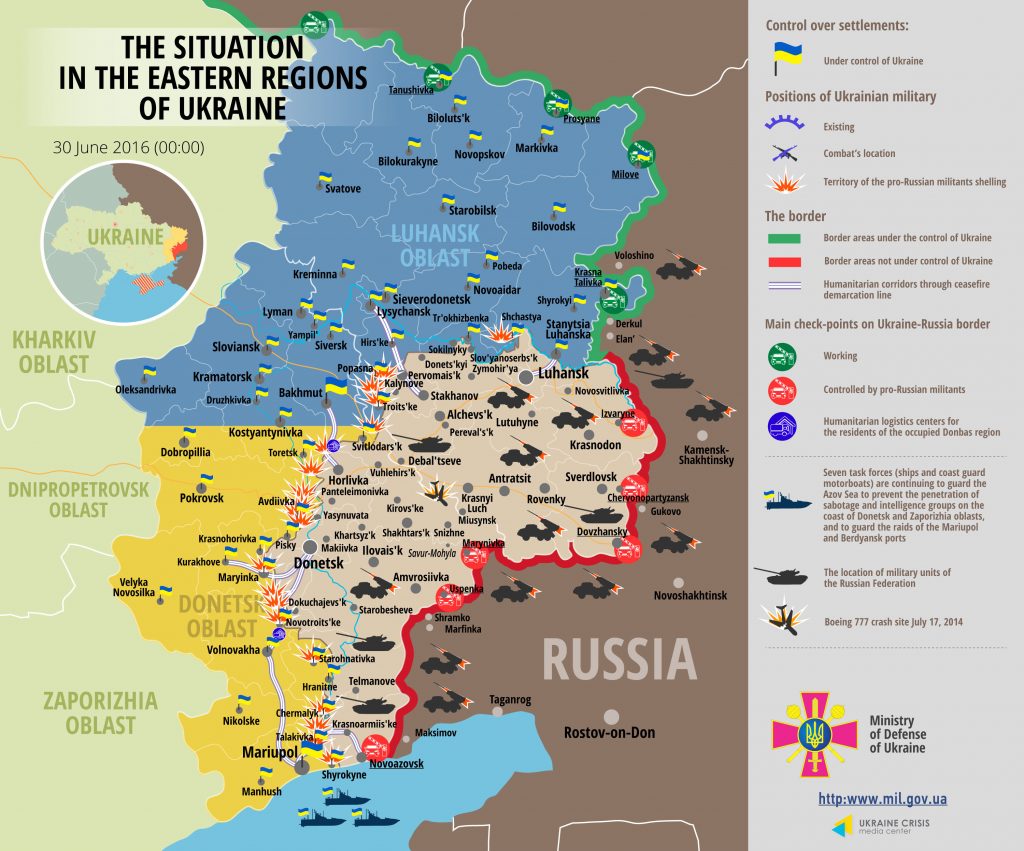 The situation in the Donetsk sector escalated at the Svitlodarsk bulge yesterday. "Adversaries started massive shelling of Ukrainian positions from armored personnel carriers at dawn, following which they used tanks, mortar launchers and self-propelled artillery mounts. The enemy was adjusting fire using unmanned aerial vehicle (UAV). Heavy fighting on the Bakhmut-Debaltseve road between Luhanske and Lohvynove lasted about ten hours," informed Col. Lysenko. He added that at night militants started intensively shelling the frontline area Troitske-Luhanske using mortar launchers and cannons.  Random provocations took place in Mayorsk, Novoselivka Druha and Avdiivka industrial area. "In total, 28 hostile attacks took place in the past 24 hours in the Donetsk sector, 16 of them involved use of heavy armor," summarized the spokesman.
In the Mariupol sector firefights between Ukrainian troops and militants continued along the entire frontline. "The situation is the most difficult in Mariinka, near Dokuchaevsk, in Starohnativka and at the frontline area Taramchuk-Shyrokyne. In total, 21 hostile attacks took place in the Mariupol sector, namely three mortar attacks," added Col. Lysenko. Moreover, the State Border Service of Ukraine informed that three flights of militants' UAVs were registered in the ATO zone.
One Ukrainian serviceman died in combat yesterday and 11 were wounded. "Ukrainian Armed Forces incurred these casualties at the Svitlodarsk bulge, in the vicinity of Troitske and Luhanske. A volunteer fighter, Vasyl Slipak, died in the same area yesterday of a hostile sniper's bullet. He was a prominent opera singer, a participant of the Revolution of Dignity who left his home in France to fight for Ukraine. We express our condolences to the friends and family of the fallen fighters," said Col. Lysenko. According to the available information, confirmed losses of militants on June 28-29 amounted to 23 people killed and 34 wounded, most of them fought in the ranks of so-called 3rd brigade and 7th brigade. "Due to arrival of large number of heavily wounded militants, local inhabitants' admission to two Donetsk hospitals and one hospital in Makiivka was temporarily limited," added the spokesman.
According to the Chief Intelligence Directorate of the Ministry of defense of Ukraine, a unit commander intentionally sent a bullet through a leg of his subordinate, Oleksandr Rozachov, for his refusal to participate in the attacks at Ukrainian positions. It is also informed that two days ago one militant was killed in the vicinity of Shyrokyne and another one wounded because of refusal of mortar gunners from so-called 9th regiment (Novoazovsk) to shell residential buildings.
Ukraine's Security Service published information on eight militants who had been detained on June 28. "Donetsk region inhabitants were recruited by a Russian citizen with nom de guerre "Shaman". Is has been found that a counselor, Russian career officer, accompanied the recruiter at all times. A chief with nom de guerre "Lekha Piterskiy", major of the Russian police with combat experience in Chechen war, was in command of the militants' unit," informed Col. Lysenko. Militants were trying to lay anti-personnel mines prohibited by the Geneva Convention on the territory near Shyrokyne village".