Hostilities in the ATO zone escalate to the level of spring 2016, militants actively use mortar launchers, cannons and small arms. Ukrainian troops defeat an attack of militants' subversive group, capturing three mercenaries. Insurgents recruit criminals to strengthen their forces.  
Kyiv, July 11, 2016. Militants are active in all the sectors. Number of militants' attacks went up in the entire ATO zone yesterday. "Enemy's activity reached the same level some three months ago, in mid-April. Moreover, the fire became denser. Occupants used mortar launchers and cannons over 40 times yesterday," informed the spokesman of the Presidential Administration on ATO related issues Colonel Andriy Lysenko at a press briefing at Ukraine Crisis Media Center.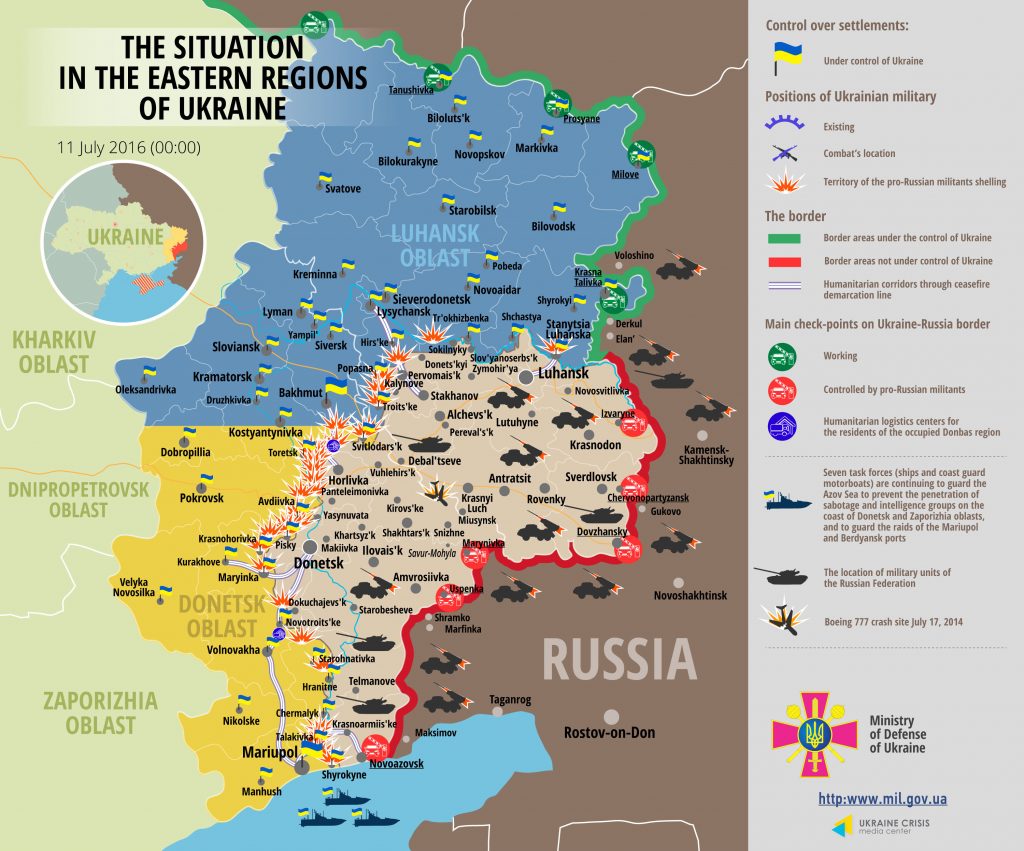 Firefight between Ukrainian troops and militants lasted 90 minutes in Stanytsia Luhanska, Luhansk sector yesterday. Russia-backed militant groups controlling high bank of the Siverskyi Donetsk River, started shooting at Ukrainian positions in the middle of the night. "Moreover, several hostile provocations took place in Krymske and at Zolote checkpoint during the day. We remind that this frontline crossing checkpoint was closed down long time age due to militants' hostile actions and the threat they pose for civilians," elaborated Col. Lysenko.
The most intense fighting continues near Popasna. Militants conducted a series of random attacks in the morning hours using grenade launchers and small arms. On the opposite, armor was used by militants at night – mortar launchers and 122-mm cannons. Almost 20 mortar shells and 44 missiles were launched at Ukrainian positions. The fire was delivered from the side of Kalynove. "In total, 17 militants' attacks took place in the Luhansk sector, six of these involved use of heavy armor," added the spokesman.
Following the intense artillery preparations, militant subversive reconnaissance group numbering over 20 people moved towards Ukrainian positions near Troitske just after the midnight. Reinforcement arrived instantly to the ATO stronghold. "As a result, militants' attack failed: Ukrainian troops successfully accepted a fight and made the occupants retreat. Our subdivisions incurred no losses in this fight, while the hostile subversive reconnaissance group left three heavily injured fighters on the battlefield. They were captured by our troops. Platoon commander, Senior Lieutenant with nom de guerre "Deed" and a machine gunner, soldier with nom de guerre "Grisha", distinguished themselves in action," informed Col. Lysenko. One of the captured militants, 39-years-old sniper Natan Tsakirov, died soon afterwards. A Russian passport and military service card were seized from him. Judging from the documents, the Russian came from a Siberian town Omsk to fight in Donbas. Two other militants were taken to the hospital and administered necessary medical aid. "According to the prisoners, they occupy high positions in Russian occupational army – one of them is a platoon commander and another – a squadron commander," said the spokesman.
Two intense militant artillery attacks were registered in the Donetsk sector yesterday. Both took place south west of Horlivka, in Novhorodske and Mykolaivka Druha. Over 70 missiles were launched at Ukrainian positions. Militants were shooting from 122-mm and 152-mm artillery mounts. Militants are much more active in using mortar launchers, shooting almost 24/7. There are no calm areas in the frontline. The situation is especially restless at the Svitlodarsk bulge, along the entire perimeter of the occupied Horlivka, in Avdiivka industrial area and in Opytne-Krasnohorivka frontline area. Usually an attack lasts at least 10-15 minutes at a distance of not more than five kilometers," said Col. Lysenko. Ukrainian troops responded with fire in all the sections of the frontline. In total, 48 militants' attacks took place in the Donetsk sector, 23 of these involved use of heavy armor.
Large-scale fighting continues in the Mariupol sector along the entire frontline, except the outskirts of Dokuchaevsk. Militnts were using mortar launchers both during the day and at night, launching not less than 160 mortar shells at Ukrainian positions. "Moreover, hostile snipers are active in Mariinka, Talakivka and Shyrokyne, "hunting" our troops for many hours. ATO troops instantly respond with fire. Unlike the previous days, occupants are actively violating the ceasefire during the day," informed Col. Lysenko. In total, 29 militants' attacks took place in the Mariupol sector yesterday, 12 cases involved use of heavy armor.
One Ukrainian soldier died in combat yesterday and 10 were wounded. Moreover, two more troops sustained blast injury. Another soldier was wounded as a result of tripping an explosive device in the rear.
Three militants died yesterday and eight were wounded. So-called 3rd brigade (Horlivka), 9th regiment and 7th brigade encountered losses. According to the Chief Intelligence Directorate of the Ministry of Defense of Ukraine (CID MDU), another batch of reinforcement for militants arrived from Russia. A subdivision of the 22nd separate special forces brigade of the Armed Forces of the Russian Federation (home base – Stiepnoi, Rostov region) was moved to Donetsk. There forces will be engaged in subversive and reconnaissance activities in the vicinity of Mariinka. Moreover, 12 fuel tanks with combustible and lubrication materials arrived at Rovenky railway station from Russia.
Ukraine's Security Service confirmed CID MDU information on militants actively recruiting dangerous recidivists. Field investigators detained a formed convict, a citizen of Ukraine, who was serving his sentence in Yenakievo penal colony. "He said that Russian occupational forces are strengthening their ranks at the expense of criminals. According to him, colony authorities released almost 80% of recidivists for money. It is the way the occupants' command is replenishing so-called 9th regiment which incurred massive losses in combat in the Mariupol sector," informed the spokesman.