Hostilities continue in all the sectors in the ATO zone.  Militants are using mortar  and heavy armor in an attempt to escalate hostilities. Both Ukrainian troops and militants incur losses.
Kyiv, July 12, 2016. Militants are shelling ATO troop positions in all the sectors. Russia-backed militant groups attacked 55 times yesterday using heavy armor. There were 8, 22 and 25 attacks in the Luhansk,  Mariupol and Donetsk sectors correspondingly,  informed the spokesman of the Presidential Administration on ATO related issues Colonel Andriy Lysenko at a press briefing at Ukraine Crisis Media Center.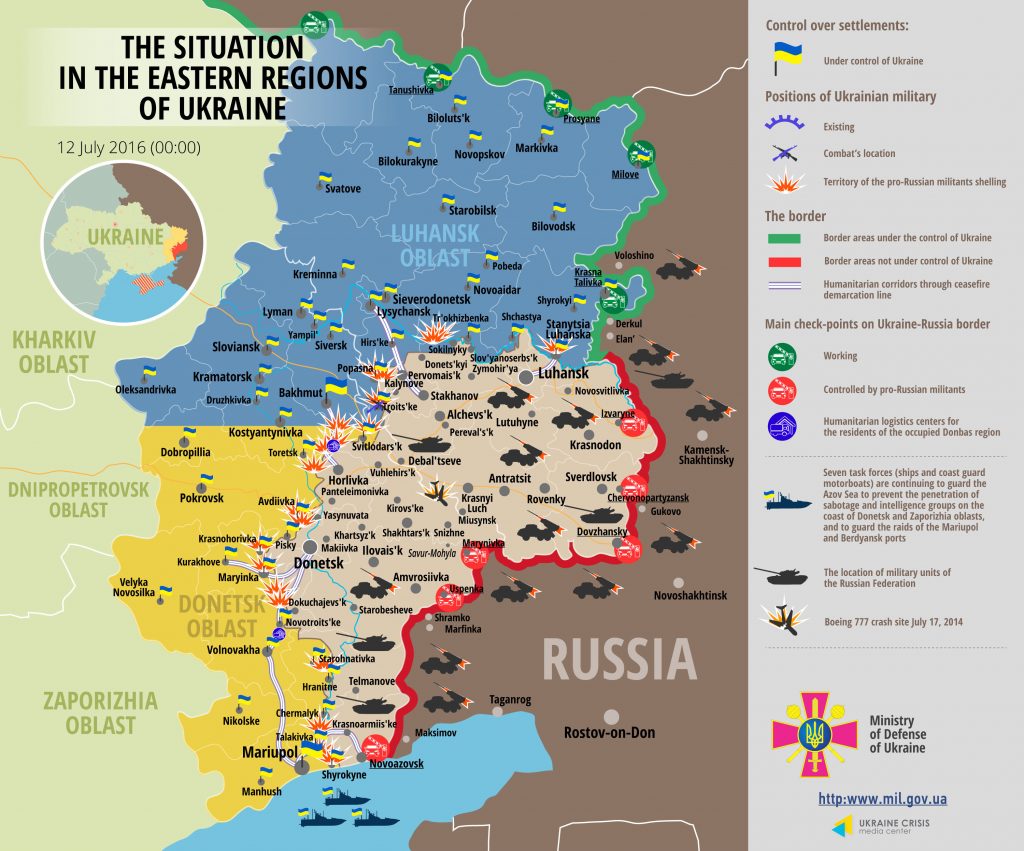 A Large-scale firefight between ATO troops and militants took place in the Luhansk sector in Stanytsia Luhanska between 3pm and 5 pm yesterday.
"A private house burned in district center town as a result of the hostile fire. The armistice held there the rest of the day," added Col. Lysenko. Intense militants' mortar attacks took place at two positions at once, in the Bakhmutivska road and to the north of it. Each shelling lasted 15 minutes.
The situation was the most restless in the vicinity of Popasna yesterday.
Russia-backed militant groups delivered two mortar and two artillery attacks within one hour during the hours of darkness, launching 21 mortar shells and 26 missiles, over 100mm, at Ukrainian positions. "In total, eight hostile attacks took place in the Luhansk sector yesterday,  six of them involved use of heavy armor," elaborated the spokesman.
In the Donetsk sector, main hostilities took place in the vicinity of Zaitseve and Avdiivka industrial area yesterday. Like before, militants are continuously shelling these positions, regularly using mortars. Ukrainian troops promptly responded with counter-fire.  Moreover, a 30-minutes firefight took place in Troitske at the Svitlodarsk bulge. Ukrainian troops captured several militants.
Militants were shelling Ukrainian troop positions in three areas at once – in Luhanske,  Novhorodske and Avdiivka industrial area. The southernmost point in the Donetsk sector shelled yesterday was the Butivka coal mine position. Militants did not violate the ceasefire in Opytne,  Pisky and the adjacent areas.  In total, 22 militant attacks took place in the Donetsk sector yesterday, 8 involved use of heavy armor, and one firefight.
Major combat activities in the Mariupol sector continued in Krasnohorivka-Mariinka frontline area and in Shyrokyne. In both areas militants were actively using mortar launchers.  Moreover, their snipers were active there. A number of militant attacks were registered in other areas – the outskirts of Dokuchaevsk, Novohryhorivka and Pavlopil. The armistice held firmly on the frontline from 1 pm to 6 pm. Militant attacks were quite lengthy – for instance, sometimes continuing for around two hours.
Militants are using various weapons, both light arms and mortar launchers.  "These are intentional militant tactics.  They are trying to escalate the conflict and get additional funds and weapons from their command. Moreover, active combat activities are instigated to test the newest Russian weapons and keep militants battle-ready,  as discipline is poorly maintained in the ranks of the Russian occupational forces," explained Col. Lysenko.  In total, 25 militant attacks took place in the Mariupol sector yesterday,  namely five mortar and six sniper attacks.
Militants used unmanned aerial vehicles in Donetsk region seven times yesterday to conduct aerial reconnaissance.  "Two Ukrainian troops died in combat yesterday and four were wounded.  We express our sympathy to the fallen soldiers' friends and family," said Col. Lysenko.
According to Ukrainian intelligence, four militants died yesterday and three were wounded. Self-proclaimed 3rd brigade  (Horlivka), 7th brigade  (Debaltseve), and 9th regiment  (Novoazovsk) incurred losses. Moreover, seven heavily wounded militants were admitted to the special unit at Kalinin hospital in Donetsk. They are being prepared for transportation to the military hospital in Rostov-na-Donu.