Ukrainian troops incur losses. They repel five militant attacks in two sectors. Russia's proxies intensify combat actions in the once calm Luhansk sector.
Kyiv, July 24, 2016. The situation in ATO zone escalated yesterday, especially in the Luhansk sector. Over the last day Ukrainian troops repelled five militant attacks including three near Novozvanivka in the Luhansk sector and two near Maryinka in the Mariupol sector, said spokesman of Presidential Administration on ATO-related issues Colonel Oleksandr Motuzyanyk. Six Ukrainian servicemen were killed in action over the last day, 13 more were wounded in action, eight more got a concussion. Militant losses include seven killed and 12 wounded of the so-called "6th regiment" from Stakhanov, "7th brigade" from Debaltseve, "9th regiment" from Novoazovsk and "11th regiment" from Makyivka.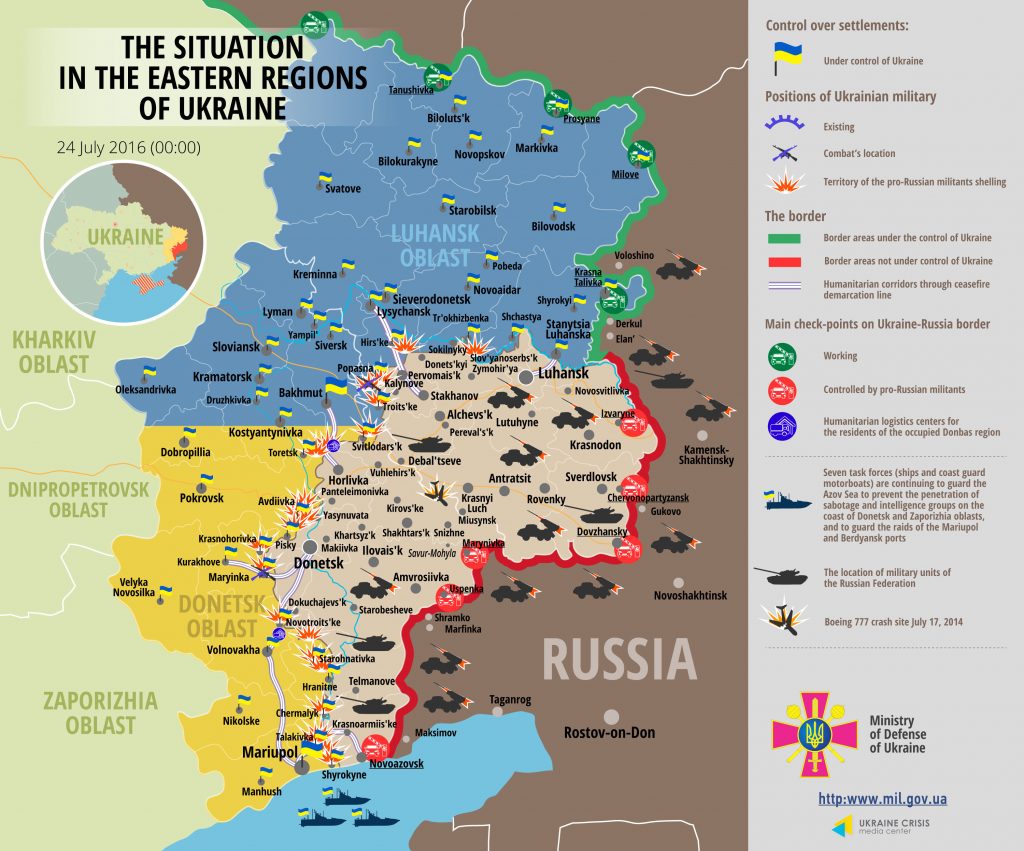 In the Luhansk sector combat actions intensified after 2 a.m. when militant groups started a massive mortar attack that lasted seven hours. "Between 8 a.m. and 12 a.m. the enemy under the cover of mortar fire got to a direct attack upon Ukrainian positions, however was repelled by precision return fire. Occupants though were not stopped by the failure: they asked for artillery support and brought tanks closer to the frontline. Later at 2 p.m and 4 p.m. militant groups attacked Ukrainian positions twice. Both combat engagements concluded in favor of Ukrainian troops: the enemy did not pass through. Finally after 4.15 p.m. the enemy decided to stop combat actions," said Colonel Motuzyanyk. He noted that Russia-backed militants made the attacks in question from the southern-eastern direction, from near Kalynove. Additionally militants mortared Orikhove near Bakhmutska road and violated ceasefire in Lopaskyne near Shchastia. A total of fifteen militant attacks took place in the Luhansk sector over the last day.
In the Mariupol sector there were 38 attacks by militant groups yesterday, 15 of them were made from heavy weapons. Most powerful attacks took place in Krasnohorivka, Starohnativka, Chermalyk as well as between Hnutove and Shyrokyne with the use of mortars and tanks. "There were two combat engagements between ATO forces and the adversary in Maryinka between 7 p.m. and 9 p.m. Both attacks were successfully repelled," said Colonel Motuzyanyk. Militant snipers were active in Krasnohorivka, Maryinka and Shyrokyne.
In the Donetsk sector Russia-backed militant groups fired 19 times upon the position of ATO forces, 10 of them from heavy weapons. At around 1 a.m. militants started a massive artillery attack in Avdiivka and Opytne. They used 120-mm mortars near Novoselivka Druha in the morning. In the evening militants violated ceasefire on the Svitlodarsk salient and in Avdiivka'sindustrial zone. "Adversary used a BMP and 82-mm mortars, Ukrainian troops were returning fire. The enemy violated ceasefire several times in Troyitske, in Horlivka agglomeration, atthe position Butivka mine," noted Colonel Motuzyanyk. It was calm in Zaitseve and Pisky. Colonel Motuaynyk added that five flights of militant UAVs were registered in the Donetsk sector. Due to bad cooperation between the units one of them was mistakenly downed by militants of the so-called "7th brigade".
Colonel Motuzyanyk also said that two big weapon caches were discovered in ATO zone. "A cache was discovered under a private house near Popasna, an antitank mine, a tank shell, a 200g TNT block and about 200 ammunition rounds for the Kalashnikov rifle with Russian marking were discovered. According to law enforcement subversives of the so-called 'LPR' planned to use the weapons and ammunition to blow up the road Severodonetsk-Popasna," he said. In the second cache uncovered in Bakhmut 19 F-1 and RGD-5 grenades as well as 400 ammunition rounds to Makarov pistol were discovered.
ATO spokesman also said that Ukrainian troops in cooperation with an international humanitarian organization brought 1,000 6-liter bottles of potable water for the residents of Kyrylivka, Donetsk region.