Militants continue shelling Ukrainian positions in Donetsk and Mariupol sectors. Mariinka is the epicenter of fighting. A school is damaged in militants' shelling.
Kyiv, July 26, 2016. A firefight between ATO troops and militants took place in the Avdiivka industrial area in the Donetsk sector yesterday. "A hostile subversive reconnaissance group consisting of eight people moved out to our positions. Our troops set out to eliminate them at once. The fight lasted slightly more than one hour. Later, the occupants asked for mortar fire support and retreated," informed spokesman of the Presidential Administration on ATO related issues, Colonel Andriy Lysenko, at a press briefing held at the Ukraine Crisis Media Center. Ukrainian troops incurred no losses, two militants died and three were wounded. "Moreover, ATO troops captured trophies – a machine gun and a radio set. Later, adversaries intensified their attacks using artillery near Avdiivka," added Col. Lysenko.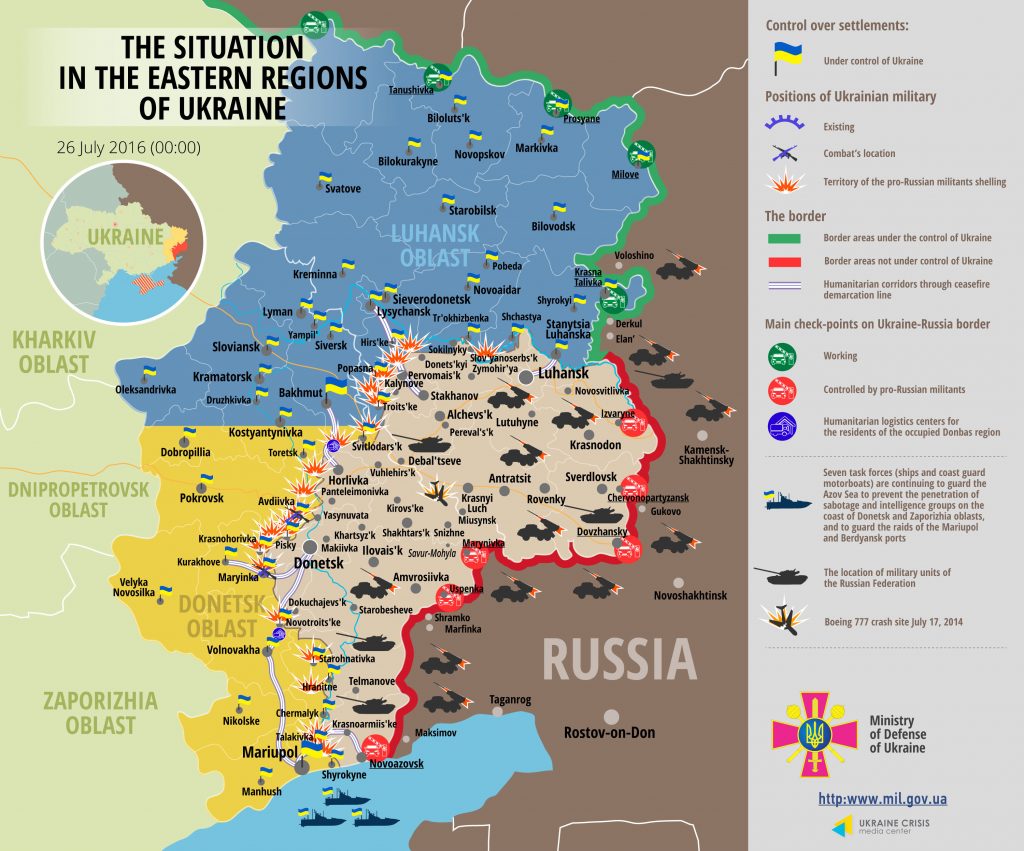 Main hostilities in the Donetsk sector continue in the Novoselivka Druha-Avdivka-Opytne-Nevelske area. Intense mortar attacks on Ukrainian positions started after 3.00 p.m. and continued until midnight. In addition to shooting at ATO troops, militants hit residential quarters again. Six residential buildings were damaged and no civilians were injured. "Apart from the above stated positions, adversaries were violating the ceasefire at the Svitlodarsk bulge, near Horlivka and in Pisky. In total, one firefight and 27 hostile attacks, took place in the Donetsk sector, 13 of these involved use of heavy armor," said the spokesman. Militants used three unmanned aerial vehicles to conduct air reconnaissance in this sector.
Insurgents conducted five attacks in the Luhansk sector yesterday. Combat activity continued from 9:00 p.m. until midnight. Russia-backed militant groups used a mortar launcher in the vicinity of Novotoshkivske in the Bakhmut road. Moreover, insurgents violated the ceasefire in Lopaskyne, near Shchastia, in Zolote and Popasna area.
The beginning of the day was difficult in the Mariupol sector: from 4-7 a.m. militants started shooting with heavy armor near Krasnohorivka and Talakivka using with 82-mm, 122-mm cannons and a tank. The basement and the outside wall of school No.1 were damaged as a result of a direct hit of a fragmented missile from a militants' tank. "Nevertheless, Mariinka became the epicenter of the fighting. Russian proxies started delivering sniping fire at our positions in the afternoon. This "preparatory fire" continued till night. After 7:00 p.m. a Russian occupational infantry platoon attacked directly, trying to seize our stronghold. The fighting lasted over two hours resulting in adversary's retreat, incurring losses," informed Col. Lysenko.
Around this time, another firefight took place near Mariinka on the other position. Up to 30 militants, under cover of trees and buildings, moved forward in an attempt to seize Ukrainian position. Following a one-hour firefight, an assault party – up to 10 militants – attacked trying to break into the stronghold. "Militants' observation unit was adjusting occupants' efforts the entire time. It was registered in time and eliminated by shooting from tripod-mounted anti-tank guns. Following this, militants' detachment retreated, incurring significant losses," said the spokesman. Apart from regular infantry weapons – assault rifles, machine guns and grenade launchers – militants used the newest 12.7 mm sniping rifles. Moreover, members of Russia-backed militant groups started intense mortar and artillery attacks again in Krasnohorivka and Talakivka. In total, two firefights and 27 militants' attacks took place in the Mariupol sector yesterday. 11 of these involved use of heavy armor.
Ukrainian Armed Forces incurred no losses in the past 24 hours, five troops were injured.
According to Ukrainian military intelligence, so-called "3rd"and "7thbrigades", 6th, 9th and 11th regiments of Russia-acked troops incurred losses yesterday. In total, 11 militants died and 14 were wounded. Names of some heavily wounded militants were identified: Borys Tereshchenko, Denys Denysov, Oleksandr Potseluev and Ivan Bielyi. "Moreover, only in the past four days no previously wounded militants died in two Donetsk hospitals due to lack of medicines and improper medical care. Condition of another 48 occupants who were heavily wounded in the Donetsk sector significantly deteriorated," added Col. Lysenko. Considering large losses, militants' command made a decision to cancel leaves for militants of all categories and ordered them to arrive at their detachments by July 30. "Militants are apprehensive of active combat activity and are trying to avoid being sent to the frontlines. They are drawing up sick leaves and notifications on impossibility to come back from Russia due to family circumstances, problems with travel documents, etc," said the spokesman.