Hostilities slightly subside in the ATO zone. Russia continues supplying militants with advanced military equipment. Ukraine's Security Service detained militants who were fighting for occupational forces.
Kyiv, July 27, 2016. The number of attacks in the ATO zone in the last 24 hours decreased. Ukrainian Armed Forces incurred no losses and three troops were wounded," informed spokesman of the Presidential Administration on ATO related issues, Colonel Andriy Lysenko, at a press briefing held at Ukraine Crisis Media Center. No provocations were registered in the Luhansk sector. The biggest number of militants' attacks – 22 – were observed in the Mariupol sector – near Krasnohorivka, Mariinka and Shyrokyne. Four of these involved use of heavy armor. "The adversary conducted intense mortar attacks at our positions in Krasnohorivka-Mariinka line between 1:00 and 3:00 a.m. The situation was relatively calm between 2 p.m. and 7 p.m. – militants violated the ceasefire only twice. Hostilities intensified towards the evening," informed Col. Lysenko. Due to large number of attacks, Ukrainian troops responded with fire.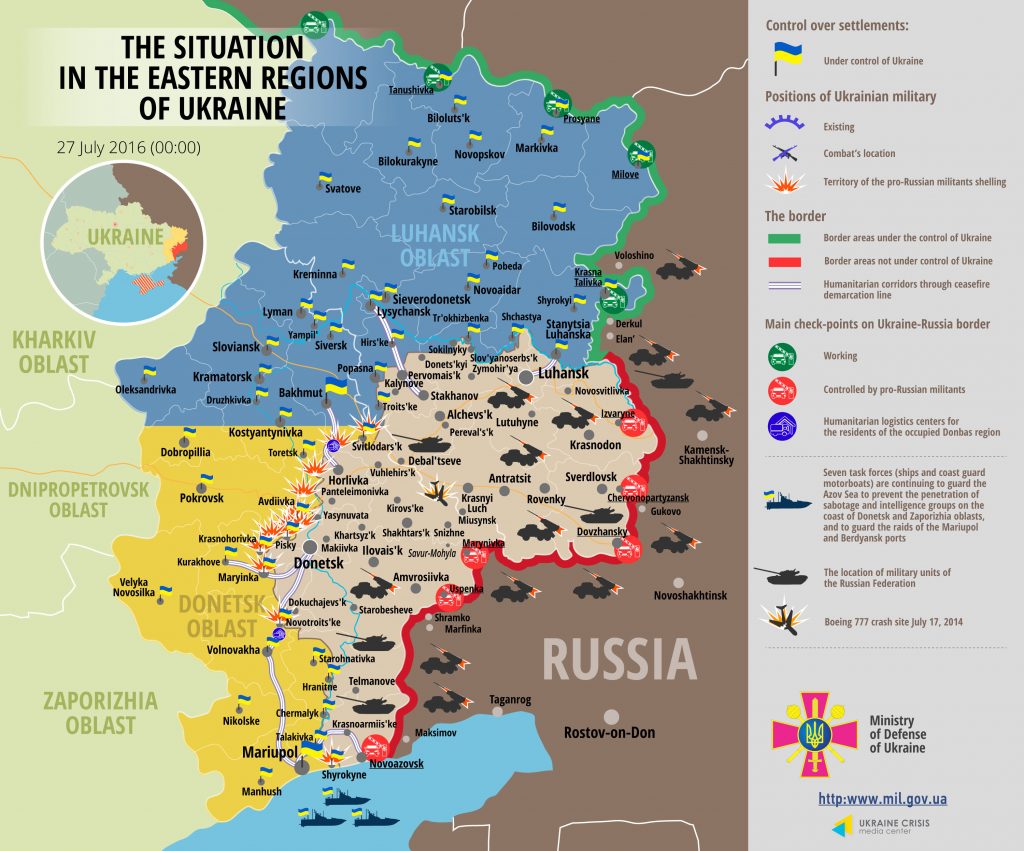 Active hostilities continued yesterday in Novoselivka Druha – Avdiivka – Pisky area yesterday. Militants shot from cannon artillery after 1 p.m. at ATO troops' positions in Avdiivka industrial area and Butovka coal mine vicinity. Mortars were used near Avdiivka and Nevelske during the day. Firefights took place in Luhanske and Zaitseve, but in general the situation subsided. "In total, 17 hostile attacks took place in the Donetsk sector in 24 hours, and seven involved use of heavy armor," summarized Col. Lysenko. Moreover, four flights of militants' unmanned aerial vehicles were registered in the Donetsk and Mariupol sectors.
According to Ukrainian intelligence, multifunctional electronic warfare complexes MKTK-1A "Judoist" were delivered from Russia to Bezimenne village in Novoazov district. It was also informed that manpack radio units R-187P1 "Azart" became operational at militants' so-called 7th brigade.
"It's the most advanced Russian equipment which could arrive at Donbas only from Russian military supply depots," emphasized the spokesman. According to the available information, four militants from so-called 9th and 11th regiments died in combat yesterday and seventeen were injured as a result of an explosion at ammunition storage facility near Yasynuvata.
Ukrainian intelligence service detained three militants of the self-proclaimed "Luhansk People's Pepublic" ("LPR") in Siversk, Bakhmut district in Donetsk region, at Taniushivka checkpoint in Luhansk region and in Severodonetsk. The first was checking foreign citizens' documents on the temporarily occupied territories, and the second was keeping watch at checkpoints. The third detainee was a member of Prizrak battalion with three previous convictions. "He was patrolling streets of Novodruzhevsk town during the occupation," said Col. Lysenko. At the same time, court released a former militant from Selidove, Donetsk region, from responsibility. Earlier he used a program of Ukraine's Security Service "You are waited for at home!".
Moreover, Ukraine's Security Service (SBU) field detectives found a weapons cache with more than 100 mortar shells in the ATO zone. The arsenal was located on the place of former militants' position near Pavlopil village. "Law enforcements seized 116 mortar shells for 120-mm mortar launcher packed in army boxes," elaborated Col. Lysenko.