Military action restarts again in the Luhansk region in various locations, with the most intense action around Popasna. While combat in Mariupol significantly decreases, intelligence informs that militants plan to increase combat in another sector.
Kyiv, July 28, 2016.  Active military conduct restarted in the Luhansk sector. Near Lopaskyne, not far from Schastya, militants fired from grenade launchers during the day and night hours. Moreover, illegal armed groups conducted mortar attacks upon two Ukrainian positions to the west of Lopaskyno, near temporarily occupied Slavianoserbsk. The most intense ceasefire violations occurred in the area of Popasna, where the militants conducted powerful and longlasting mortar attacks. The ATO forces responded with fire, informed Colonel Andriy Lysenko, Presidential Administration spokesperson on ATO related issues, at a press briefing held at the Ukraine Crisis Media Center.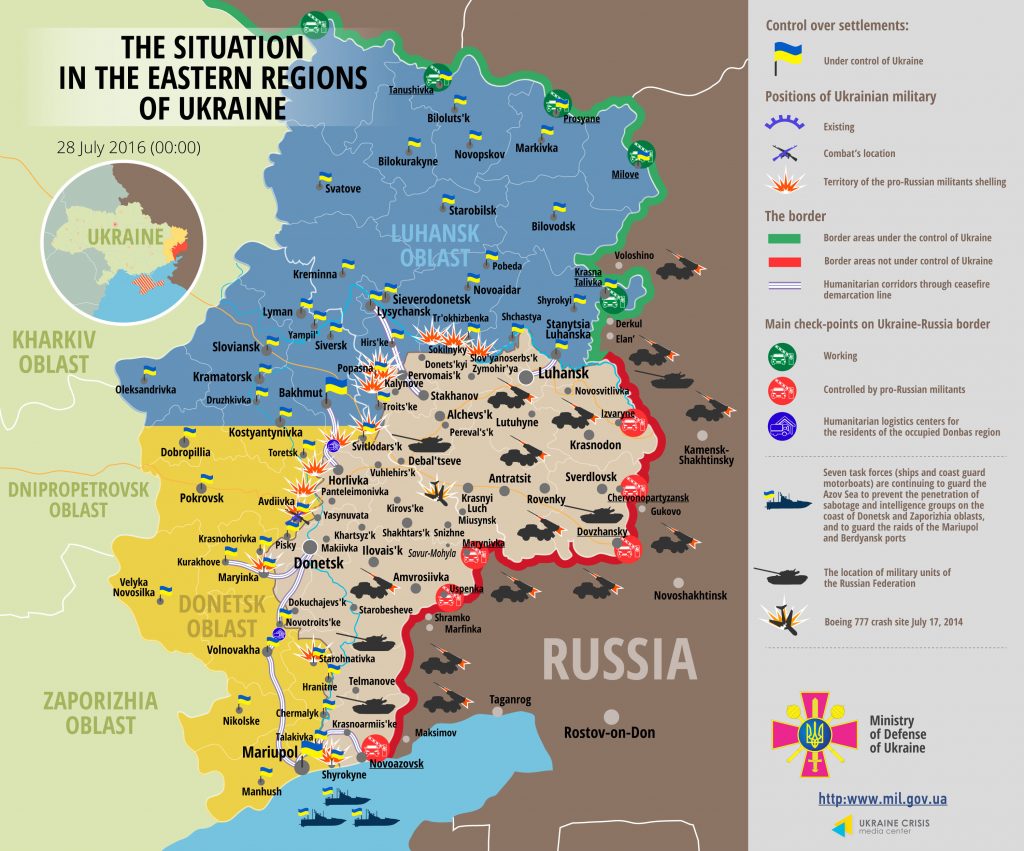 Avdiivka's industrial zone remains the main hotspot in the Donetsk sector. "Over the past day, the militants conducted a set of powerful mortar attacks there. According to the calculations of the Staff, around 100 mines were launched on our positions. In addition, there was a combat engagement between the ATO forces and the militants. The combat lasted one hour with a good outcome for us – the enemy did not pass", informed Andriy Lysenko.
Col. Lysenko said that the militants are going to intensify combat actions on this section of the frontline. According to the Ukrainian intelligence, the command of the illegal armed groups has moved closer to the frontline with 152-mm artillery D-20. "These are old, however rather efficient soviet arms dating back to the 50s. Its effective range is over 17 km", explained the spokesman. From time to time, the militants violated the ceasefire at Svitlodarsk bulge and near Horlivka. However, in general the situation is less volatile there. The area to the south of Avdiivka was calm yesterday.
The intensity of combat actions has significantly decreased in Mariupol sector; however, militants were using heavy weapons. "The occupants fired from tanks in Mariynka and from mortars in Starognativka. In addition, the enemy violated the ceasefire in Vodyane and Shyrokyne", said Col. Lysenko. One Ukrainian serviceman was killed and one more wounded in action over the past day.
Andriy Lysenko informed that two flights of militants' unmanned aerial vehicles were registered in the Donetsk and Mariupol sectors yesterday. In addition, it was confirmed that a Russian mobile complex of radio control Svet- КУ is located in the area of temporarily occupied Stakhanov. The intelligence also informed that a military convoy of combat equipment arrived to the temporarily occupied territories from Russia. The convoy crossed the border in Dymytrivka and steered in the direction of Donetsk. There were multi-rocket launchers "Grad", armored vehicles and trucks. Moreover, 5 fuel tanks with combustible and lubrication materials arrived to Rovenky station. One more military echelon arrived at Sverdlovsk, carrying one combat tank Т-64, three multi-rocket launchers "Grad", and two cars with ordnance for 122-mm and 152-mm artillery.