Militants use mortar launchers more often, escalating hostilities in the war zone. 25 attacks happen in the Mariupol sector during the day. Meanwhile, the military exercise "Sea Breeze-2016" comes to an end.
Kyiv, July 31, 2016. The hostilities in the ATO zone escalated yesterday, especially in the Donetsk sector. 39 attacks of Russia-backed militant groups took place there in the last 24 hours. A third of attacks happened in the vicinity of Avdiivka. "Militants are shooting at our troops in the industrial area from mortar launchers and grenade launchers during the day, and start artillery attacks in the afternoon till late night. Militants were attacking these positions using cannons for less than one hour from southeast direction, starting at 11 p.m. During this comparatively short period they launched over 110 missiles," informed the spokesman of the Presidential Administration on ATO related issues ColonelAndriy Lysenko at a press briefing at Ukraine Crisis MediaCenter.
Russia – backed militant groups also violated the ceasefire at the Svitlodarsk bulge and the northern outskirts of Horlivka, using mortar launchers and sniping fire. Ukrainian troops' positions in Pisky were shelled from artillery. Col. Lysenko added that militants started using mortar launchers more frequently. "The number of mortar shells launched at ATO forces' positions exceeded 220, by Ukrainian troops' estimates, which is an absolute record for the previous seven days," he said.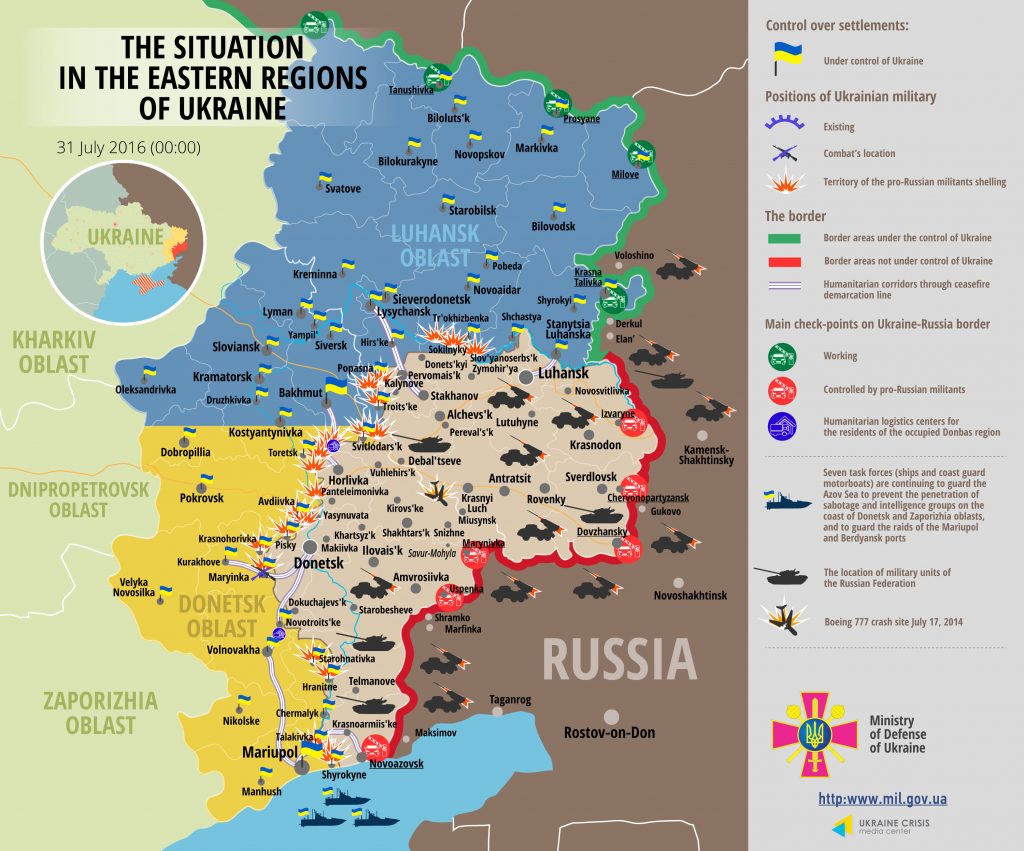 In the Mariupol sector Ukrainian troops defeated the assault of two militants' subversive reconnaissance groups near Mariinka. The attacks started around 7 p.m. "Using two subversive reconnaissance groups under cover of mortar and grenade fire, the enemy attacked our troops' positions from two opposite directions. The enemy was defeated in less than two hours," said Col. Lysenko. Moreover, Ukrainian troops' positions near Mariinka were shelled from mortar launchers in the morning. Three mortar attacks took place in Krasnohorivka after 11 p.m. A series of provocations, mostly involving no use of heavy armor, took placein Talakivka, Vodiane and Shyrokyne. In total, 25 militants' attacks took place in the Mariupol sector in 24 hours.
Insurgents violated the armistice in the Luhansk sector six times, mostly during the hours of darkness.  Several mortar attacks, mostly at random, took place north of the Bakhmut road. The biggest number of ceasefire violations happened near Popasna. "For instance, after the sunset Russian proxies started shooting at ATO troops using mortar launchers,  armored personnel carrier weapons,  grenade launchers and large machine guns. The shelling lasted over 90 minutes," informed the spokesman.
"Ukrainian Armed Forces incurred no losses in combat yesterday and four troops were injured," informed Col. Lysenko. According to the available information, one militant from the so-called "7th brigade" and "9th regiment of Russian occupational forces" died yesterday and 12 were wounded.
Col. Lysenko also informed that the military exercise "SeaBreeze-2016" finished in the south of Ukraine. The exercise lasted for 13 days with participation of troops from 16 countries. "During the training the forces of various countries conducted a number of joint operations that have never been practiced during the "Sea Breeze" before. It was a joint amphibious operation, simultaneous landing of airborne troops by a pair of aircraft, delivering freight by helicopters between ships through external sling, building pontoon ferries etc," said Col. Lysenko