Active hostilities go on in Avdiivka and Zaitsevo in the Donetsk sector; militants are using mortars and 122mm artillery. In the Mariupol sector, the most powerful shelling occurred in Shyrokyne where militants fired 30 shells in the direction of Ukrainian positions.
Kyiv, July 4, 2016. Over the past day, Avdiivka area remained the most volatile with combat actions constantly going on throughout the day and night. "The occupants were using mortars both during the day and night hours. The electric line is damaged and the Avdiivka Coke and Chemical Plant is working in an emergency mode. There is risk that water supplies to the city will be interrupted," informed Col. Oleksandr Motuzyanyk, Presidential Administration spokesperson on ATO related issues, at a press briefing in Ukraine Crisis Media Center. Zaitsevo area in the Donetsk sector remained volatile too. The militants fired on Ukrainian positions using 122-mm artillery, they launched in total 35 shells. In Mayorsk the checkpoint of the Ukrainian boarder guard came under snipers' fire that continued for 15 minutes. Other ceasefire violations happened in Svitlodarsk buldge, in the area to the west of Horlivka and near Donetsk airport. «In total there were 21 ceasefire violations in the Donetsk sector, including 10 from heavy weapons", summed up the spokesman.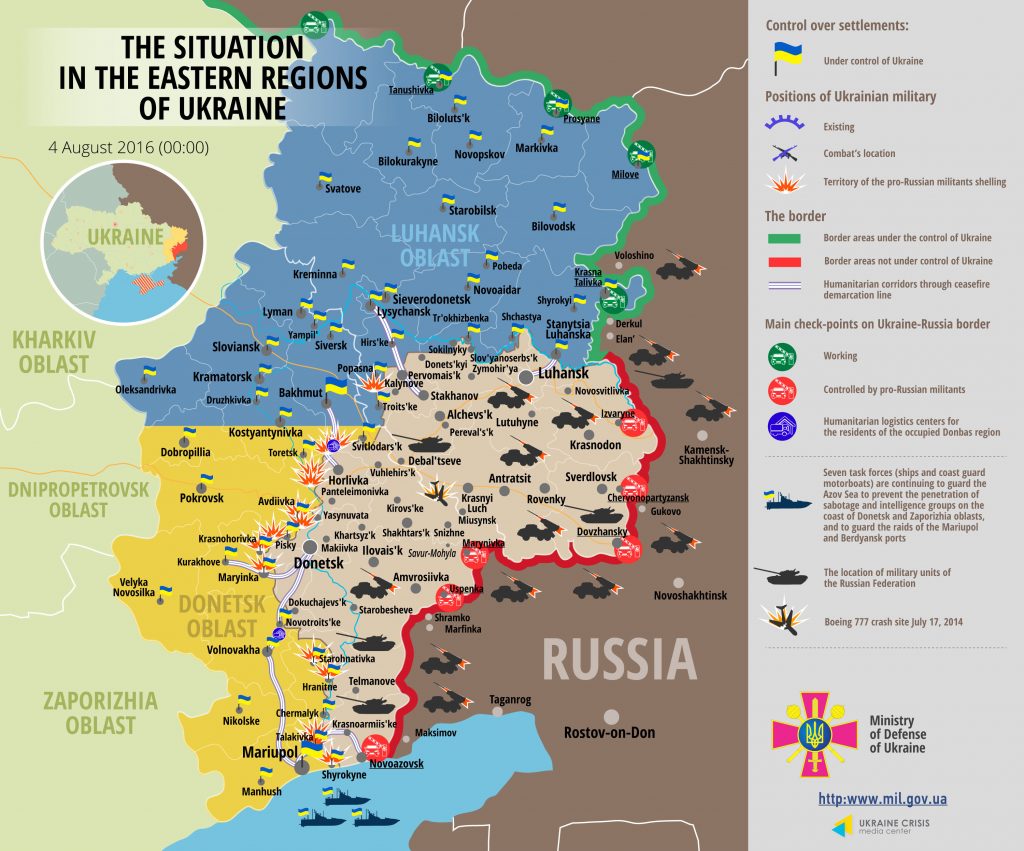 In the Mariupol sector, militants fired 16 times, including 6 times from heavy arms. "The main hotspots were Krasnogorivka and Shyrokyne, where militants repeatedly used mortars, howitzers and snipers. The most intense shelling occurred near Shyrokyne. During 20 minutes, the occupants fired 30 shells in the direction of our positions", said the spokesman. The militants also violated the ceasefire in Mariinka, Granitne and Talakivka. In the Luhansk sector, there was one short-lasting militants' grenade launchers attack close to Novozvanivka.
Ukrainian Armed Forces incurred no losses in combat yesterday. Seven troops were wounded. According to the available information, 4 militants from the so-called "3rd brigade" and "11th regiment" died yesterday and 8 were wounded. "According to our information, among the dead militants, there was a squadron commander and platoon commander of the so-called "1st battalion of the 3rd brigade", responsible for Horlivka agglomeration area", noted Col. Motuzyanyk. He added that the 5 dead militants were carried to the mortuary of Kalinin Donetsk Regional Clinical Hospital. 8 wounded militants were carried to the special section of the hospital for Russian servicemen. "These militants were from the so-called "special unit "Volkodav". On August 2-3, their subversive reconnaissance group went on an unlucky raid near Krasnogorivka", the spokesman added.
The Ukrainian intellingence informs that one more military echelon from Russia arrived to Illovaisk station. There were 2 cars with anti-tank and antipersonnel mines, 6 cars with ammunition, 1 car with medical supplies, and 1 car with uniform for militants of the so-called republics.
Col. Motuzyanyk informed that a Russian citizen was detained on Russian-Ukrainian border. The man was on his way to Donetsk to join the ranks of the so-called "DPR"militants. One former militant was detained in Kramatorsk. In May 2014, he was keeping watch at a militants' checkpoint. One more man was detained on a bus station in Pokrovsk. In his backpack, policemen found 2 TNT blocks, 220 g and 75 g, and two elements of reactive tank armor. "The young man explained that he found these explosives at the outskirts of Avdiivka and was going to bring it to police station, but didn't make it in time", added Col. Motuzyanyk. In Velyka Novosilka, Donetsk region, police officers prevented the attempt of a local inhabitant to send explosives by post as a parcel. There were 2 grenades, 2 signal flares and 350 g of powder. In addition, militants' cache with arms was discovered near Troitske, close to Popasna. There were 7,62 mm Kalashnikov tank machine gun with 300 rounds, RPG-22 anti-tank grenade launcher, and 11 anti-tank grenade launcher projectiles. In Kostyantynivka district, Donetsk region, the police found over 30 mortar shells in a pond.