Kyiv, August 24, 2016. "Militants conducted a series of intense attacks from heavy armor, including 152-mm artillery," informed the spokesman of the Presidential Administration of Ukraine, Colonel Andriy Lysenko at a press briefing at Ukraine Crisis Media Center. Sionitnyi, Talakivka and Mariinka in the Mariupol sector, Zaitseve and Krasnohorivka in the Donetsk sector were the central flashpoints. One Ukrainian serviceman died in combat yesterday and another one was wounded.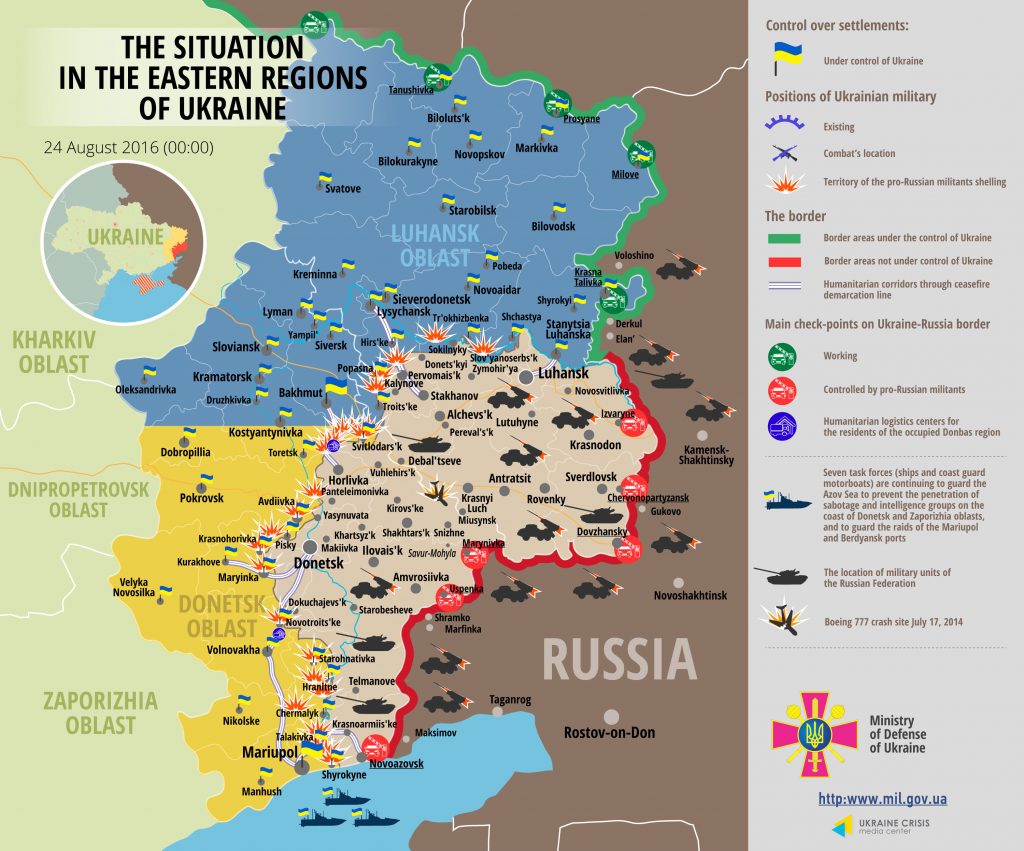 Militants shelled Ukrainian troops' positions 22 times in 24 hours in the Mariupol sector, using heavy armor 12 times. The most intense shelling took place near Sionitnyi in the Nikolsk district 20 km from the frontline. "Occupants were shooting from 152-mm cannons, launching 45 missiles within two hours. Another more intense militants' artillery attack took place in Talakivka where insurgents fired 50 missiles from similar weapons," said Col. Lysenko. The most intense mortar attacks took place in Mariinka. Militants launched over 100 mortar shells there.
19 attacks of Russia-backed militant groups took place in the Donetsk sector yesterday. 13 attacks involved use of heavy armor. The majority of ceasefire violations happened at the Svitlodarsk bulge, in the vicinity of Zaitseve, Avdiivka and Nevelske – Krasnohorivka frontline area. "Caliber of the used weapons was within the range of 82-152 mm. Occupants started actively shooting after 7 p.m. which lasted till midnight. On average, 20 to 40 mortar shells or artillery missiles are launched from heavy armor at our positions during each attack," informed Col. Lysenko.
Central part of Avdiivka came under hostile fire, resulting in damaged railway infrastructure – power substation, railways, overhead system and dispatching control building. Train traffic on Ocheretyne-Avdiivka running line has stopped," he added.
Militants violated the ceasefire in Lopaskyne, Krymske, Zolote and near Popasna in the Luhansk sector. The most intense mortar attacks in this sector took place near Krymske. "In total, seven hostile attacks took place in the Luhansk sector yesterday,  one involved use of heavy armor," elaborated the spokesman.
Col. Lysenko also informed that 141 piece of military equipment was given to Ukrainian troops in the ATO zone on the occasion of the Independence Day. "New and modernized military equipment – armor, tanks, self-propelled artillery mounts, anti-aircraft defenses and electronic warfare systems as well as fighter aircrafts and combat helicopters, he said.
The President of Ukraine awarded 43 servicemen – ATO veterans  – with orders and medals. Colonel-Lieutenant Mykhailo Drapatyi, commander of the 1st battalion of the 72nd separate mechanized brigade was decorated with the 3rd grade Bohdan Khmelnytskyi Order for successful breaching of the column from the encirclement in August 2014. Senior lieutenant Serhiy Shahaliv was awarded the 3rd grade Order "For Courage". He managed to find substantial militants' troops and equipment in the forest belt near Hranitne on September 30, 2014.
"Owing to this precious information, ATO troops promptly destroyed two Grad MRLS, two mortar batteries, Russian armored vehicle "Tigr" and damaged two tanks," reminded Col. Lysenko. Colonel Andriy Kovalchuk and Captain Valeriy was decorated with the Golden Star Order. Ihor Branovytskyi and Serhiy Koloda, Donetsk airport defenders, were awarded the Heroes of Ukraine postmortem. Ihor Hordiychuk, who fought the battle for Savur-Molyla, head of Ivan Bohun military liceum in Kyiv, was raised to the ranks of General – Lieutenant.