Cover photo: photo exhibition "Ilovaysk" by Oleksandr Glyadelov, Maksym Dandyuk, Maksym Levin and Markiyan Lyseyko. Photo credit:National Taras Shevchenko Museum
***
In the last week of August Ukrainians mark the second anniversary of the tragic breakout of Ukrainian troops from the Ilovaysk kettle. Andriy Teteruk, former commander of the "Myrotvorets" unit, shares his memories of those events with Hromadske Radio. Ukraine Crisis Media Center (UCMC) publishes a short version of the interview.
***
UCMC reference: The Battle for Ilovaysk or the Ilovaysk kettle is one of the most tragic pages of the Russian-Ukrainian war. In August 2014 Ukrainian troops were successfully liberating one town after another. They started mopping up Ilovyisk on August 18 and succeeded to gain control over the major part of the town. Balance of forces suddenly changed when Russian regular troops were deployed to eastern Ukraine on August 23-24. According to some estimations over 3.5 thousand Russian regular troops invaded the country. Ukrainian troops were encircled. The Russian side promised to open a humanitarian corridor so that they can get out of it. Agreed condition for Ukrainian side was movement without weapons. Ukrainian troops started moving out of the town on August 29 in organized convoys and were shot at as they were getting out. According to preliminary results of the official investigation, Ukrainian troops lost 366 killed and 429 wounded, 128 troops were taken captive and 158 went missing. The Battle of Ilovaysk became the turning point after which Ukraine changed its position from offensive to defensive. Heavy losses also forced Ukraine to sign the Minsk agreements.
Negotiating the way out of encirclement with Russian military command
Hromadske Radio: We would like to remind that at that time Andriy Teteruk was in the antiterrorist operation (ATO) zone and was heading the "Myrotvorets" unit (military unit within the Ministry of Interior mostly made up of veterans peacekeepers – UCMC). During the Ilovaysk events there even was information on your death but you broke out together with 70 servicemen.
Andriy Teteruk: Two years ago, on August 24 at 8 o'clock in the morning I led my unit to Ilovaysk. Immediately after we started accomplishing our combat task – in the evening on August 24 and in the morning on August 25, last blockposts were destroyed and encirclement around our unit got closed.
Hromadske Radio: How were you breaking out? What was the worst thing? What do you remember now?
AT: We were breaking out on August 29. Over these five days we were right on the frontline of our positions and were holding the railroad car shed in Ilovaysk. As we found ourselves encircled each of us was covering the back of those guys who were standing behind us. All this time we were doing what we were ordered to. We had no losses, in my unit there were only three lightly wounded. I am proud of how my guys almost without sleep and food did not make a mistake or did not start panicking. With their actions they demonstrated true courage, it will always remain for me an example how one should protect his country.
Unfortunately, we had enough ammunition to survive only a day. We had a choice: either we would have no defense in a day, or we would be breaking through fighting our way out. I had three Bohdan "infantry" buses, one UAZ vehicle and a "Chevrolet" command vehicle. With all these treasures we left the car shed without a single shot on August 29 at 5 a.m. and got to the collection point preparing to the break out. Between August 28 and 29 there were numerous attempts to agree in what way the Ukrainian troops would be actually breaking out of the encirclement.
Hromadske Radio: Who held the negotiations?
AT: Ukrainian intelligence and authorized officers were conducting negotiations. The situation was changing all the time. At first it was announced that negotiations as to the breakout along the green corridor are underway. Then there were rumors that we would be walking out as dismounted troops only upon the condition that we would leave all vehicles and weapons. Despite all that me personally I never doubted that there would be a breakout with combat. And we were getting ready to it.
Hromadske Radio: Whom they were negotiating with?
AT: With the Russians. By that time we had about 25 Russian troopers taken captive, they were our guarantee that we would be granted the right to get out with no obstacles. They were our additional protection. Resulting from the fact that Russian troopers were placed in different parts within the convoy, they were also shot at together with Ukrainian troops in the convoy that was moving out. I don't know how many of them remained alive.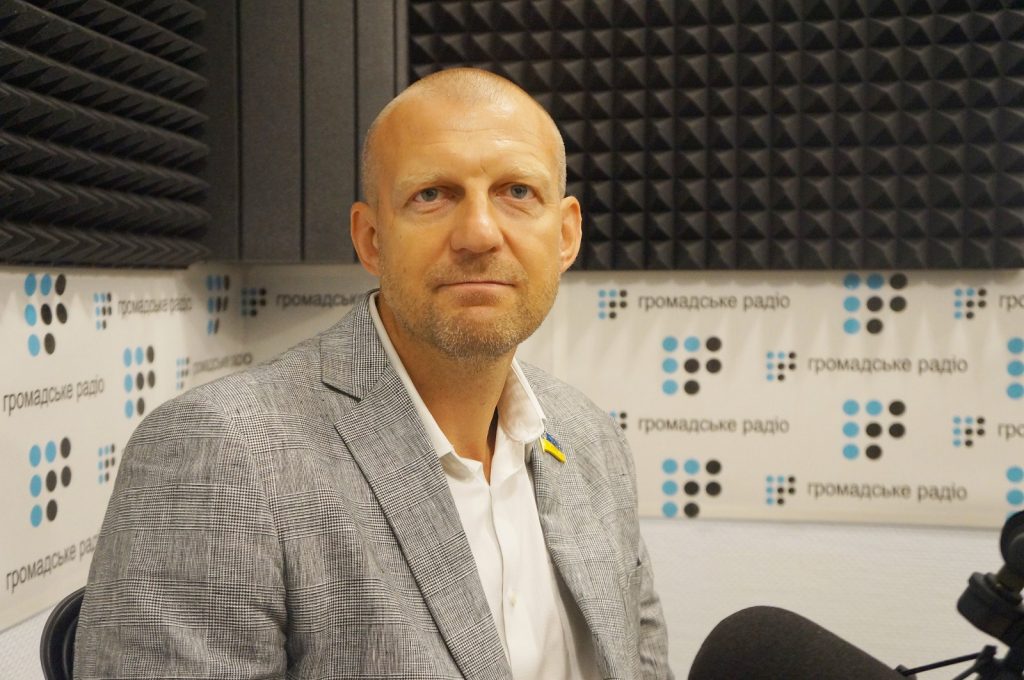 Andriy Teteruk, former commander of Myrotvorets unit, actual MP.
Photo credit: Hromadske Radio
Deadly break out of the Ilovaysk kettle
Hromadske Radio: I have a feeling that back in 2014 the Ilovaysk events were commented by officials of the Russian Federation, there were even calls on Putin to grant the green corridor.
AT: Yes indeed. I was recently watching the footage of how Putin was calling upon the "rebels" so that they let the Ukrainian troops encircled in Ilovaysk out. Surely, Russians wanted to convince everyone that Ukrainians would have a chance to unimpededly get out after the fierce combat. It was a vicious plan. I had no doubts that we would be breaking out fighting our way, that's why we reinforced the buses with armored pates that we found in the car shed, having fixed them with fire hoses. We loaded all ammunition to the magazines. I arranged it in such a way that lightly wounded were be able to load the magazines, while all others would be firing with highest intensity. It was what allowed us to save the majority of the guys.
Hromadske Radio: How many killed in action were there in your unit?
AT: We lost 10 officers and soldiers of my unit.
While breaking out I had 10-12 percent of my cell phone's charge and I was filming how it was all going. I have footage showing us passing the first encirclement with no obstacles. Later the convoy split into two parts, it was too long to be able to move in one row. Then we got into the sector where fire positions were arranged beforehand and where attack upon the convoys started. Hundred meters away trenches were dug for shooters with automatic weapons. A bit further firing positions were set up for hand-held grenade launchers, 200-300 meters away artillery guns were firing upon armored vehicles. My vehicle was armored, so I could continue moving and watching around. It was an extremely well-made preparation and they were firing for effect. The guys who got in captivity to a Russian paratroopers battalion told us they were waiting for us for three days already and had no other orders than to fire for effect. It is inappropriate to believe that Russians were deciding whether to let us out through a green corridor or not. They were preparing to inflict maximum losses from the very beginning.
Hromadske Radio: How many killed were there?
AT: No one will be able to tell you the exact figure as it is very hard to find. Remnants of the fallen soldiers, who were possible to identify, were passed to be later buried. Many people still remain in captivity. Moreover many went missing. Exact figures we are supposed to hear from the Prosecutor General after the investigation is completed.
Heavy losses – who is responsible?
Hromadske Radio: Two years passed, and we still don't know who of the Ukrainian commanders bears responsibility over what happened. Why?
AT: I would say that the responsibility is with the Russian military command. We did not start this war, we are the ones who are protecting our land. Mistakes are part of any military operation. It would be wrong to define those responsible now, as we need to consider why particular decisions were made back then and see the overall picture of combat actions. In August 2014 we liberated large amount of the territory. Should the Ilovaysk railway junction be taken, supply of equipment, ammunition, fuel and militants to Donetsk would have been completely blocked. The days of "DPR" ("Donetsk People's Republic") and "LPR" ("Luhansk People's Republic") would have been numbered. Understanding that their carefully designed plan is being ruined, the Russians decided to deploy their regular troops. It changed the balance of forces and led to numerous casualties.
Despite all the manipulations on responsibility of Ukrainian leadership, I would say that Ilovaysk is not only a tragedy but also a testimony to the fact that we are unbreakable. Not a single Ukrainian surrendered in captivity showing that we will fight to the death but will not let the enemy celebrate the victory.
At that time we were using all possible and impossible ways to liberate our guys.
Hromadske Radio: Are there still captive among those who were in Ilovaysk?
AT: Not from my unit. Unfortunately there are captive from volunteer battalions.
Hromadske Radio: On August 19-20, 2014 Azov and Shakhtarsk battalions retreated. Do you blame them for it?
AT: I perceive an order as a call to action, and I did act because I was there to protect my country. We inflicted a massive attack, about 200 militants were killed by the Ilovaysk car shed. As to Azov and Shakhtarsk battalions I think we need to wait until the official statement is released by the Office of the Prosecutor General.