Militants conduct electronic warfare and aerial reconnaissance activities, but use no heavy weapons.. Moreover, they are planting prohibited antipersonnel landmines that pose a threat to civilians
Kyiv, September 3, 2016. Ukrainian Armed Forces incurred no casualties yesterday. Nevertheless, the biggest number of hostile attacks in the ATO zone yesterday took place in the Mariupol sector, where militants opened fire in Mariinka, Starohnativka, Vodiane and Shyrokyne. These incidents took place between 8 and 11 p.m., and the armistice held for the rest of the day, said Colonel Andriy Lysenko,spokesman of the Presidential Administration of Ukraine onATO-related issues, at a press briefing at Ukraine Crisis MediaCenter. "The adversary was trying to suppress the ATOcommand system using Diabazol electronic warfare system," he added.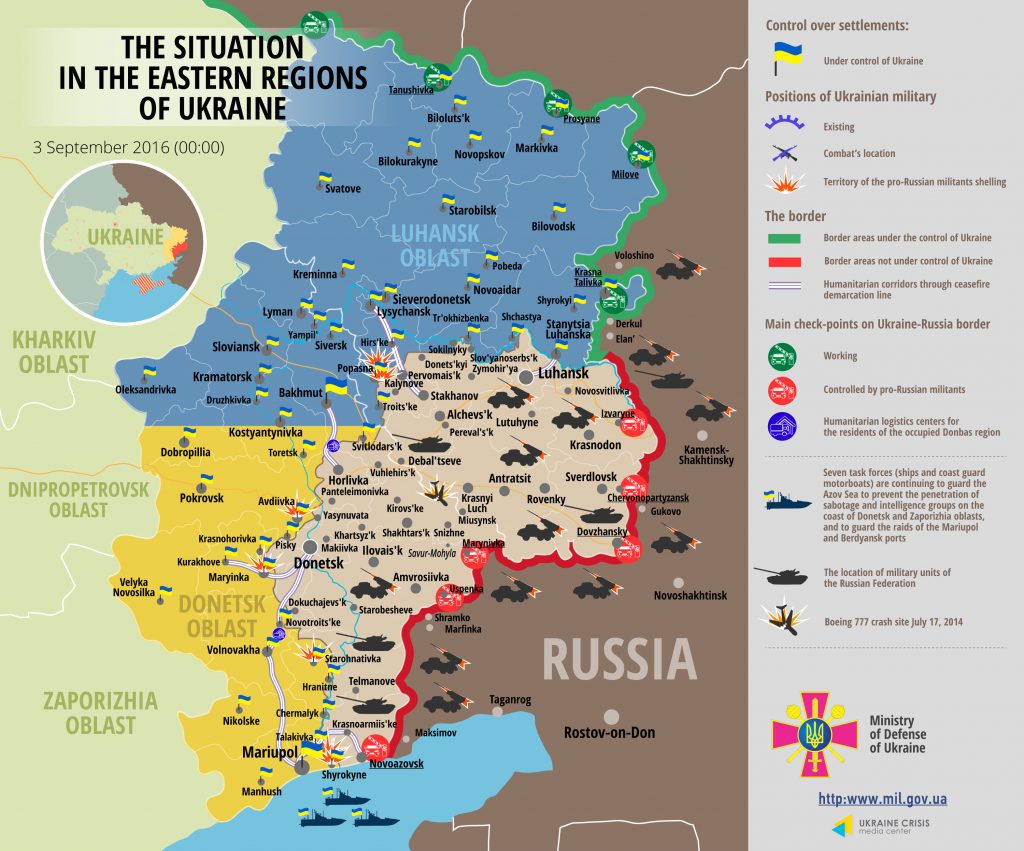 According to the spokesman, two hostile attacks took place in the Luhansk sector yesterday. All of them took place in thePopasna district. No heavy weapons were used. Russia-backed militants violated the armistice in the Donetsk sector yesterday once in the Avdiivka industrial area. "The attack lasted for about one hour. In addition to light weapons, adversary was firing from mortar launchers," explained Col. Lysenko.
He informed that a flight of hostile unmanned aerial vehicle took place at the border between Luhansk and Donetsk regions.
According to the Chief Intelligence Directorate of the Ministry of Defense of Ukraine, militants are planting hidden mines, namely using antipersonnel landmines which are prohibited under international conventions. "It creates additional risks for civilians. For instance, such mining took place yesterday in the responsibility area of so-called 7th brigade, 9th and 11thregiments of Russian occupational troops. A 25-year-old militant Kostiantyn Tykvenko from the so-called 9th regiment was injured during hidden planting by POM-2 Otiok antipersonnel mines as a result of improper installation," said the spokesman.
According to the spokesman, the Security Service of Ukraine (SBU) detained a female informer of the self-proclaimed "Luhansk people's republic" in the ATO zone. "The criminal was passing information to militants regarding number, movement and location of Ukrainian troops in the Novoaidar district of Luhansk region during 2014-2016," said Col. Lysenko. At the same time, another inhabitant ofLuhansk region joined the SBU program "They are waiting for you at home". He was standing guard at a militant checkpoint near Stanytsia Luhanska and then was hiding in Russia for two years.