Militants launch over 90 mortar shells and 12 artillery missiles at Ukrainian positions and used unmanned aerial vehicles to adjust fire in the Mariupol sector. Evidence of Russian army's presence on Ukrainian territory continue coming.
Kyiv, September 12, 2016. Ukrainian Armed Forces incurred no casualties in combat in the ATO zone yesterday. The situation was the most restless in the Mariupol sector where Russia-backed militants conducted 20 attacks using heavy armor five times. "The adversary used several mortar batteries and 122-mm artillery in Vodiane-Shyrokyne frontline area. Over 90 mortar shells and 12 artillery missiles were launched at our positions. The enemy used three unmanned aerial vehicles to adjust fire," said Colonel Andriy Lysenko, spokesman of the Ministry of Defense of Ukraine on ATO related issues at a press briefing at Ukraine Crisis Media Center. Mariinka was another "flashpoint", as militants conducted nine attacks from small arms between 6 and 11 p.m. there. The majority of attacks took place in the Avdiivka industrial area. "Moreover, militants violated the armistice in Luhanske and Novhorodske, once in each settlement. The attacks took place mostly in daylight and no heavy armor was used," said the spokesman. Militants conducted nine attacks near Novooleksandrivka in the Luhansk sector using light weapons and armor.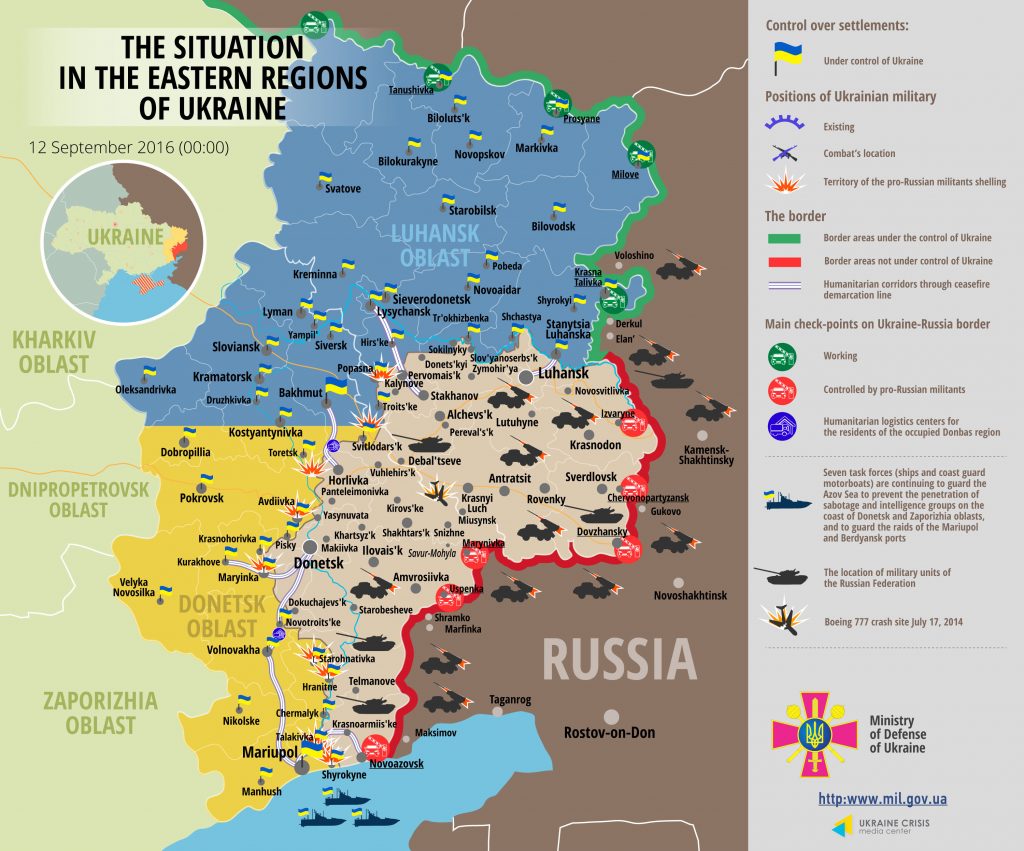 According to the available information, four militants died and five were wounded on September 10-11. Moreover, Ukrainian military intelligence published new information on a neo-nazi militant from Moscow who was detained near Toretsk. "His name is Denis Sidorov, 35 years old, a resident of Novogireievo residential district in the east of the Russian capital. He served in the ranks of Russian occupational troops as a member of reconnaissance squadron of so-called 3rd brigade (home base – Horlivka). According to the detained, all the senior military positions are occupied by Russian professional officers. The detainee himself used to be a police captain. His brigade commander was Aleksei Berdnikov, a colonel of the Armed Forces of the Russian Federation who arrived at Donbas in August 2016 and kept the nom de guerre of his predecessor, 'Brest'," elaborated Col. Lysenko. Prior to that Berdnikov was a commander of the 60th brigade of the Armed Forces of the Russian Federation located in Primorskyi Krai. "Going on this dangerous felonious "mission", the Russian colonel took along an air defense missile battalion equipped with the newest anti-aircraft systems Tor-M2U as well as several antimissile defense officers and contract soldiers from his 60th brigade," added Col. Lysenko.
Military intelligence also informs that on September 10 inhabitants of Donetsk blocked the approach to firing positions of so-called "separate artillery brigade" of Russian occupational forces near Rutchenkovo railway station.
Col. Lysenko said that Captain Oleksandr Lavrenko from the 93th brigade was posthumously awarded a Star of the Hero of Ukraine on the occasion of the Tanker's Day. The captain had fallen in Pisky as a hero.  "On July 21, 2014, Lavrenko was heavily injured, but fought the occupants till the end. He decided to blow up his own tank to prevent the enemy from getting it and capturing him. At the expense of his own life, Captain Lavrenko defeated the militants' counterattacks," reminded Col. Lysenko.