While ceasefire violations registered along the entire boundary line with militants mostly using small arms, Ukrainian intelligence reports rotation in the ranks of the adversary.
Kyiv, September 23, 2016. In the past 24 hours, Ukrainian troops incurred no losses. One troop was wounded by sniping fire near Taramchuk, said Col. Oleksandr Motuzyanyk, spokesman of the Ministry of Defense of Ukraine on ATO related issues at a press briefing at Ukraine Crisis Media Center. According to him, the situation in the ATO zone remains under control. "However, the number of militant's provocations has increased, comparing to September 21. For instance, several mortar attacks have been registered, as well as more active sniping fire," added Oleksandr Motuzyanyk.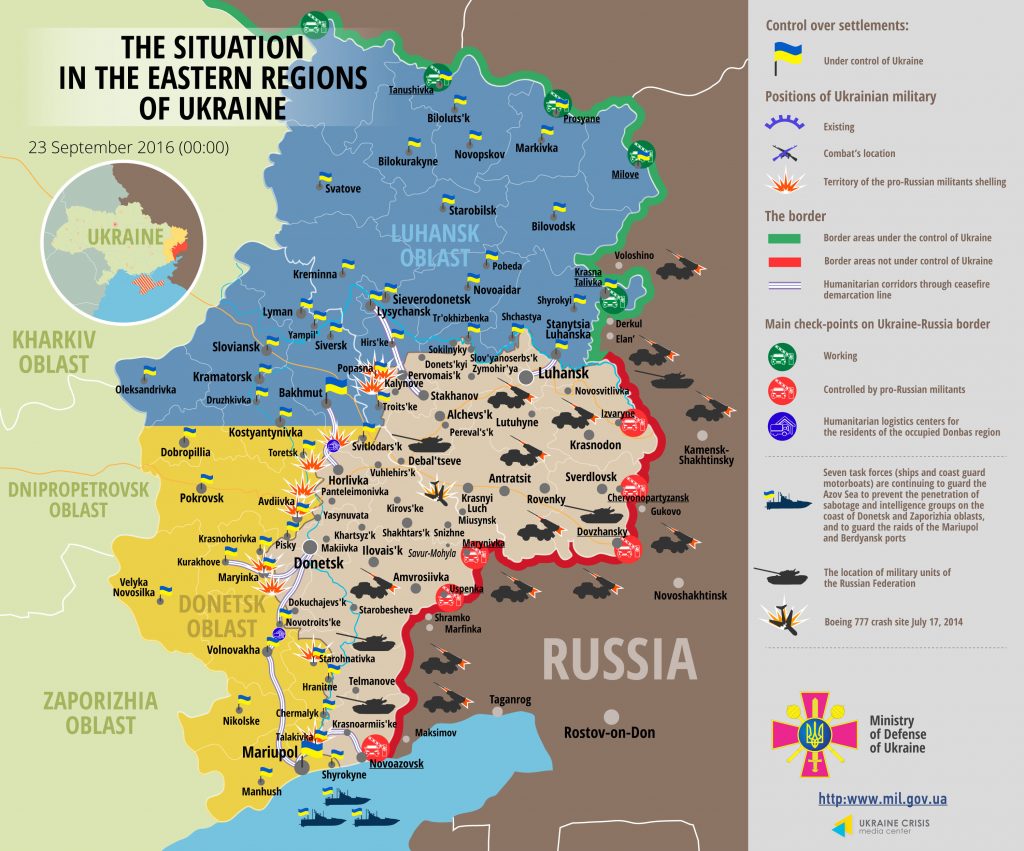 There were less ceasefire violations in the Mariupol sector, comparing to the previous days. "The enemy used only small arms, once they fired from machine gun in the direction of Mariinka, Starognativka and Talakivka. The militants' sniping fire was registered near Taramchuk," noted Col. Motuzyanyk.
Militants provocations extended in the Luhansk sector. They fired from small arms and an infantry fighting vehicle near Novozvanivka and made one shot from a grenade launcher at Ukrainian positions in Popasna area. In addition, the militants' sniper fired near Novooleksandrivka.
In the Donetsk sector, the militants conducted a number of short mortar attacks in the area of Avdiivka and Novoselivka Druga. In total, they fired eight mortar shells. "Moreover, the armed groups actively used small arms near Avdiivka and on the outskirts of Gorlivka. In other areas of this sector, the ceasefire held," added the spokesperson.
The Ukrainian intelligence informs that the militant groups continue rotation and strengthen their forward units. "The Russian command repositioned two motorized rifle squadron, two cannon squadrons and an air defense missile battalion to the outskirts of Luhansk," said Oleksandr Motuzyanyk. A motorized rifle squadron of the so-called '4th separate motorized brigade' repositioned closer to Alchevsk together with trucks carrying military ammunition. In the temporarily occupied Donetsk, he added, there was rotation of Russian paratroopers of the 331rd airborne regiment (with permanent location in Kostroma, Russia).
Col. Motuzyanyk said that Donetsk Court of Appeal sentenced a militants' informer to 4 years of prison. In January 2015, the man collected information on deployment of Ukrainian forces. "The collected data was used by the militants for artillery spotting of Ukrainian positions and civilian houses," noted the MoD spokesperson.
The Security Service of Ukraine found one more cache with ammunition on the outskirts of Vodyane village in Donetsk region. "The police found there a MON-50 anti-personnel mine, 5 grenades RDG-5 with fuses, a smoke grenade, nearly 500 bullets of various caliber, electric detonator and other equipment used to trigger explosive devices," noted Col. Motuzyantyk.