Militants conducted extremely powerful mortar and artillery attacks in the Mariupol sector, Ukrainian troops get wounded, ceasefire holds in one of the "usual" hot spot.
Kyiv, October 13, 2016.  Disengagement of arms in Stanytsya Luhanska remains impossible due to militants' attacks. "The occupants violated the ceasefire in Stanytsia Luhanska yesterday, as well as on October 11. This means that at present Ukrainian and militants' forces and arms cannot be disengaged in this area," stated Colonel Andriy Lysenko, Ministry of Defense of Ukraine spokesperson on ATO related issues at a press briefing at Ukraine Crisis Media Center.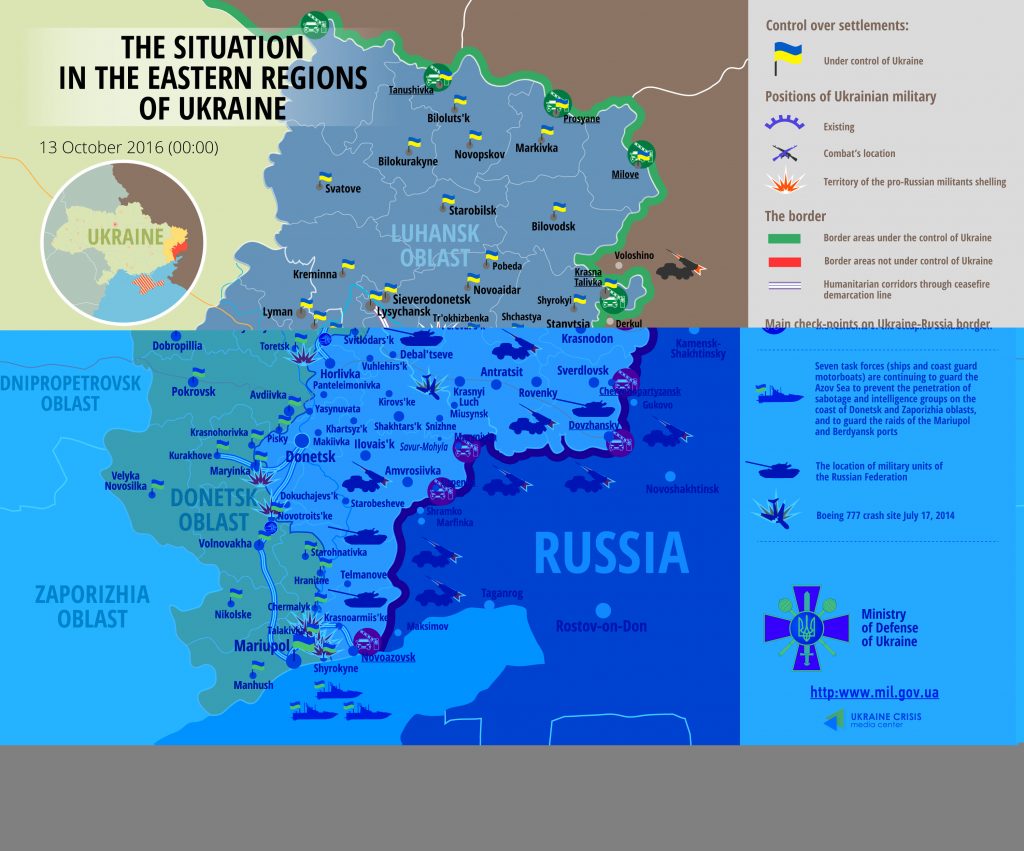 The militants conducted 14 attacks in the Luhansk sector, including two from heavy weapons. They violated the ceasefire in Stanytsya Luhanska as well as and in Popasna area, the biggest number of attacks happened there.  "The enemy tries to drive out the Ukrainian forces from their current positions, they opened fire during day and night hours. The militants fired from small arms, anti-aircraft artillery and mortars, twice they used an armored personnel carrier. In addition, they conducted a mortar attack in Krymske," noted Col. Lysenko.
Two ceasefire violations took place in the Donetsk sector, where militants fired two times from machine guns in Luganske and Novgorodske. For the first time after long month of hostilities ceasefire holds in Avdiivka industrial zone.
Situation is the most tensed in the Mariupol sector with militants conducting long and powerful attacks from heavy weapons. "They fired 777 mines and shells on our positions in the Mariupol sector yesterday, this number exceeds even the last month record. The most devastating shelling took place in Vodyane and Shyrokyne. Except that, the militants were using small arms and armored personnel carriers", said Col. Lysenko. He noted that the militants deployed a number of mortar and artillery batteries of various calibers on their positions in Zaichenko – Sakhanka area. They are regularly supplied with ammunition from stocks in back area as well as directly from Russia. Several ceasefire violations happened in Slavne and Novotroitske. In total, militants conducted 20 attacks in this sector, including 14 from heavy weapons.
Ukrainian troops incurred no lethal casualties yesterday. Seven troops were wounded in action, two more suffered concussions. Three militants were killed, ten more were wounded. Most of them were from the ranks of the so-called "9th regiment" of Russian occupational forces that participates in hostilities in the Mariupol sector.
The police revealed an arsenal of weapons in a car following through a checkpoint in Yasynuvata district (Donetsk region). "Two men were carrying in their private car two grenades, one hundred bullets of various caliber, two magazines for sniper gun and two smoke grenades. In their explanation to the police they said that they found the ammunition in the frontline zone and decided "to keep it as a souvenir," concluded Col. Lysenko.