Severe fight nearby Svitlodarsk lasts over ten hours with adversary making three offensive attempts, resulting in the biggest amount of casualties Ukraine had over five months,  another "hot" was Avdiivka industrial zone.
Militants tried to seize two Ukrainian strongholds near Luhanske at the Svitlodarsk bulge yesterday. The hostilities started about 6 a.m. from artillery and mortar attacks from residential quarters of temporarily occupied settlements, after that Russia-backed militants changed over to the offensive. Following six hours of fight, militants stopped the offensive, reinforced and resume offensive with the artillery support. The second offensive attempt lasted 3.5 hours, and the third one started after 5 p.m. "The third artillery attack was five times stronger than the previous two. In total, several dozen artillery shells and almost 700 mortar shells were launched at our positions during the fight near Luhanske yesterday," said spokesman of the Ministry of Defense on ATO related issues Colonel Andriy Lysenko at a press briefing at Ukraine Crisis Media Center. "Ukrainian troops successfully withstood the occupants' onslaught, which made militants retreat southward. Ukrainian troops did not make offensive. Five Ukrainian servicemen died in combat near Luhanske, six were wounded and 10 more sustained traumas and blast injuries. These were the biggest loss incurred by Ukrainian Armed Forces in the past five months," said Col. Lysenko. According to the spokesperson, militants lost up to 50 people dead and injured.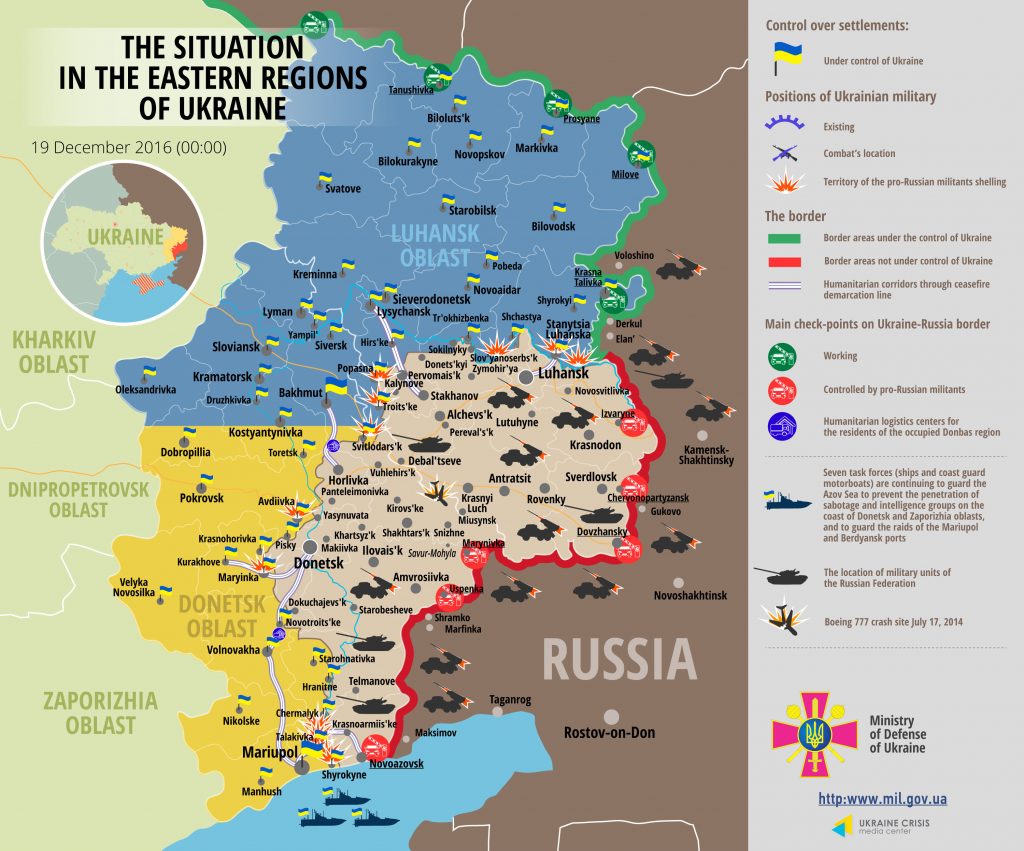 In addition to the fight at the Svitlodarsk bulge, three firefights took place in the Avdiivka industrial area, which lasted five hours in total. The armistice held near Horlivka and in the Donetsk airport yesterday.
Militants made intense attack from heavy weapons in Hnutove-Shyrokyne area in the Mariupol sector. "58 mortar shells and 20 artillery and tank shells were launched at our positions. The situation was especially restless in this area between 9 a.m. and 3 p.m.," elaborated Col. Lysenko. In total, Russia-baked militants made11 attacks, and seven of them involved use of heavy arms. The spokesman added that a civilian was wounded in a shelling in Mariinka.
Militants conducted seven attacks in the Luhansk sector, using mostly light weapons. Insurgents were shooting from a mortar launcher near Troitske.
Col. Lysenko informed that a 'cyborg' Taras Kolodiy was freed after almost two years of captivity. He was taken captive in early 2015.
Law enforcement officers seized two hand ball grenades, almost 150 cartridges for AK-47 rifle and an assault rifle from a man near Pokrovsk. According to the man, he found the ammunition in a forest near Mariinka. Moreover, two weapons caches were found in Pokrovsk district in Donetsk region and Popasna district in Luhansk region. Officers of the Security Service of Ukraine found 1.5 kg of plastid, 36 TNT blocks, three grenades and over 1500 cartridges of various calibers there.
Report on the military developments as of December 18 is available here. Interactive data on the shelling: chronology shelling chart and the interactive map.