Military situation in eastern Ukraine
Combat actions continue in eastern Ukraine. Between December 13 and 18 combined Russian-militant forces fired 228 times upon Ukrainian troops, which is 30 attacks less than over the past reporting period. Five Ukrainian troops were killed in action over the last week and 13 were wounded in action, additionally 10 got concussion.
Fierce combat actions took place at the Svitlodarsk salient on December 18. Combined Russian-militant troops started an attack with the use of 82 mm and 120 mm mortars as well as 152-mm tube artillery. They were in try to force Ukrainian troops back from their positions near Luhanske. Ukrainian servicemen repelled the attack. As per intelligence information militants lost 25 killed and 30 wounded fighters.
Torture of war prisoners. Ukrainian servicemen spoke about the torture they were subject to while in militant captivity. Ukrainian troopers, artillerists and volunteer fighters are subject to most severe torture in captivity of Russia-backed militants. Among the tortures listed are cutting of limbs, strangulation including with the use of water, gas, torture with current etc. A total of 1,402 servicemen who have been freed from captivity have been questioned, majority of them reported torture primary purpose of which was to force them side with the enemy. According to Ukraine's Security Service 27 Ukrainian troops sided with militants after captivity.
Exchange of war prisoners. "Cyborg" Taras Kolodiy was liberated from militant captivity. He was defending the Donetsk airport and was held captive for almost two years.
Attacks of Russian artillery on Ukraine. On December 21 international OSINT group Bellingcat will publish a new report on the conflict in eastern Ukraine "Putin's Undeclared War – Summer 2014 Russian Artillery Strikes against Ukraine". Using open source data and satellite imagery Bellingcat experts analyzed hundreds of shell craters in Donbas. They discovered hundreds of artillery positions on the Russian territory in the area close to the state border with Ukraine. Based on the above analysis Bellingcat concluded that the Russian Armed Forces made at least 149 separate attacks in summer 2014. Experts also discovered at least 130 sites that were possibly used as artillery positions (news in English).
Possible blockade of the occupied territories. Fighters of volunteer battalions threaten to start a complete blockade of territories of the so-called "Luhansk People's Republic" ("LPR") and "Donetsk People's Republic" ("DPR") if no swap of prisoners will take place and 137 servicemen are not liberated. Combat veterans give militants seven days to have Ukrainian prisoners of war liberated.
Human rights: Amnesty International on persecution of Crimean Tatars
Amnesty International reports that the Crimean Tatar community is being systematically persecuted by Russian authorities after the occupation of Crimea. Respective report was published on December 15. "As the most visible and cohesive group in Crimea opposed to the Russian occupation, the Crimean Tatar people have been deliberately targeted by the de facto local and Russian authorities in a wave of repression aimed at silencing their dissent and ensuring the submission of every person in Crimea to the annexation," said John Dalhuisen, Director of Amnesty International's Europe and Central Asia Programme.
Inclusion of Crimea into the Russian legal framework that came as a violation of international law allowed the "authorities" to start persecution of the key Crimean Tatar figures based on fabricated charges in extremism and other crimes. At the same time the report notes that Mejlis, Crimean Tatar representation body "has also been banned arbitrarily as an 'extremist organization' and any association with it criminalized".
The report emphasizes that all the episodes of Crimean Tatars persecution (including the cases of Akhtem Chyigoz, Ilmi Umerov and others) demonstrate that Russian authorities are intolerant to behavior that questions their legitimacy in Crimea.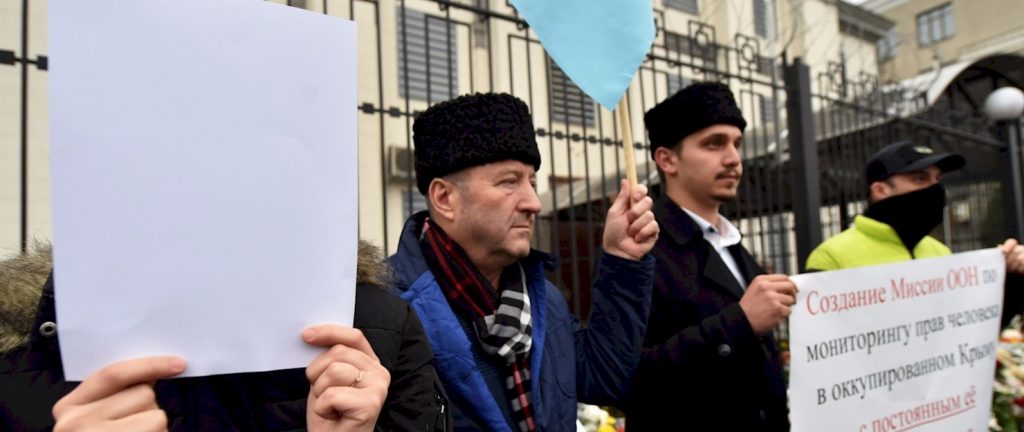 Crimea: appeal on establishing of the Crimean Tatar Autonomous Republic of Crimea.
Deputy Mejlis Head Akhtem Chyigoz who has been held in detention in the annexed Crimea for almost two years, filed an appeal to foreign ambassadors and representatives of international organizations calling upon them to establish the Crimean Tatar autonomy that would be part of Ukraine. It will help avoid speculations as to the "indigenous people" on the part of Russia.
According to Chyigoz, in Crimea it is currently dangerous to openly claim that "Crimea is Ukraine". People are forced to recognize that Crimea is Russian. Chyigoz says that for some Ukrainian passport is a possibility to use advantages it offers (it is not possible to go abroad, start a business in Ukraine with the Russian passport issued in Crimea) while for others it is a demonstration of their position and political views.
Economy. Nationalization of the biggest commercial bank
On December 18 Ukraine's Cabinet of Ministers reported about nationalization of the biggest commercial bank in Ukraine "Pryvatbank" PJSC that is owned by oligarch Ihor Kolomoysky. 100 percent of the bank shares will pass into state ownership. Such a decision was made to secure stability in the country's financial system. The state "guarantees uninterrupted functioning of the institution and security of its clients' money". "These actions are taking place in clear coordination with international financial organizations and under their support," the government noted.
Unexpected news or irreversible fact? Ukraine's National Bank categorized "Pryvatbank" PJSC as insolvent, said National Bank's Head, Valeria Hontareva. According to her, the bank failed to pass additional capitalization plan. Among the systematic problems that were named is the "unbalanced credit policy of the bank". Finance Ministry and National Bank estimate Pryvatbank's need in capital worth of UAH 148 billion.  According to Finance Minister, Oleksandr Danylyuk, bank's capital deficit liquidation will take place in several stages. At the first stage The Finance Ministry will issue bonds worth of UAH 43 billion.
About 50 percent of Ukraine citizens are using Pryvatbabk's payment systems, each third one is the bank's client and uses the bank's loan. These days information on possible nationalization caused panic among Pryvatbank clients who started withdrawing money from their accounts en mass.
Pryvatbank's nationalization is supposed to bring Ukraine closer to getting another tranche from the International Monetary Fund, said Minister Danylyuk.
Further sale? "After the bank will pass into the state property the share of state-owned banks in the sector will be quite significant. The state does not plan owing such a big share in the banking sector," Danylyuk said. He said after its work is stabilized the state plans to sell the bank.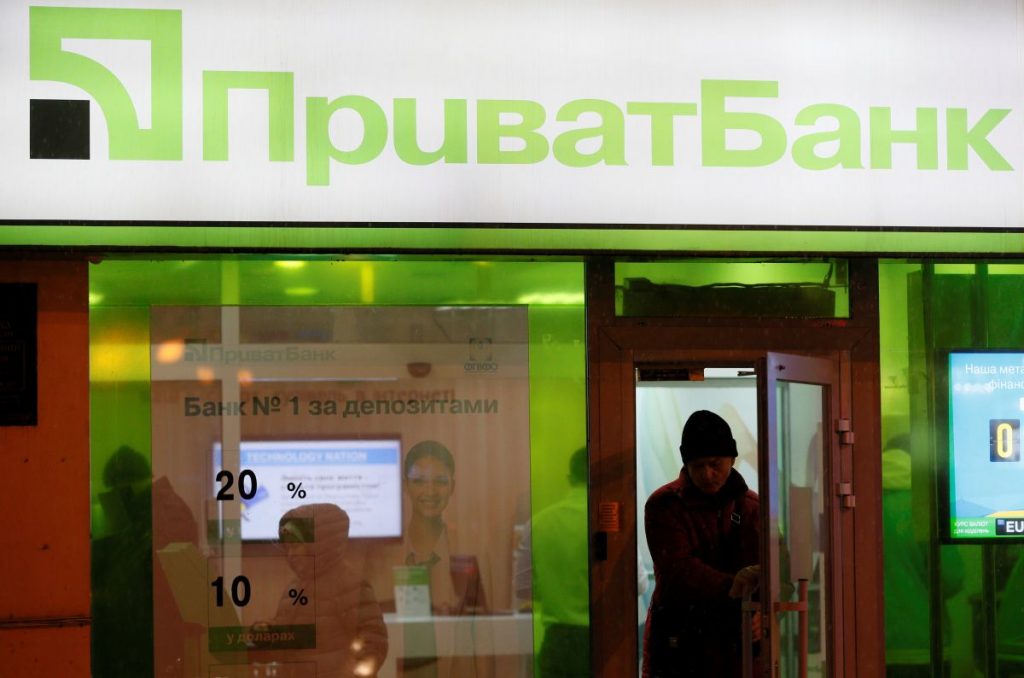 New economic sanctions
On December 19 the European Council extended economic sanctions that relate to particular sectors of the Russian economy until July 31, 2017. These measures were first introduced on July 31, 2014 for a year in response to Russia's actions in Ukraine. They are supposed to target the financial, energy and defense sectors as well as dual use items. On March 19, 2015 the European Council agreed to link duration of the sanctions to full implementation of the Minsk agreements that as it was foreseen was supposed to happen before December 31 of the same year.
Since the Minsk agreements were not fully implemented by December 31, 2015, the Council extended the sanctions until July 31 2016, and on July 1, 2016, until January 31, 2017. Having assessed the implementation of the Minsk agreements at the European Council meeting of 15 December, the EU heads of state and government paved the way to renew the sanctions for a further six months, until July 31, 2017. The Council formalised this decision on December, 19 2016 by written procedure and as it is the rule for all decisions on prolongation of restrictive measures, unanimously.
Culture: Scythian gold to be returned to Ukraine, film on the rise of civic activism
District level administrative court of Amsterdam approved the decision to return to Ukraine the Scythian gold earlier displayed at the Allard Pierson museum in the capital of the Netherlands. In February 2014 before the annexation of the peninsula, Ukraine provided artifacts of the Scythian gold for the exhibition. The exhibition unites collections of five museums, one of which is Kyiv-based and other four ones are in Crimea. Russia was insisting to have the exhibits returned to Crimea. Amsterdam court approved the decision based on the UNESCO convention according to which the art pieces have to be returned to the sovereign state that provided these works for temporary exposition. The gold will stay with the Pierson museum for three more months – the time foreseen for filing an appeal. Occupational authorities of Crimea have already said they will be appealing.
Film of Ukrainian documentary film director Dmytro Tyazhlov "In the corner" (subtitled in English) is now available online. The film was selected to the DOK Leipzig festival and is a piece that follows the rise of civic activism in Ukraine. The documentary was produced after a Ukrainian law on access to public information came into force and thus gave citizens additional tools for activism. "In the corner" is a film about a woman – resident of a Ukrainian village who is sending numerous claims to local and central authorities to bring back the cancelled bus route running through her village.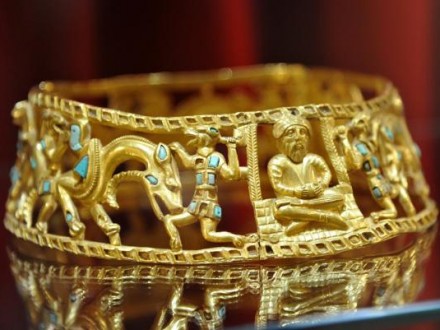 News in English by Ukrainian media
Reportage
"Scythian gold: Ukrainian treasures go home" – Ukraine Today
"EU extends sanctions on Russia until July 2017" – Ukraine Today
"For whom the bell tolls: Ukraine commemorates Maidan's crucial event" – Ukraine Today
"'They're trolling someone': Social media mock Ukraine-EU visa-free saga" – Ukraine Today
"'Intense and unprecedented' – EU reacts to Ukraine's reforms" – Ukraine Today
"Savchenko commentes on the meeting with the 'DPR' and 'LPR' militant leaders in Minsk" – Ukraine Today
"Yevhen Panov – a Ukrainian detained in Crimea tells about horrible FSB torture" – Ukraine Today
"Crimea is suffering from lack of water from mainland Ukraine" – KyivPost
"Lviv symphony orchestra play Beethoven to honor Ukrainian opera singer Vasyl Slipak killed in Donbas – Ukraine Today
"Ukrainian teacher gets in the top-50 international teacher's list within the Varkey Foundation Global Teacher Prize 2017» – Ukraine Today
"'What is your name' – Stories of internally displaced families through art" – Ukraine Today
"Savchenko leaving party, but not politics or the Rada" – KyivPost
Interviews
"Too Much of Europe's Future Rests on Merkel's Shoulders" – Hromadske International interviews James Sherr, Associate Fellow at Chatam House
"We remain a very strong supporter of Ukraine" – Hromadske's Interview with UK Pro-Brexit MP John Whittingdale
"Cooperation With Ukraine Is Necessary Due To Geopolitical Challenges" – Hromadske International's Interview with the President of Lithuania
KyivPost's interview with Roman Nasirov, Head of Ukraine's Fiscal Service
Analytical materials
"ProZorro as a key tool to fight corruption" – Hromadske International
"Report: Ukraine must do more to protect civilians in war zone" – KyivPost